Online case teaching
One of the key benefits of the case method is its ability to engage students, and this naturally lends itself to increasing the interactivity of online sessions.
For many years individuals and organisations have explored teaching with cases online. However, the COVID-19 pandemic saw in-person classes worldwide being moved, with great speed, to online. To support the case community with this rapid shift in teaching, a wide range of resources have been produced by case experts around the world.
Share a resource
Have you written or seen a resource about online teaching?
If you have, please let us know and we'll add it to this page.
We'll also share the resource with the case community via our social media channels.
Workshops and webinars
From the case centre.
Our workshop programme regularly covers online case teaching. Find out more about our open and customised events here .
In 2020 we ran a series of free webinars to support case teachers as they moved their classes swiftly online during the pandemic. All three webinars can be watched back below.
Moving Case Teaching Online Quickly - Best Practice
Angela Lee, Columbia Business School, shares her experiences of case teaching online. She also looks at engagement, accountability and clarity in remote case teaching.
Moving Case Teaching Online Quickly - Shared Experiences
Martin Kupp, ESCP Business School, and Urs Mueller, SDA Bocconi School of Management and ESMT Berlin, share their experiences of moving case teaching online quickly.
Making Online Case Teaching Interactive: Digital Workspaces for Whiteboards and Breakouts
Michael Netzley, Institute for Management Development (IMD), shares his experiences of using digital workspaces in online case teaching.
Webinars from other providers
A range of other individuals and organisations have offered webinars on the topic of online teaching. Browse the recordings below.
Adapting Quickly to Teaching Online Harvard Business Publishing, 19 March 2020
Bringing Simulations into Your Virtual Classroom Harvard Business Publishing, 26 March 2020.
Cross Border Coffee Break: Business Schools and the Coronavirus GSBN's Coffee Break session, 14 March 2020.
EDEN Webinar Series: How to start teaching online EDEN Secretariat, 30 March 2020.
Fast switch to e-learning videos series for teachers Ramon and Virna Rossi, Ravensbourne University London, March 2020.
'How do I support students' academic skills development in e-learning mode?' Virna Rossi, Ravensbourne University London, 1 April 2020.
Keep Teaching! An open discussion about moving to teaching online quickly AACSB's Online Learning Affinity Group, 19 March 2020.
Online Case Teaching: Trends, Challenges and Opportunities
The Case Centre with AACSB's Online Learning Affinity Group, 16 January 2020.
Tips to go online during COVID-19 crisis   Patricia Gabaldon, IE Business School, 30 March 2020.
The Future of International Business Teaching: Content and Methods in a Post COVID-19 World Professor Carl Fey, Aalto University School of Business, sponsored by the Academy of Management's International Management Division, 19 June 2020.
Webinar series: teaching the case method online Ivey Publishing, March 2020.
Other resources
This curated list provides links to articles, blogs and tips produced by colleagues around the globe.
Learning with cases can be a challenging experience.
Our interactive study guide takes students through the process, providing practical tips, tricks and tools.
Discover more
Prepare your students to navigate business challenges by immersing them in real-world scenarios.
Transform business education
Bring excitement into your classroom with engaging case discussions and introduce students to the challenge and fun of making important decisions.
Illustrate business concepts
Help students learn by doing with over 50,000+ cases featuring real-world business scenarios spanning across multiple areas of business.
Encourage new ways of thinking
Student build confidence and critical thinking skills while learning to express their ideas and convince others, setting them up for success in the real world.
Explore Different Types of Cases
Find cases that meet your particular needs.
New! Quick Cases
Quickly immerse students in focused and engaging business dilemmas. No student prep time required.
Traditional cases from HBS and 50+ leading business schools.
Multimedia Cases
Cases that keep students engaged with video, audio, and interactive components.
Search Cases in Your Discipline
Select a discipline and start browsing available cases.
Business & Government Relations
Business Ethics
Entrepreneurship
General Management
Human Resource Management
Information Technology
International Business
Negotiation
Operations Management
Organizational Behavior
Service Management
Social Enterprise
Seminars in APAC
Registration for our Teaching with Cases Seminars in Australia and Singapore close November 29. Learn how to lead case discussions like a pro and earn a certificate from Harvard Business Publishing. Limited seats remain!
Fundamentals of Case Teaching
Our new, self-paced, online course guides you through the fundamentals for leading successful case discussions at any course level.
Case Companion: Build Students' Confidence in Case Analysis
Case Companion is an engaging and interactive introduction to case study analysis that is ideal for undergraduates or any student new to learning with cases.
Discover Trending Cases
Stay up to date on cases from leading business schools.
Discover new ideas for your courses
Course Explorer lets you browse learning materials by topic, curated by our editors, partners, and faculty from leading business schools.
Teach with Cases
Explore resources designed to help you bring the case method into your classroom.
Inspiring Minds Articles on Case Teaching
Insights from leading educators about teaching with the case method.
Book: Teaching with Cases: A Practical Guide
A book featuring practical advice for instructors on managing class discussion to maximize learning.
Webinar: How ChatGPT and Other AI Tools Can Maximize the Learning Potential of Your Case-Based Classes
Register now.
Supplements: Inside the Case
Teaching tips and insights from case authors.
Guide: Teaching Cases Online
A guide for experienced educators who are new to online case teaching.
Educator Training: Selecting Cases to Use in Your Classes
Find the right materials to achieve your learning goals.
Educator Training: Teaching with Cases
Key strategies and practical advice for engaging students using the case method.
Frequently Asked Questions
What support can I offer my students around analyzing cases and preparing for discussion?
Case discussions can be a big departure from the norm for students who are used to lecture-based classes. The Case Analysis Coach is an interactive tutorial on reading and analyzing a case study. The Case Study Handbook covers key skills students need to read, understand, discuss and write about cases. The Case Study Handbook is also available as individual chapters to help your students focus on specific skills.
How can I transfer my in-person case teaching plan to an online environment?
The case method can be used in an online environment without sacrificing its benefits. We have compiled a few resources to help you create transformative online learning experiences with the case method. Learn how HBS brought the case method online in this podcast , gather some quick guidance from the article " How to Teach Any Case Online ", review the Teaching Cases Online Guide for a deep dive, and check out our Teaching Online Resources Page for more insights and inspiration.
After 35 years as an academic, I have come to the conclusion that there is a magic in the way Harvard cases are written. Cases go from specific to general, to show students that business situations are amenable to hard headed analysis that then generalize to larger theoretical insights. The students love it! Akshay Rao Professor, General Mills Chair in Marketing at the University of Minnesota
CaseNET: Online Cases for Teachers
An Internet-based teacher-preparation program.
Online cases, such as "Project New Delhi," help educators prepare for the complexities of teaching.
Imagine: You are a second-grade teacher in your second year of teaching. Your school's technology coordinator recently retired and your principal has asked you to take on the assignment. With new technology standards just passed by the state, she tells you it's critical that the school train its teachers to teach with technology. Although your technology experience is limited to e-mail and spreadsheets, she insists that you are the most qualified teacher for the job. Reluctantly, you accept.
Your first step is to solicit ideas to improve conditions for integrating technology into the curriculum. You send each teacher a survey and copy of the state technology standards. The resulting list of obstacles to address includes a lack of access to computers, insufficient time to learn new software, little training or support, low levels of personal confidence, and a lack of awareness of available resources. Already, you feel daunted; in helping the school fulfill the new technology standards, you wonder where to begin. And this new task is in addition to your regular teaching duties. Are you tired yet?
Teachers must juggle a range of roles every day. Many are called upon to make decisions about integrating technology into an already full schedule, often with limited resources. Unfortunately, many new teachers are unprepared for such challenges because their preservice experiences have been long on theory and short on practice.
The "Project New Delhi" case explores issues of multicultural education.
Case Studies: A Personal Experience
The use of case studies can help educators bridge the gap between theory and practice. When I was a preservice student at the University of Dayton in 1990, we used case methods in several of my classes. We immersed ourselves in hypothetical scenarios -- stories, really -- taking the role of a teacher in the situation. Then we practiced "thinking like a teacher." We analyzed the cases, asking ourselves, "What are the problems? What can we do to solve them?" We would draw on research about curriculum, behavior management, technology, and other topics to suggest what might be done to improve the situation. A set of shared case studies formed the center of class discussions.
The study of cases helped me prepare for a range of situations. As difficult as my first year of teaching was, I at least came to the job with a valuable toolkit: a working knowledge of curriculum content, instructional strategies, students' characteristics, and the interaction of these influences on a child's educational experience. Most important, I thought I knew when and how to put this knowledge to use.
Case Studies and the Internet
Today, the Internet provides new ways of using cases to educate teachers. CaseNET, developed at the University of Virginia's Curry School of Education , offers case-based courses to educators online. Participants in school districts and universities across the United States, Canada, and Norway meet in person with their local instructor each week. They access case materials on the Web and then discuss these cases with their CaseNET colleagues at other sites using online discussion groups, videoconferencing, chat, electronic journals, and e-mail.
"Case" came before "Net" in the evolution of this learning community. Before popular use of the Internet, Bob McNergney and Joanne Herbert developed and used video cases with their students at the University of Virginia. Modifying models of case-based instruction used in other professional schools such as business and medicine, McNergney and Herbert developed a specific methodology for case analysis. The process was used in preservice programs around the country, including the University of Virginia, Hampton University, and the University of Dayton, my alma mater. Curry offered its first case via the Internet in 1995.
The multimedia technologies supporting case studies on the Internet make them seem more realistic and thus help educators appreciate the complexities of teaching. Participants in "Project New Delhi," for instance, explore issues of multicultural education by watching footage shot at several schools in New Delhi, India. They follow hypertext links, watch video clips, and then discuss how teachers meet the needs of students from diverse socio-economic backgrounds in a single school setting.
In the case of the teacher-turned-technology-coordinator, "Technological Difficulties. Please Stand By!" participants devise strategies for implementing a new school technology program. They have to consider the viewpoints of individual teachers, the technology coordinator, the principal, and the students. Susan Crocetti, a University of Dayton student preparing to teach eleventh- and twelfth-grade English, says, "We came up with several concrete steps, including a buddy system to support teachers learning to teach with technology, and parent volunteers in the classroom to help students working on the computer." As for the impact of CaseNET, Crocetti says, "I learned a lot by comparing my ideas with those of my peers in class and on the Internet. It allowed me to understand different ways of dealing with issues that may arise while I am teaching."
CaseNET has evolved from a set of professional development courses into a professional community. Participants share their professional knowledge and broaden their perspectives as they solve common problems together. They do so using a wide array of technology-based tools.
Clare Kilbane is an assistant professor in the School of Education at the University of Massachusetts at Amherst. She was a doctoral student in educational evaluation at the Curry School of Education at the University of Virginia when she wrote this article.
Case Files ™
Teaching cases.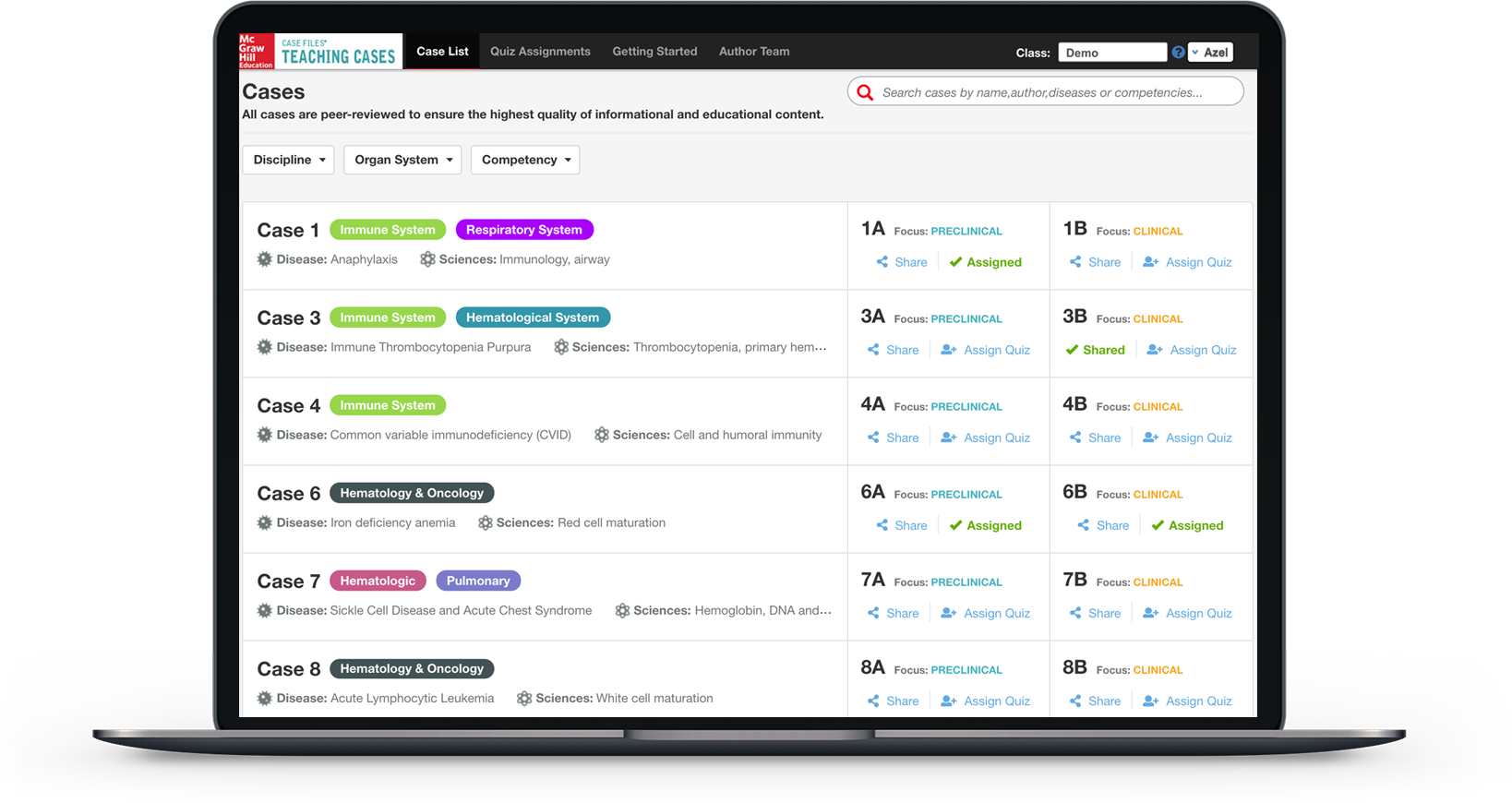 Content Features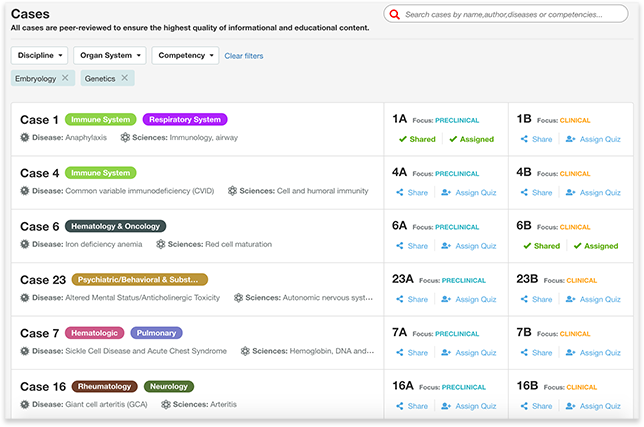 Each case features a pre-clinical and clinical version, depending on where you are teaching within your curriculum.
All case listings include the disease, along with the related basic sciences.
Provides a synopsis of the patient case that outlines the learning focus of each session.
Teaching Notes provide guidelines for how to facilitate meaningful discussions about the case.
Key Themes of the case provide an overview of the concepts related to the case.
Offers a blueprint to define the expected student learning goals.
Provides a listing of related disciplines, systems, competencies and key themes.
Thought questions to stimulate class discussion
Directed questions to lead students through the discovery process
Comprehensive quiz for each case to gauge overall learning
Provides multi-media general guidelines for how to maximize the teaching and learning experience.
Software Features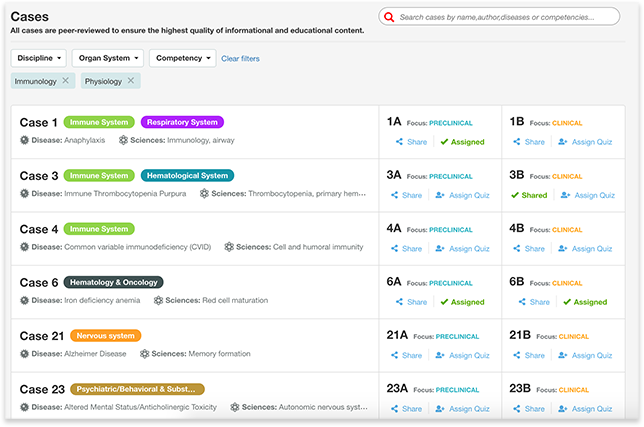 Search the collection of cases by disease, organ system or competency
Faculty can view cases on their own and decide which questions to share with students
Once a case is shared, students can view it on their own inside or outside of the classroom
Provides the ability to turn on and off content (questions and corresponding answers), based on the needs of a particular classroom or teaching environment
The "present" mode allows faculty to display the case in class; students are only able to see the necessary baseline information on the screen.
Instructors can see extra "faculty only" information while presenting the case to the class
Students can participate in an online discussion board to make learning more active and multi-modal
Results from the comprehensive quiz outputs to a standard document that can easily be uploaded into a Learning Management System
Students get a detailed snapshot of their performance
Faculty receive a summary view of the class performance and they can drill down to see student level performance data
Institutional Subscriptions

Karthik Ramanna, Sarah McAra
Top five tips for teaching cases online.
With classes heading online during the pandemic, our Case Centre team shares their tips for teaching case studies online.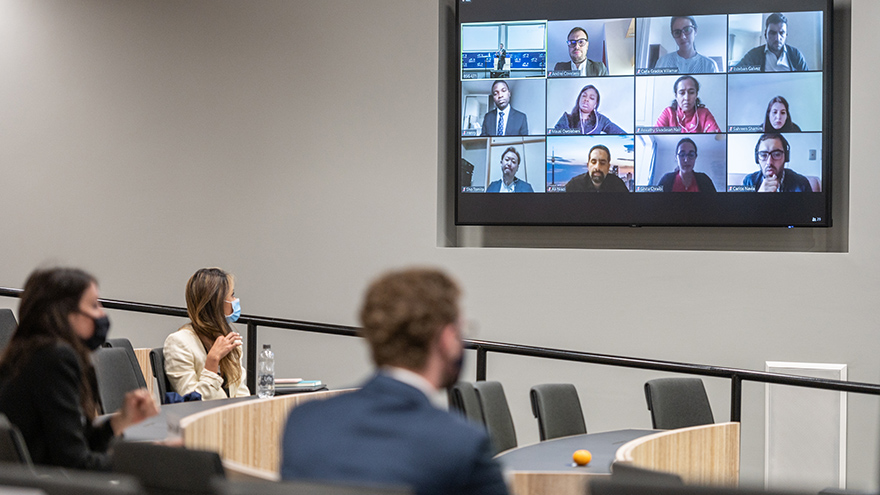 The case method can be a powerful teaching tool for bringing engaging discussions to online and hybrid learning environments. By construction, the case-method classroom requires active participation, so it can help to avert the 'Zoom fatigue' that comes from one-way online learning. Here are a few tips to keep in mind for effective online case teaching.
Cut back on content
In the virtual classroom, you will likely cover less material than in a traditional class setting – the flow of the conversation might be a little slower, and technical problems can add delays. You may want to cut down your usual teaching plan to ensure it focuses on the essential topics. As with designing any case session, the learning objectives can help guide you as you rethink the discussion plan. What are the two or three key lessons you want students to take away? Remember, the more focused your learning objectives, the more likely students will remember the session with the passage of time.
Use shorter 'pastures' and more targeted questions to keep students engaged
Know the online platform as well as you know your physical classroom.
The instructor's role as an orchestrator of the classroom becomes even more important in the virtual environment. Be prepared to manage the unique technical and logistical features of the virtual classroom. On the technology side, make sure you have clear sight lines, can see students' names, and that you have a plan for displaying the whiteboard – and arrive early to test it all out. During the session, you might need to do a bit of extra work to coordinate the conversation. You'll want to scan the 'room' to make sure you see all of the students who want to participate, not just those on a screen in front of you. You can also reflect the classroom sentiment back to the students, who might not have the same comprehensive view as you: 'I see a lot of people shaking their heads, does anyone want to comment?' Or, 'A lot of hands went up right away – let's hear from some of you.'
Plan and delegate
Running a case discussion online takes a lot of coordination and energy. Try to leverage the technology to streamline classroom management, such as assigning students to breakout rooms in advance or adding automatic timers for breakout discussions. Alternatively, if resources allow, you can delegate the technical management to a technical facilitator. The facilitator can monitor who is allowed into the online classroom, manage breakout rooms, and serve as the go-to contact for potential technical problems. This person can also help prompt you to stay aware of and engage with everyone online – e.g., alert you to 'raised hands' online that you may have missed.
Invest (continuously) in online learning norms
Building a learning community is a key part of any case discussion. After all, students are responsible for teaching each other in a case session, which requires a level of trust in and commitment to each other. Some of the norms of a physical classroom still apply: focus on active listening, wait until you're called on to speak, and so on. But online, the instructor might need to be more active in fostering a sense of community. You can use breakout rooms to allow for more small-group discussions, helping students to build collegiality. You can also give students forums outside of the case session to chat more informally – whether about the case or for more casual conversations. And you can use the chat function to allow more students to share their views, but be sure to set community standards here as well to ensure the chat remains constructive. As in all other matters, culture trumps everything else – no matter how good your learning technology, no matter how good your lesson plan, if you don't have the right learning culture, student outcomes will suffer.
To learn more about teaching cases in online and hybrid settings, join our Case Method for Public Policy workshop this June.
Karthik Ramanna is Professor of Business and Public Policy and director of the Case Centre on Public Leadership at the Blavatnik School. Sarah McAra is senior case writer at the Blavatnik School's Case Centre on Public Leadership. See more on the case studies and how they work on the Case Centre on Public Leadership 's page.
Photo: MPP students during induction in September 2020 by John Cairns
Teaching With Case Studies
Resources and tips to inspire students and keep them engaged
Next-level education: Experiential learning approaches you need to know
Creating Engagement with Case Teaching: Theory, Practice, and Immersion
Why use case studies for instruction?
Case Method Books & Resource Materials
10 Tips for Taking Case Classes Online
7 Tips for Teaching with Case Studies
How To Select A Case Study For A Course or Topic
Ivey Publishing to integrate Sustainable Development Goals (SDGs) in case collection
Equity, Diversity, and Inclusion
------------------------------------------------------------------------------------------------------------------------------------------------------------------------------------------------------------------
Copyright Basics
Copyright is the term used to indicate someone has the ownership of or rights to a document, image, music, or even a performance, as well as the right to distribution and use, in the same way we may own an object such as a car. Copyright holders have the legal right to decide IF you can use something, and under what circumstances, and for what cost.
What is protected?
"Every original literary, dramatic, musical and artistic work." – Copyright and Moral Rights in Works, Government of Canada's Justice Laws
Literary works include books, blogs (in any format), tables, computer programs, literary compilations, legal contracts, letters (in any format), poems, and even lectures, which are fixed in some form
When does it apply?
In Canada, copyright applies as soon as something becomes fixed in a tangible format, such as a note, email, electronic or hard copy of something, .jpg, song, translation, draft, drawing, map, chart, or letter (in any format) even a cartoon on a napkin.
Some criteria apply:
There must be originality - the work cannot just be a copy of someone else's original work. Skill and some personal judgment have to be involved in the creation of the new work.
The work has to be in a fixed format some material form with a more or less permanent endurance (extemporaneous lectures, speeches, jam sessions and drawings in sand just don't cut it but graffiti does!)
Not protected:
Words, slogans, titles, facts, and news (News may be copyright protected if it is presented in a fixed form, such as in a post on a news outlet's website.)
Infringement
Violation of copyright the use of a copyrighted material without the copyright holder's consent. It is irrelevant whether there is a copyright notice, whether copying is done in good faith, or if the copyright holder could not be found.
Digital infringement occurs when:
Copyrighted material is posted on the internet or another digital network in such a way that enables acts of copyright infringement. (This is why we can not post copyright material in in a learning management system without processing permissions)
Copyright information or digital rights on copyrighted works have been tampered with or removed.
For course materials, this means coursepacks, web site content, journals, book, and cases published in any format can not be used or copied (even in an e-mail), added to a learning management system , translated, or even stored in any format without written permission from the copyright owner and payment in full . Any other use would be as unethical and unlawful as borrowing a car without permission or taking over someone else's web site.
Copyright notice and registration
In Canada, registration of copyright is not required . In the United States, this is also true, but there is no recourse through the courts for violations of copyright unless a work has been registered .
Use of the © symbol is not required in Canada, but is helpful as a reminder that copyright exists on the work. Copyright notices should have the copyright holder's name, year of copyright, and the copyright symbol. No particular order is required.
Rights of copyright holders
Copyright holders have the exclusive right to reproduce a work or any substantial part of it in material form, as well as the right to adapt, translate, distribute, and telecommunicate (online, internet) a work to the public and determine the circumstances under which it can be distributed.
Collective or collaborative works and compilations
According to Canada's Copyright Act, acollective or collaborative works or compilation is any work written in distinct parts by different authors, or in which works or parts of works by authors are incorporated
These works include newspapers, textbooks with contributing authors, articles with photos by someone else.
Journal articles and book chapters – academic use
Journal articles in a compilation are discrete entities and require individual copyright; however, if a chapter of a book is less than 10 per cent of the entire book, one can usually use it freely provided that it has been properly cited. This is according to the academic exceptions provisions of the Canadian copyright legislation.
What kinds of penalties or fines could result from our infringement of copyright?
Copying anything without permission can and has resulted in seizure of materials, the distribution of fines over $100,000, and even jail time. Furthermore, materials currently used may no longer be available for use at Ivey. Copyright holders could refuse to grant permission for copying. For example, if the transgression involves Harvard documents, Harvard could withdraw their entire collection from us, drastically affecting the availability of course materials and their cost.
Want to learn more about copyright? Check out this great video by the Copyright Clearance Center - http://go.copyright.com/basics .
-----------------------------------------------------------------------------------------------------------------------------------------------------------------------------------------------------------------
Read More On Teaching With Case Studies
"If we do not discuss it, progress cannot be made": Why Dr. Hari Bapuji chose to write about caste – and what it teaches about other systems of inequality
How to get your business case study used
Preparing cases for the classroom with Professor Tulsi Jayakumar
Case Selection: Decision Points and Learning Outcomes
Case Selection: Find an Element of Suspense
Online teaching case studies
Unleashing academic freedom: the case for open educational resources
Thanks to the University of Sheffield Library (Helen Moore and Maria Mawson, Faculty Librarians) for allowing us to repost this blog in relation to Open Access Week. In this May 2021 blog post we addressed the issues surrounding the provision of textbooks, issues not caused by the pandemic but certainly magnified during that time. We're …
Unleashing academic freedom: the case for open educational resources Read More »
Case study: online drop-in sessions using Microsoft Teams
Laura Woods is a Subject Librarian at the University of Huddersfield. What sort of information literacy sessions have you run during the last few months? In the autumn term of 2020, we ran a series of online drop-ins for students, using Microsoft Teams. We ran one per month, each on a specific theme: October – …
Case study: online drop-in sessions using Microsoft Teams Read More »
Case study: shifting your IL teaching online – Diane Scott
Diane Scott, Library Resource Centre Co-ordinator at Hazlehead Academy in Aberdeen, introduces an online information literacy challenge for students that she created with the Google suite of tools. After completing my MSc in Library and Information Studies at RGU in Aberdeen in 2014, I worked part time in the healthcare sector at an NHS library …
Case study: shifting your IL teaching online – Diane Scott Read More »
Case study: shifting your IL teaching online – Isobel Ramsden
Isobel Ramsden is a Senior School Librarian at Channing School What sort of information literacy sessions have you run during the last few months? I've run two 45-minute information literacy sessions for eighty Year 11 students (in groups of twenty at a time) and one 45-minute information literacy session for eleven Year 12 Geography students. I was asked to …
Case study: shifting your IL teaching online – Isobel Ramsden Read More »
Case study: shifting your IL teaching online – Ian Clark
Ian Clark is a Librarian at the University of East London and supports the academic subject of Psychology. I've been an academic services librarian for Psychology at the University of East London for six years. As well as working with staff and students within the School, I oversee the library's social media team, including our …
Case study: shifting your IL teaching online – Ian Clark Read More »
Case study: Shifting your IL teaching online – Heather Lincoln
Heather Lincoln is a Liaison Librarian at Imperial College London. She supports the academic subjects of Business, Education, Culture and Communication. What sort of information literacy sessions have you run during the last few months? I have taught plagiarism sessions to 500 Business MSc students using the flipped classroom method, which was adapted to be …
Case study: Shifting your IL teaching online – Heather Lincoln Read More »
Case study: shifting your IL teaching online – Susan Merrick
Susan Merrick is a Teacher-Librarian at ACS Egham International School in Surrey. In this case study, she discusses her experiences in delivering online information literacy support for secondary school students. What sort of information literacy sessions have you run during the last few months? I have taught online Zoom classes, both with other teachers and by myself, to …
Case study: shifting your IL teaching online – Susan Merrick Read More »
Case study: shifting your IL teaching online – Delyth Morris
Delyth Morris is a Subject Librarian for Medicine at Cardiff University. In this case study, she discusses the opportunities and challenges she has found in delivering information literacy teaching online. Watch a short video of Delyth describing her experiences What sort of information literacy sessions have you run during the last few months? I've undertaken a …
Case study: shifting your IL teaching online – Delyth Morris Read More »
Case study: shifting your IL teaching online – David Bedford
David Bedford is an Academic Support Librarian at Universities at Medway, and is based at the Drill Hall Library. In this case study he reflects on his experiences of switching his usual teaching practice to synchronous and asynchronous modes of online delivery. What sort of information literacy sessions have you run during the last few months? …
Case study: shifting your IL teaching online – David Bedford Read More »
Case study: shifting your IL teaching online – Sarah Smyth
Sarah Smyth is an Assistant Librarian at Ulster University, supporting staff, students and researchers across Ulster University Business School. In this case study she shares her experience of leading subject-based support sessions remotely, using a variety of media. What sort of information literacy sessions have you run during the last few months? Since lockdown, I have …
Case study: shifting your IL teaching online – Sarah Smyth Read More »