Character Traits
Compare and Contrast
Read Alouds
Point of View
Reading Response Ideas
Summarizing
Text Features
Text Structures
Find the Fib
Reusable Ideas
Writing Activities
Party Ideas
Disclosure Policy
Lifetime Access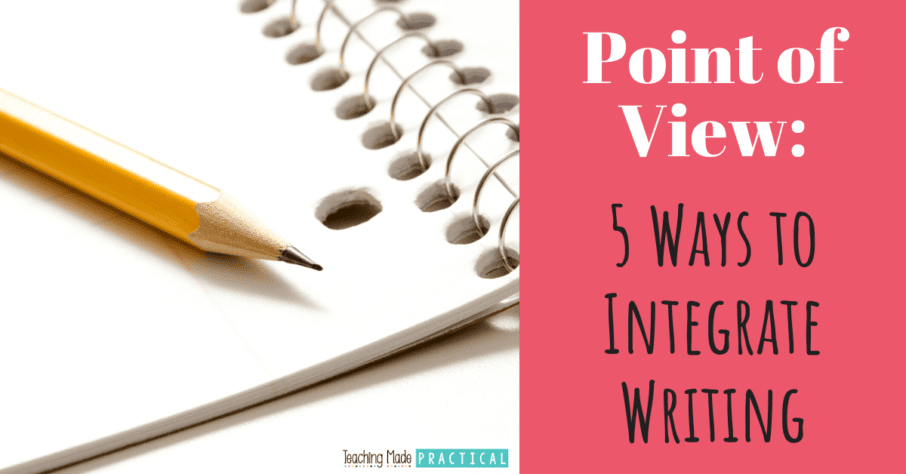 Point of View Writing Prompts and Activities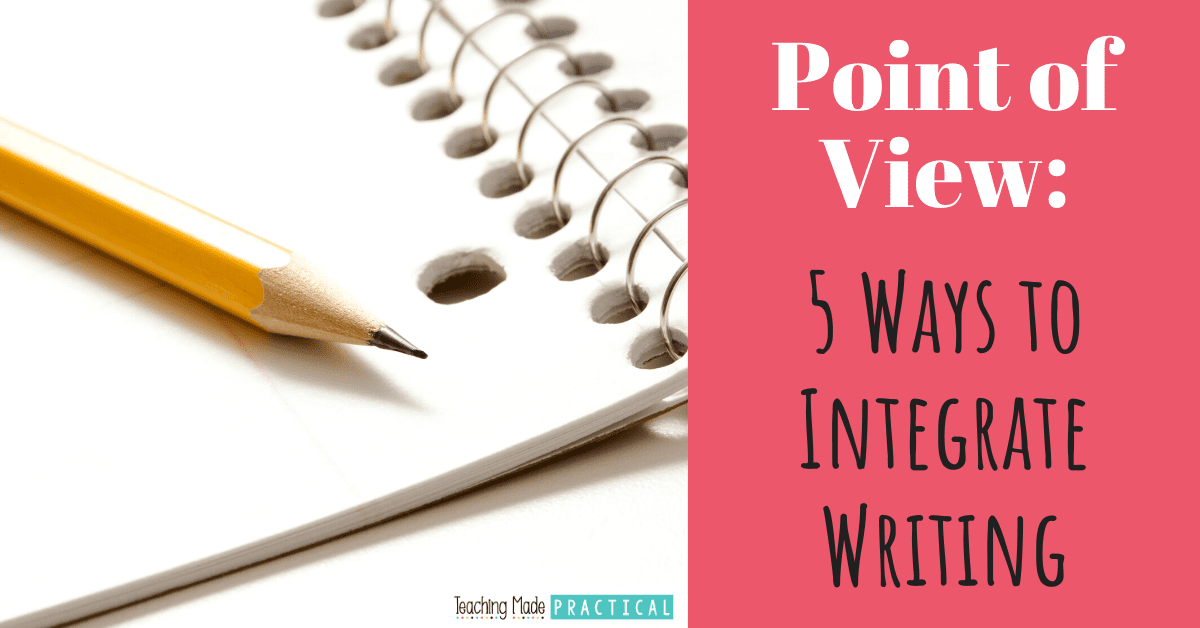 Point of view is one of my favorite skills to teach. When students begin to think more about points of view that differ from their own, they become more understanding towards other kids. I don't know any 3rd, 4th, or 5th grade classroom that wouldn't benefit that!  And the point of view writing prompts and activities below are designed for just that.
These no prep point of view writing activities can be used with almost any book. All students need is a sheet of paper! And, even better, these point of view writing prompts can be repeated multiple times, making them great for a reading or writing center. (The links below for books are affiliate links.)
You can find even more point of view activities here.
Point of View Writing Ideas for Fiction Texts
After your upper elementary students read a narrative, there are a variety of no prep writing activities you can have them complete that will get them thinking critically about point of view.
1. Have students rewrite the narrative from a different character's point of view.
But this activity is not limited to fairy tales - students can rewrite ANY narrative (find some good fiction books for teaching point of view here)   that has multiple characters from a different point of view, and usually they will have a lot of fun doing it!
2. Have students rewrite the narrative from their OWN point of view.
This writing activity directly relates to the Third Grade Common Core English Language Arts Reading Literature Standard 3.6: Distinguish their own point of view from that of the narrator or those of the characters.
3. Have students rewrite the narrative from a different perspective.
This point of view writing activity relates to the Fourth Grade Common Core English Language Arts Reading Literature Standard 4.6: Compare and contrast the point of view from which different stories are narrated, including the difference between first- and third-person narrations.
This point of view freebie might also come in handy as you have students write from different perspectives.  Or, consider having students use what they are learning about point of view to create a comic strip.
Point of View Writing Ideas for Nonfiction Texts
Integrating writing into nonfiction point of view lessons might require a little more work simply because students need to be knowledgeable about the nonfiction topic they are writing about. As long as the upper elementary students have the background information necessary in order to be successful, however, students can complete these activities with no prep.
1. Have students rewrite a nonfiction passage from an opposing viewpoint.
Help students figure out what the author's point of view is in a nonfiction text, and then have them rewrite the passage from a different viewpoint. If the author believes sharks are dangerous, have students write about how sharks are not dangerous if you take safety precautions.
2. Have students write about a topic from two different points of view.
Students in 3rd, 4th, and 5th grade have a hard time understanding other people's points of view if it contrasts with their own. This activity can help make them more open-minded about people with views that oppose their own.
Here are some possible topics for students to write about:
asking permission to use the restroom vs going to the restroom whenever you need to
homework vs no homework
raising your hand before speaking in class vs speaking whenever you want
When students have to start writing from different points of view, it makes them think more critically and behave more empathetically towards those that are different from them, as well as gives them practice writing!
If you are trying to teach your students more about understanding different points of view and how to disagree respectfully, check out these teaching tips.  
Never Stress Over Sub Plans Again!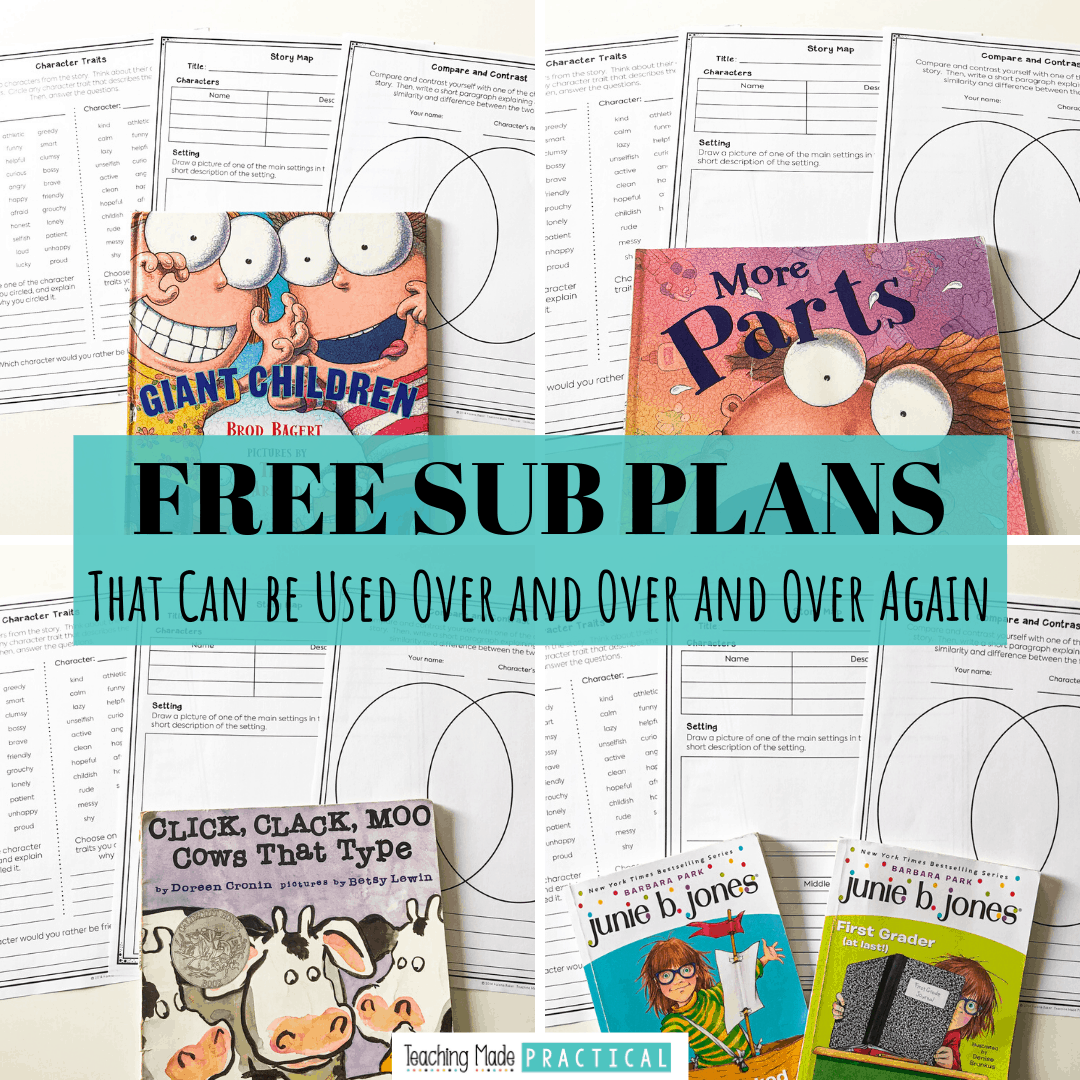 Make copies, find a fiction book, and you'll be ready for any emergency that comes your way!
thank you, this really helps me.
From a 1st year teacher
Leave a Reply Cancel reply
You must be logged in to post a comment.
point of view writing activities
All Formats
Resource types, all resource types, point of view writing activities.
Rating Count
Price (Ascending)
Price (Descending)
Most Recent
Point of View Writing Activity - Rudolph's Story / Christmas Writing
Point of View Activity - Writing Assignment and Reference Sheet
Writing from a Different Perspective Activity - Common Core Aligned
Fractured Fairy Tales Writing Activities and Crafts | Point of View | Sequencing
Point of View Pictures: Writing Activity to Teach Point of View
Point of View Activities | Research & Creative Writing Project
First and Third Person Point of View Activities Narrative Writing Print Digital
Halloween Point of View Partner Writing Activity : (plot & character motivation)
The Day the Crayons Quit Writing Activity -- Point of View and Friendly Letter
Author's Point of View Unit | Reading & Writing Activities | Perspective
St. Patrick's Day Writing Activity | March Writing | Leprechaun's Point of View
Point of View Creative Writing Activity : Versatile Cards, Poster & More
Different Perspectives Stations | Writing Activity | Point of View & Perspective
Persuasive Writing Activity | Opinion Point of View Argumentative Writing
Point of View Lesson, Reading & Writing Activities + Practice Test
1st & 3rd Person Point of View Writing Activities and Quiz!! FREEBIE!!!
All About Me | CROCS Fun Point of View Writing Activity | Back to School | BTS
Point of View Comic Strip Writing Activity
Point of View Lesson For Any Text: Creative Writing Activity Assessment
Point of View Character Letter Writing Activity for Any Novel
Point of View Reading - Writing workshop SEL Activity RTI ELA Grades 1-4
Point of View Creative Partner Writing Activity
Daily Writing Prompts with Point of View Writing Activities 3rd, 4th & 5th Grade
Point of View Writing Activities and Anchor Charts
We're hiring
Help & FAQ
Privacy policy
Student privacy
Terms of service
Tell us what you think
An Alternative Point of View
Download This Worksheet (PDF)
This exercise is a favourite with English teachers everywhere, but its use isn't limited to exploring POV characters . You can also use this worksheet to gain some perspective in your day-to-day life.
Here are some point of view prompts you might try…
Rewrite your day from someone else's point of view.
Rewrite your opening scene from a minor character's point of view.
Rewrite the story of how you met your best friend, from their point of view.
Take a passage from your favourite novel and transpose it into another point of view.
Try to write an omniscient account of everyone you encountered this morning.
Write a 2nd person "choose your own adventure" style account of a decision you made or are considering.
P.S. Have I missed any important POV terms? Let me know!
Last week's worksheet: Found Flora …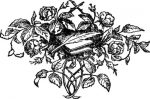 I write about literature, language, love, and living off your pen. Also, fortifying fiction, personal amelioration, and tea.

Structure your story on one page.

Build a framework for stronger characters.

Construct a model of your story world.
This page contains affiliate links which help support the site.
You are signing up to receive email training. You can unsubscribe at any time.
You will receive occasional emails about Alemmia & the Law of Attraction. You can unsubscribe at any time.
You are signing up to receive email updates from me. You can unsubscribe at any time.
Subscribe to Blog via Email
Enter your email address to subscribe to this blog and receive notifications of new posts by email.
Email Address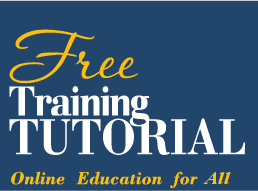 Place Value
Probability
Typing Games For Kids
Typing Tutorial
Typing Test
Spelling Games
Crossword Puzzles
Word Search
Excel Tutorial
Excel Formulas
Microsoft Word Training
Learn English Grammar
Creative Writing Course
Good Study Habits
Goal Setting
Financial Literacy
Beautiful Games
Privacy Policy
The Purpose of Creative Writing
How to Create a Character
How to Create a Setting
The Theme of a Story
Point of View Writing
Writing the Point of View of Your Stories - Lessons and Exercises
Games for identifying the value of each digit:.
Point of view is a vital element in literature. Its role has to do with allowing the reader to "see" or "hear" what is going on. It provides a picture for the reader in his or her mind and can even make the reader feel as if they are part of the story.
There are varieties of point of view, depending on how the author wants their story to be read. For example, if the writer wants a character to narrate the story, they will use words such as "I", "me", and "myself". This is an example of first person point of view. Other points of view include second person and third person.
It is also important for the writer to ask himself or herself, "How do I choose which point of view to use in my story?"

Examples will give student writers ideas of how to use point of view in their work.
Different Points of View in Writing
In this lesson, different points of view (PoV) will be discussed. There are 1st person, 2nd person, and 3rd person points of view, but student writers will learn the difference of singular and plural PoV, too.
A story must be read in a consistent perspective so that the reader can keep track as to who is talking. Also, it can make the writing readable.
Definitions and several bullet points will follow for the student writer so the lesson will be more understandable.
Using Points of View in your Story
The second lesson to this section focuses on teaching the student writer how to decide which point of view they want the story to be narrated from.
This will review over the different points of view and how each point of view can change a story in its entirety.
Points of view help the reader look at detail, ideas, and emotion from the author. So, it is up to the author on how they would like to share their message.
A worksheet for the first lesson
Different Points of View - Exercises
These exercises include a matching drill to practice the pov definitions, and a "fill in the blanks" drill, to practice using the correct pronouns according to the given point of view.
A worksheet for the second lesson
Using Points of View - Exercises
There are three types of exercises here: The first one is composed of open-ended questions. The second one gives you five-word cues to write your own story, letting you choose the appropriate point of view. The third drill asks you to think of five stories you know, and write what points of view were used in these stories.

get it now!
FREEBIE! Virtual record SHOP slides FOR CRITICAL THINKING Activities

Four Activities to Teach Narrative Point of View
Creative writing , reading & literature.
Sharing is caring!
Teaching students to identify narrative point of view in literature and write in a consistent perspective can be pretty dry material, but with these five activity ideas, your lesson will go from blah to ah-hah!
Using Excerpts
Use short story and novel excerpts to teach each of the narrative points of view. Using mentor texts is helpful when practicing different writing structures, and similarly, studying excerpts written in different points of view will reinforce this learning. If possible, using excerpts from texts already read in class can help students to make meaningful connections between various contexts. You can provide students with a reference sheet containing these excerpts, or conduct an activity like stations, or a gallery walk for students to analyze different excerpts to determine the narrative point of view.
Changing Perspectives
A great way to help students understand how writers use point of view and how narrative choices can impact a story, is to have students rewrite a portion of a piece of writing in an alternate point of view. For example, using a piece of writing in first person, and rewriting it in third person omniscient. Through this activity, students can assess which point of view they found more enjoyable as a reader and whether they would have made different narrative choices than the writer of the material. For this activity, students can use any novel or short story around them, or you can provide them with a list of approved links to sites containing novel excerpts. One site that I've used is earlybirdbooks.com. 
Another, more visual option is to provide students with a page of text from a novel (photocopied or printed from the Internet) and ask them to find all of the pronouns or proper nouns that would indicate point of view and black them out with a marker. Then students would go through the text and change all of the blacked out sections to tell a story in a different point of view.
POV Proofread
A great activity to help students practice proofreading their own writing with an eye for consistent point of view is to model this process with an example piece of writing that shifts point of view throughout. Demonstrate how this process requires the proofreader to decide which point of view would be most effective and then correcting the piece to be cohesively written in that perspective. You can then have students work individually or in groups to correct another piece of writing on their own. Groups can present to the class the narrative choices they made in their proofreading process. 
Another option to reinforce this learning would be to provide each group member with a slip of paper indicating one of the narrative points of view. Then the group participates in a story chain activity where each group member adds a line or two to the last line written, but has to write in the point of view they were assigned. Then the group must correct their writing for consistent point of view, or trade papers with another group for this part. 
Name That POV Tune
Once students have practiced identifying different narrative points of view, a fun game to reinforce their understanding is to divide the class into teams and then play a few lines from a song. The first team to "buzz" in and state which point of view the song is written in wins a point. You can set a winning total, for example, the first team to get ten points wins. Prepare a playlist with different points of view so that the game remains challenging.
leave a comment
Leave a reply cancel reply.
Your email address will not be published. Required fields are marked *
Save my name, email, and website in this browser for the next time I comment.
© Mochas and markbooks 2022 | Template by Waymaker Designs |
check it out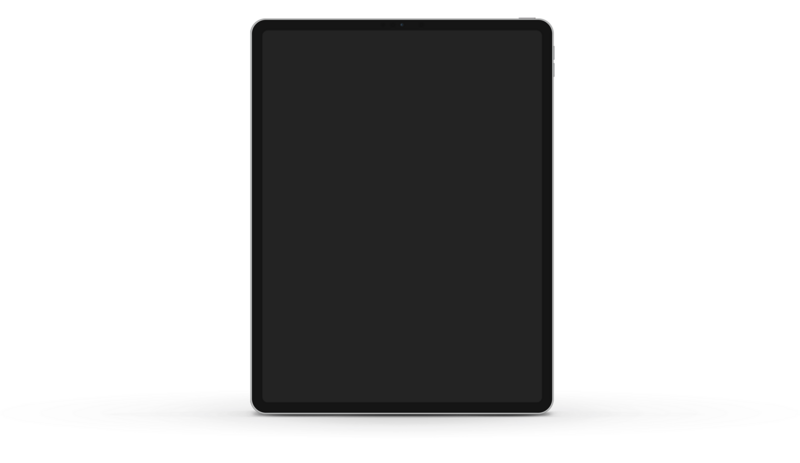 3 Essential Exercises For Viewpoint
We are posting a series of  Essential Writing Exercises to help you tell your stories. This post includes three essential exercises for viewpoint .
On our course,  Writers Write ONLINE , we spend time creating characters, plotting, learning to write dialogue, learning how to pace, and learning how to show and not tell. We teach you about viewpoint, setting, description, and scenes, and much, much more. In my series, I am going to concentrate on a few of these areas.
To help us get through this time of social distancing and lockdown, I am going to post a series of Essential Writing Exercises to help you tell your stories.
We've included exercises about creating characters , dialogue , viewpoint , plotting , setting , beginnings , and pacing . (If you want a downloadable, advert-free workbook that includes all of these exercises, please buy The Novel Writing Exercises Workbook .)
This week I have included three essential exercises for viewpoint.
Buy The Viewpoint Workbook
When we teach Writers Write ONLINE , we find that viewpoint confuses many writers.
Viewpoint (point of view) is the filter through which you tell your story. You have to choose a viewpoint character and you need to decide if you are going to tell the story in first person , second person , or third person viewpoint.
Using third person is the most common way to write any story. You can also write a novel as a narrator, or using a first person, or second person narrative structure. These are more unusual.
The viewpoint you choose should suit your story. It affects the mood of the story. First person is common in memoirs and Young Adult fiction. It is also used in other genres. Second person is experimental and is used in more literary fiction. Third person is used across all genres and readers are most comfortable with this viewpoint. Narrators are uncommon in modern fiction as there is too much telling when they are involved.
MUST-READ: How Viewpoint Works – 10 Ways To Tell A Story
To help you decide which viewpoint you are going to use, try our three essential exercises for viewpoint to help you decide.
Exercise 1: Firstly
Write a scene in first person present tense (present tense is often used with first person to make it more immediate) or past tense.
Start with one of these:
I look at Sam, waiting for him to sit down before I say, 'You know, I never wanted to kill them.'
I picked up the binoculars and searched across the bridge. They were late.
Name the character/s.
Use the  five senses ,  dialogue ,  body language , and the internal thoughts of the  viewpoint  character.
Show the  setting  through their interaction with it.
This exercise will help you find out if you enjoy the intimate, confessional nature of this viewpoint.
Exercise 2: Secondly
"You have friends who actually care about you and speak the language of the inner self. You have avoided them of late. Your soul is as dishevelled as your apartment, and until you can clean it up a little you don't want to invite anyone inside." ~ Jay McInerney , Bright Lights, Big City
Write a scene in second person present tense (this viewpoint is almost always in present tense) where your character wakes up in a strange room. They have no idea where they are or what they are doing there.
Begin writing with this prompt:
Your head pounds. You reach out for your glass of water, but it's not there.
This exercise will help you find out if you like the surreal, uncomfortable feel of writing in second person.
Exercise 3: Thirdly
Write an opening scene of a novel where two detectives arrive at a crime scene. Write it in third person past tense (this is the most common way of using third person).
Use this prompt to start writing:
Detective Inspector Gigi Slaughter ducked to avoid the branches. Where was Hawkins? She expected him to be here when she arrived.
This exercise will show you that this is the easiest and most common way of writing a story.
The Last Word
Use these three essential exercises for viewpoint to decide on a clear filter through which you can tell your story.
Join us for  Writers Write ONLINE  for many more exercises like this (with feedback), and learn how to write a book.
© Amanda Patterson
If you enjoyed this blogger's writing, read:
5 Essential Exercises For Pacing A Story
5 Essential Exercises For Writing About Setting
5 Essential Exercises For Plotting
What Is Dramatic Irony & Why Should I Use It?
5 Essential Exercises For Creating Characters
5 Essential Exercises For Writing Dialogue
How To Finish Writing Your Book
Thriller Book Title Generator
The Almost Moment Is The Secret To Successful Romance Writing
What Is Direct And Indirect Characterisation? And Which One Should I Use?
Top Tip : If you want to learn how to write a book, sign up for our  online course .
Exercises , Featured Post , Viewpoint , Writing Tips from Amanda Patterson
© Writers Write 2022
Your browser is no longer supported. Please upgrade your browser to improve your experience.
Room With a View: Creative Writing Exercises
Exercise one – in this room.
A key part of being a good writer is to really pay attention to your surroundings and to translate what you can hear, see, smell, touch, taste and feel into words so that other people can experience what you're experiencing. Focusing on the five senses is an important skill to develop as it helps to make your writing richer and multi-dimensional. It's also a great mindful tool for creating calm. Win win! 
A key part of being a good writer is to really pay attention to your surroundings.
For this exercise, try to stay in the moment. Take in your surroundings. What can you see, hear, touch, taste and smell where you are today? Maybe there's a smell of recently brewed coffee. Perhaps you can hear the birds tweeting outside or members of your family having an argument in another room. For touch, you might just want to focus on the feeling of your fingers on the keyboard or the way the paper feels beneath your arm or the pressure of one leg on top of the other, the feel of floorboards beneath your feet, or you could explore other feelings too. And if your mind gets taken away to a memory of another time and place as you notice a souvenir from a holiday on the desk, feel free to follow that thought too. Allow yourself to write whatever comes to mind and don't think too hard about it. You can always edit it later.
Exercise Two – Room with a View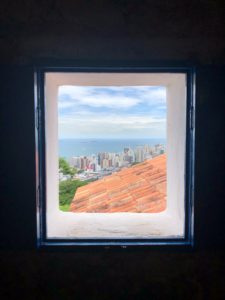 Windows and the views from them can be a rich source of inspiration for writing. They're a boundary between one space and another, but a transparent boundary and a natural frame for writing. For this exercise, it's probably easiest if you position yourself so that you can see out of particular window, but if you've got a good memory, you could also choose to write about a different view that you know well: maybe the view from a school window, or a holiday cottage that you might have visited. Follow the prompts below and allow your writing to get more fanciful and imaginative as you go on. Write in long sentences rather than making notes. Essentially, you're constructing a poem, line by line. 
You can also watch this video and follow the prompts included here: 
Something is straight in front of you. What is it?
What's off to the left?
In the corner of your view, what can you see?
Remember the way it looked at a different time in the past.
Something is unusual today. What is it? Maybe something is missing, or present when it isn't usually there.
What is out of view (over the hedge, across the road)?
What's happening further away – on the other side of the village or the city?
What about over on the other side of the world?
Exercise Three – The Witness
Let's turn our attention from writing poetry to writing fiction and imagine a story in which a character observes the world from their window. Perhaps they're a person who loves to be nosey, or someone who simply enjoys watching the world go by. Maybe, in your writing, you might have a whole cast of characters that the main protagonist sees: the woman who walks the dog at the same time every day, the man who pushes the pram, the postman or woman. Or, you might want to focus on one particular person and one particular incident. 
Effective fiction tends to focus around change so see if you can incorporate this into your story. Maybe the main character sees something that changes their perception of the world in some way or perhaps they see something that literally changes their world. Perhaps it's something that they shouldn't have seen and perhaps their decisions about what they do with that knowledge will drive the story. Maybe the change is simply that the woman stops walking the dog or that the post stops arriving. It's up to you. 
Effective fiction tends to focus around change so see if you can incorporate this into your story.
Here are a few suggestions to get you started:
The post gets delivered to the wrong house and a person who hasn't left their home for years has to take it to the rightful owner.
Someone witnesses a robbery.
A character sees two people having a fight and has to decide whether to intervene.
Someone overhears a conversation that they shouldn't have heard. 
A character sees or has an encounter with some unusual wildlife – maybe a badger or a fox
Exercise Four – Picture This
In case you're tired of looking out of your own windows at your own views, we've provided some different views for you to look at. Hopefully they might inspire you. 
For this exercise, simply take one of the photographs and imagine yourself into the scene. You might be a character who is looking out of the window, or you might be someone in the scene beyond the window.
Use the following questions to help you to develop the character that you're writing about. You might want to write a piece of fiction, but you could also write a poem about, or from the viewpoint, of the character. Most stories are driven by the desires of the main character and the obstacles that you, the writer, put in their way. You might want to think about that as you write.
Who is the character? (Name, age, nationality)
What are they doing here?
Where are they going? Or where have you been?
Who are they with or who are they waiting for?
What are they afraid of?
What do they have in your pocket or bag?
What do they want most in the world? 
What is their biggest regret? 
Who is their best friend? 
Exercise Five – Objects
We're surrounded by objects in our homes and what can seem ordinary and boring can soon be transformed into something interesting if we bring our attention and imagination to it.
For this exercise, pick an object from the room where you're sitting and use it as the starting point for a piece of writing. 
You might want to tell the literal story of what it is and where it came from or you could make it the centre of a fictional piece. Maybe that little box from your holiday in Spain is actually a repository for all of the secrets of the universe, or perhaps your notebook is enchanted and everything you write in it becomes true. 
Maybe that little box from your holiday in Spain is actually a repository for all of the secrets of the universe?
Another exercise to try is to write from the point of view of the object. How does it feel to be the necklace that no-one very takes out of the jewellery box or the book that someone bought just to show off but which never gets opened?
Maybe you could write about two objects and their relationship. Perhaps the salt pot has a vendetta against the pepper pot or maybe the fork is in love with teapot. 
Have fun with it.
"It is perfectly okay to write garbage–as long as you edit brilliantly.' C. J. Cherryh
Editing is a fundamental part of the writing process. Some writers enjoy the first burst of creativity more than editing, but others love that process of stripping out the unnecessary parts of their work and shaping it into a finished piece. 
I like to imagine editing as being a bit like sculpting; the finished story or poem is in there and your job as an editor is to chip away at the raw materials (your first draft) to smooth and polish the final work of art. Most writers write several drafts before they get to a piece that they're happy with and, if you want to be a writer, it's an important lesson to learn, that something is rarely finished at the first attempt. Invariably there's a lot that can be done to improve a piece of writing and sometimes the finished article bears little resemblance to the piece you started out with. You write as a writer, but you need to edit as a reader.
Here are some tips to help you to improve your first draft.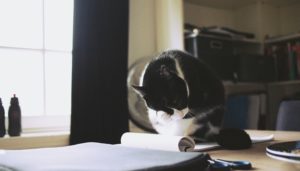 General tips
If you have time, leave your writing for a while before you start to edit it. That way you can view it as a reader.
Read your work aloud. You're bound to find yourself editing as you go along as you'll sense which bits flow and which bits don't.
Give it to a few trusted readers to read. They will pick up things that you're too close to see. Make sure you choose your readers wisely though. You don't want the opinions of people who are too close to you who'll be afraid of hurting your feelings (e.g. your mum) nor do you want people who are too critical or competitive. Other writers usually make for good critics as they know how precious your work is and they also know what to look for. 
Think about what the purpose of your writing is. Can you summarise it in a paragraph? What do you want your reader to think or feel after they've read it? It helps if you can keep this in mind as you edit and try to make sure that everything you write serves this purpose.
Is your opening the best one? Does it make the reader want to read on? It's usually a good idea to get straight to the point and the action. Can you cut the first paragraph or page? Often we're finding our own way into the story at the beginning and our opening isn't the right one.
That said, you want your reader to feel quickly located in your story and clear what it's going to be about. You might find it helpful to think about the w's: who, what, where, why and when. Can you convey the basics of this information quickly and succinctly?
Lay some hooks and questions to get the reader interested at the beginning. It's a delicate balance between giving enough information so that the reader isn't confused, and leaving them intrigued and guessing what's going to happen next.
Are you showing rather than telling? This is a big topic and something you'll be able to find out more about online. Generally-speaking, you want to feel like you're in control of a movie set and that you, as writer, are directing the film, showing the reader the action as it unfolds rather than telling the story. The reader doesn't want to hear your voice but the voices of the characters. 
Check your viewpoint. Usually it's best to stick with one character's point of view or to be very clear that you're switching to another character (e.g. by starting a new page of chapter). Be careful not to flit between characters' heads unconsciously as this can make the reader feel confused and disorientated. One way to check this is to ask yourself the question: 'says who?' at the end of every sentence. 
Check for repetition and see if you can use different words and phrasing. 
Use as few words as possible. You don't need to explain things in several different ways e.g. don't say, " 'I'm furious,' screamed Jen, angrily." One way of letting us know that she's angry is enough.
Where possible, avoid feeling words and show emotions in different ways e.g. with body language and physical sensations i.e. 'she sank to the floor, her body wracked with sobs' as opposed to 'she felt really upset.'
Don't overdo it though. You don't need to reference the tightness in someone's chest every time they feel anxious and beware of mentioning the same things over and over again e.g. scratching chin, playing with hair, winking. How often do people really wink in real life?
Avoid using too many adverbs and adjectives, especially adverbs.Often, you can replace an adverb by choosing a better verb e.g. instead of saying 'he shut the door noisily ', you could say 'he slammed the door.'
Use dialogue to bring your prose to life and to show character rather than describing everything.
Don't overuse names. Unless it's confusing, use 'he' and 'she'.
Be careful when choosing character names to choose names that sound very different. If your three main characters are called Ahmed, Abdul and Ahad, your reader is likely to get confused.
Don't feel you have to use complicated dialogue tags: 'he said' and 'she said' are usually better than 'he expostulated' and 'she exclaimed'. 
Don't give too much information and try to make it natural when you can e.g. a character wouldn't say, 'when Matt, my husband, came home from his work at the local hospital.' She'd just say, 'when Matt came home from work.'
Check that you're indenting each paragraph and each time a new person speaks.
It's generally accepted practice in the UK to use one inverted comma for dialogue and to put the punctuation inside the inverted commas e.g. 'Are you coming for your dinner?'
Editing poetry is a bit more complicated as poetry is more open to interpretation and individualistic stylistic choices but here are a few things you can look for.
Read your poem out loud several times. How it sounds is as important as how it looks on the page. 
Are you using the perfect word? Poets think really hard about every word. They're thinking about the sound and shape of the word as well as its meaning.
Think about where you position your words. Does a line sound better if you turn it around? 
Consider line lengths and stanzas or the overall shape and balance of the poem.
Think about which words go at the ends of the line. You probably don't want to end lines with words conjunctions like 'and', 'or' and 'because'. 
If you're rhyming a poem, make sure you're not just using a word because it rhymes. If you are, then think about a different way to say what you're trying to say.
Be consistent with your punctuation and capitalisation. Some poets use capitals at the beginning of each and some don't. Either is ok but make sure you've thought about your stylistic choice. 
Does your imagery make sense? Poets often make use of similes and metaphors. One or two carefully-chosen metaphors are usually more effective that lots. 
Have you used other poetic techniques e.g. alliteration and assonance? Could these be strengthened? 
Think about your beginning and your ending. Are you starting and ending with two of your best lines?
Don't forget to follow us on social for regular writing prompts and challenges; @thelitplatform / @theliteraryplatform.
Skip to primary navigation
Skip to main content
Skip to primary sidebar
Teaching Expertise
Classroom Ideas
Teacher's Life
Deals & Shopping
Privacy Policy
20 Point of View Activities for Middle School
June 16, 2022 // by Jill Webb
Studying point of view can get tedious for many middle-school students. Some students may also have difficulty identifying the point of view; especially when it is alternated in some fiction texts. You need to teach a variety of engaging activities to get students invested.
Below are 20 point of view activities for middle school students. Many of them have a literature focus, but other are fun activities used to really hone in on understanding the different types of points of view.
1. Point of View with Pictures
An easy way for students to practice is by using photos. Have different photos for students to look at with a range of characters. Students then need to look at the different possible points of view (POV) and perspectives.
Learn more: Teaching with a Mountain View
2. Point of View with Slogans
A cute mini-lesson, this activity has students looking at popular slogans and determining what POV each is. You can also have them discuss how they decided on the POV for each.
Learn more: Book Units Teachers
3. Agree or Disagree
This activity has students look at both nonfiction and fiction texts. Rather than just determine a POV, they will also do comparisons - comparing different authors' POVs and the author's POV from a character's POV.
Learn more: Teaching Made Practical
4. Alternative Point of View
Writing is also an important part of point of view. Students should learn to write using different ones. For this activity, students will write an alternative point of view from a story. They should choose a different character and not only use the appropriate pronouns but also add in the internal feelings of the character.
Learn more: Eva Deverell
5. Peek-a-boo Book Scene
Get crafty with students and have them do a "keyhole scene". After they have read a specific part of a text, have them create a representation of what one of the characters would "see" from their pov.
Learn more: The Room Mom
6. Tweet Sheets
Use these "Tweet Sheets" after reading a novel. Students will choose specific events from the novel and then create tweets by the character from their point of view of the event.
Learn more: Teachers Pay Teachers
7. POV Graphic Organizer
Use this graphic organizer to help students find the point of view of a text. They will first identify the narrator, then determine the pov. They must provide evidence as to why they think it is that pov.
Learn more: Jennifer Findley
8. What's the Tea?
In this lesson, students will compare and contrast perspectives and points of view by reviewing two different excerpts.
9. Character Postcards
Students practice using points of view in writing. They will write postcards as if they were a certain character - writing from that POV and perspective.
Learn more: The Literary Maven
10. TED ed Video
This is a simple activity idea to review point of view concepts. The video looks at familiar stories but from other points of view. It also helps students with perspective-taking skills because it shows examples of characters seeing it in a different way.
Learn more: TED-Ed
11. Scavenger Hunt
A fun activity idea is to do a point of view scavenger hunt. Students will explore different texts and have to determine which pov by providing evidence.
Learn more: Hey Natayle
12. Interactive Notebook
Defining the point of view is important for students. In this mini-lesson activity, students will use an Instagram lens to understand what they should "see" for first-person narration, second-person, and both 3rd person and 3rd person omniscient.
Learn more: Kayse Morris
13. Fractured Fairy Tale
In this activity, students will create a story map for a fairy tale character - specifically from the point of view of a dislikable character. This will help students better understand POV and differing perspectives.
Learn more: Homeschool Giveaways
14. Lyric POV and Author's Purpose
Students get to look at song lyrics to learn about points of view. Lyrics, like stories, use specific POVs. You can also use the activity template and have students choose their favorite songs.
15. Reading Comprehension with POV
Working on this comprehension activity, students will be given different examples of points of view. They then have to choose the correct POV. You can extend the activity and use excerpts from favorite fiction and nonfiction texts.
Learn more: Live Worksheets
16. Pronoun Sort
This is a digital activity that has students working on defining the first-person pronouns and third-person pronouns They sort using pronouns list and definitions.
Learn more: Wordwall
17. Narration vs. Dialogue
Give students exposure to narration using this narrative essay activity. It uses examples from mentor texts to help students understand narration and dialogue. The familiar texts are helpful for students to learn how to write solid narrative essays.
Learn more: The Hungry Teacher Blog
18. Cootie Catcher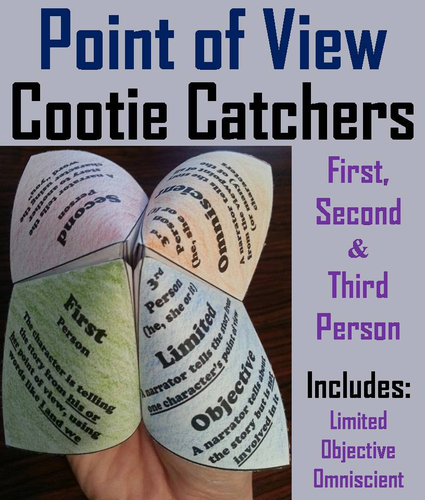 The cootie catcher is an easy and fun way for students to review the differing points of view. All you need is a printout of the worksheet and some folding skills.
Learn more: Tes.com
19. Escape Room
Make a practicing point of view a fun skill by using an escape room game ! Students will pass levels by finding the POV and seeing if they can make it out!
20. Choice Board
Using a choice board gives students a way to decide how they will show their mastery of the skill. Students will be given 8 different activity choices they can choose from to show their POV knowledge!
Reading Comprehension Worksheets
Inferences Worksheets
Context Clues Worksheets
Theme Worksheets
Main Idea Worksheets
Reading Games
Summary Worksheets
Online Tests
Figurative Language Worksheets
Short Stories with Questions
Nonfiction Passages
Genre Worksheets
Point of View Activities
Identifying the narrator's view point in a variety of texts is an essential reading skill.  Students are often assessed on their understanding of narrative perspective on standardized tests.  These point of view activities may help reinforce your students' understanding of point of view.
This page has tests, PowerPoint lessons, student-centered projects and more resources to help students master narrative perspective .
Looking for point of view worksheets ? Check out this page .
Thanks for checking out my point of view activities! I wish you the greatest possible success on your educational journey.
Point of View Common Core State Standards
57 comments.
Hi, I use your site often and I love the practice sheets. I'm having a hard time finding the answers to Point of View Test 2. The one that starts of with Super Easy Fun by Fun Tea Inc,
cecil knowles
how to use point view 1st 2nd 3rd ?
https://www.ereadingworksheets.com/point-of-view/
Loree Sprague
Wow! These suggestions and resources are fantastic. Thanks so much for sharing these. You are a generous soul!
You are so welcome. Thank you for visiting and taking the time to comment.
micah britton
This is AMAZING!!!
Sherlon Cloud
As a teacher and a parent, these examples are awesome.
A life-saver!
Excellent. Thank You!!!!!!!!!!!!!!!!!!!!!!
Good Website!!! This website really helps me!!
Really Good Website!!!!!!!!!!!!!!!!
This was such a helpful site. It gave me many tools to pick from to use in my classroom to help my students in their understanding of point of view.
demond smith
all the help has gave me a better understanding on a lot of things
You've provided a great resource for teaching P.O.V. I plan to share it with my other 5th grade teachers since we are preparing to teach this concept next. Thank you so much!
Thank you for spreading the word.
Mrs. Littrell
Thank you so much for sharing all of your hard work!! This has been very helpful to me. I appreciate your generous spirit!!
Shanna Nichols
I love this website! But I'm looking for something to help teach how to identify the point of view of media presentations. Could you please help me? This is something new and I'm not having very good luck finding things to use.
I have nothing of the sort at this time. I will contact you if I create any material of this sort. Best wishes and I hope that you find what you are looking for.
Jennifer DeGerolamo
Thank you for taking the time to create such an amazing site. You provide such fantastic resources for teachers to access for free. I use the powerpoint presentations, activities, and worksheets all the time. Thanks again for using your time to create all these resources without charging a dime!
Thanks for taking the time to say so. Best wishes!
Paula Kavanagh
I am using this amazing resource of yours for homeschooling 8th grade/ 9th grade English and would like to know if you have the answers to the quizzes that you here on the point of view?
Hello. I finally got around to adding them. Thank you for the encouragement and best wishes!
Heather Bolling
Mr. Morton,
I have just found your site and have found this to be extremely helpful! I am a first year teacher and have been 'borrowing' many of your PowerPoint lessons and worksheets. We're starting to review Point of View again tomorrow and I think that this time around I will be much better prepared. Thank you for sharing!
I am happy to help. "Borrow" away!
Robin Lawson
This is such a great resource! I loved using it with my eighth grade classes. thank you!
Thanks for the POV site. I'm going to use it in class in the morning. I will be using some of the other stuff, but right now, this is awesome!
Mrs. Edwards
From Mrs. Edwards' Middle School Korean Students: Thank you, Mr. Morton, for a great resource! Our class frequently looks through some of your pages in order to better understand basic concepts when language starts to fog our brains. These concepts assist us in preparing for English Universities where literature and writing is essential! –Incheon, South Korea
(And thank you for providing a sometimes frustrated teacher with encouragement to keep pushing!)
You can do it! You're making a difference.
This is an awesome website. It is helping me to prepare lessons for my child during summer break. Thank you!
yvonne davidson
great site thx for the help
I find myself returning again and again, I love your lessons and worksheets. We "flipped" my classroom this year to one on one student/laptops, your websites has really helped make the transition a success! Thanks!!!!
I hope to join you in the future, one day.
This is a really wonderful resource. I had to come up quickly with a point of view lesson(s) when I found many of my students failed a formative assessment on the topic. I scrambled to find some good material and came upon this website. It was a huge help. Simple, straightforward but rigorous and relevant. Thank you.
I'm so pleased to hear it.
All of these activities are really great! Thank you for compiling them!
Thank you for all the wonderful plans and worksheets. This is one of the most helpful websites I have found.
That's kind of you to say, and exactly what I intend.
Two words (out loud) THANK YOU!!!!
Thanks-Love the help, but where is the book passing activity -I must have missed this
Levonne Wheat
This website is the bomb! I was having a very difficult time trying to create a quiz for my students. Thanks for the blessing.
I love all of the wonderful activity ideas you have. Thank you soooo much!
This site is AMAZING!! Thank you for taking the time to create a useful site for teachers. Do you have an answer key for quiz 2? Thanks!!
Not currently, though I plan on making some keys over the winter break. Thanks for visiting!
Obie Williams
I am a graduate student currently taking a class on teaching and tutoring writing. I just wanted to let you know that your Powerpoint presentations were quite helpful in giving me ideas for my mock lesson plans. Thank you, Mr. Morton.
I'm glad to hear it. Thanks for visiting!
Mary Dwiggins
All my students have Iphones or IPods and can take pictures. Do you have an activity using these devices to help with point of view?
Well, not currently. But that sounds like the future talking, Mrs. Dwiggins.
mamateacher
It is 1:00 in the morning and I've ben trying to come up with a hands on activity for POV. I couldn't think of one at all. Thank you for the book passing activity; it is just what I need!
Get some rest!
In your powerpoint slide on point of view, is it possible that you could tell me what you think the point of view was in the sample passages? My students and I were not sure about some of them. Thanks. Still love your site. 🙂
Sorry this took so long:
Answers for PowerPoint Practice Slideshow
1. First-Person 2. Third-Person Limited 3. First-Person 4. Third-Person Omniscient 5. Third-Person Objective 6. First-Person 7. Third-Person Omniscient 8. Second-Person 9. Third-Person Limited 10. Third-Person Objective
Thank you for any reply. I am not sure you are giving me the correct answers to the Point of View Powerpoint. Isn't #3 "Foresight in Relationships" told in 2nd person? Please clear that up for me. Thanks.
Hello, again. I have the answers to the power point, but I am confused about which power point they go with? Can anyone help me with that?
Debra Johnson
There are two mistakes in the Point of View PowerPoint slides in the "7 Habits of Highly Effective Teens" In the last three lines it says 'your' instead of you're. "If your hungry, eat." (That's wrong.) It should be, If you're hungry, eat. There is the same mistake after that.
I fixed those errors in the PowerPoint file. Thanks for bringing that to my attention. "You're" help is invaluable. ;p
Leave a Reply Cancel reply
Your email address will not be published. Required fields are marked *
Author's Purpose Worksheets
Characterization Worksheets
Conflict Worksheets
Fact and Opinion Worksheets
Figurative Language Activities
Figurative Language Poems with Questions
Genre Activities
Irony Worksheets
Making Predictions
Mood Worksheets
Nonfiction Passages and Functional Texts
Parts of Speech Worksheets
Poetic Devices
Point of View Worksheets
School Project Ideas
Setting Worksheets
Simile and Metaphor Worksheets
Story Structure Worksheets
Text Structure Worksheets
Tone Worksheets
ALL PAGES AND WORKSHEETS