Nike's CSR Challenge | Case Study
by Bishal · Published November 24, 2015 · Updated December 11, 2015
One of the popular known brands Nike, who manufacture sports and clothing, has more than 50,000 workers produces shoes through subcontractors. Most of their factories are located in Asian countries because of large non-employed population and low cost workers.
In 2005 Nike started disclosing their CSR activities after a couple of years of silence due to legal concerns. After several audits Nike reported that a large percentage of their overseas factories have their employees working in terrible environments for low pay and in unsanitary health conditions. This is the first time that a major corporation has revealed such problems to the public so honestly. Nike is now taking a new strategy and approach in an attempt to correct these problems. They are attempting to take responsibility to effect positive systematic changes in working conditions with several branches of their industry. Nike plans to reshape the way customers, supplies, investors, and regulators see the company. They are changing it from a closed system and making the company more open so that suppliers and customers can relate to Nike. One of Nike's problems is changing the way its leadership and management style that is "leaders beyond borders" meaning leaders reach out to more than just their professional role and engage people on shared goals. Nike needs to reach out to wider issues of trade flows, governance, and media otherwise all their changes may not make a difference as they optimistically hope. Case Questions:
Discuss the challenges regarding corporate social responsibility that companies in the apparel industry face in their supply chains around the world.
The apparel industry is possibly for the most part at risk to issues of social responsibility. The industry is still somewhat labor intensive and operates in a low wage environment. For example, in developing countries, apparel and sports manufacturers lack trained personal, information on CSR implementation and benefits and insufficient infrastructures for initiating CSR, but 25% to 50% of the factories in the South Asian region restrict access to toilets and drinking water during the working day. The industry has a lot of contract manufacturing in which a foreign firm is contracted to do all the production for the firm owning the brand.
Extra working hours are also required to meet demands, which result in overtime and poor working conditions in developing countries, but the same percentage of factories in Asia denies workers at least one day off in seven. More than 60 hours per week and 25% of workers punished for refusing overtime work. All of this can lead to the problems we can see in this case.
Discuss the meaning and implications of the statement by a Nike representative that "consumers are not rewarding us for investments in improved social performance in supply chains."
– This statement suggests that those companies who invest their sources on "above-standard compliance" will be outperformed by those companied who are less concerned about compliance. Therefore, companies who concerns about compliance have to either reduce their profit margin or lose in market share if they charge extra for improved social performance. Nevertheless, it is not a good excuse for not doing the right thing. Although competitors may be engaging in unethical practices, and consumers may not care about the working conditions of foreign employees, it is still not a justification situation to engage in socially irresponsible actions. In the case of Nike, the company is not competing with the low end of the market, and one would assume that the premium pricing of the brand could allow for improvements in wages and working conditions. It should be pointed out that consumer perceptions and concerns can change and a firm can find it dealing with a successful PR campaign directed toward its practices. Consumer "rewarding" can change and make such companies vulnerable due to their foreign employment practices.
What does it mean to have an industry open-systems approach to social responsibility? What parties are involved? Who are stakeholders?
Open-system approach refers to the organization views its actions in terms of the effect it has on larger social system that's not only concerning with internal part of companies such as employees, manager, material, equipment and production, and labors, but also all elements, which includes environment-such as competitor, suppliers, distributors and governmental regulator, as well as citizenship and its internal elements. Basically everyone is involved in this case, ranging from government, to company and even customers/buyers. Stakeholders are person with an interest or concern in business. In addition to being socially responsive to internal stakeholders such as domestic employees, the organization also views its impact on suppliers, investors, regulators and communities, regardless of their location.
What is meant by "Leadership beyond borders"?
– Leadership beyond borders means that leadership moves beyond borders or barriers created by others. For example, leaders in the apparel industry would attempt to extend their influence beyond the company borders in order to deal with the CSR issues. Real life example could be Gandhi, who has given hopes, whose life and personality was enhanced in the process. This kind of leader is only little in existence. Transcendent leadership offers us a metaphor to help Nike move more closely to a world where human talents and energies will be maximized for the betterment of al – personally, organizationally, and globally (Gardiner, 2006).
Is it possible to have "a compatibility of profits with people and planet"? Whose responsibility is it to achieve that state?
– Yes, it is possible to have "a compatibility of profits with people and planet", but this is an idea of socialism and in some point it does not work. It's everyone responsibility to care for each other and everything. It is a based of culture on corporation not competition with not just humans, but also everything that lives on the planet including other animals and resources. This is a social ideal ecosystem. Some people work hard toward the needs of others and the planet, while others will exploit. So it must be mixed with areas of competition in order to maintain a balance of cooperation with competition.
Research Nike's CSR actions since the time frame and why it has earned the reputation as one of the world's foremost organizations in sustainability.
– When Nike adopted open-system approach, they had believed that the future of the company will be dependent on every element – internal and external. They believe that good society will bring good profitability and thus it would contribute to sustainability, Nike managed to create a green life cycle, were Nike has managed to eliminate waste in production and harmful substances, and ensure that all their products are recyclable and re-usable. Despite Nike's efforts to take the lead in the apparel industry to form a Global Alliance to improve labor conditions, not only in its own factories and sub-contractors, but also among its competitors on the footwear and other apparel industries, incidents such as:
Collapse in April 2013 of Rana building in Bangladesh, which housed a number of garment units, who were sub contractors to leading MNCs (Multinational corporations) collapsed, killing over a 1,000 people – mostly women and injuring seriously a few hundreds, keep happening.
Early this year (2014) in the state of Tamilnadu in India, 7 workers died when they were cleaning a tank in a textile dyeing unit, KPR textiles, Perundurai, Erode district. They were exposed to toxic gases from chemicals used in dyeing.
Nike also took the lead in forming the Fair Labor Association (FLA). The awareness and the initiative taken by Nike has been acknowledged and appreciated by all the stakeholders in the industry, including customers. The operation council of the Global Alliance after detailed audit, has commended Nike for the processes introduced, not only in its own operations and among its subcontractors, but also in the rest of the industry.
References: Adidas Group. Sustainability History. Retrieved from: http://www.adidas-group.com/en/sustainability/managing-sustainability/sustainability-history/ International Institute for Sustainable Development (2013). Nike. From: http://www.iisd.org/business/viewcasestudy.aspx?id=81 Megha, G. (2012). Corporate Social Responsibility in the Global Apparel Industry: An Exploration of Indian Manufacturers' Perceptions. Recovered from: http://libres.uncg.edu/ir/uncg/f/Gupta_uncg_0154D_11000.pdf The Bangladesh Factory Collapse: Why CSR is more important than ever http://www.theguardian.com/sustainable-business/blog/bangladesh-factory-collapse-csr-important CM condoles death of 7 workers in textile dyeing unit. From: http://www.business-standard.com/article/pti-stories/cm-condoles-death-of-7-workers-in-textile-dyeing-unit-114031900421_1.html Trapped in Textile. Retrieved from: http://newjurist.com/trapped-in-textile.html
-Bishal Aryal
You may also like...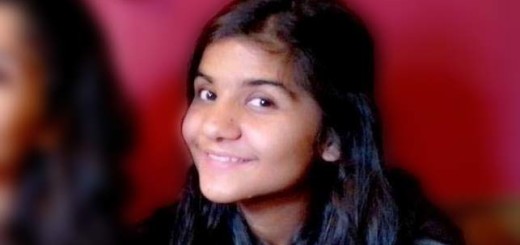 Counterparts of responsibilities
December 22, 2015
by Bishal · Published December 22, 2015 · Last modified December 18, 2015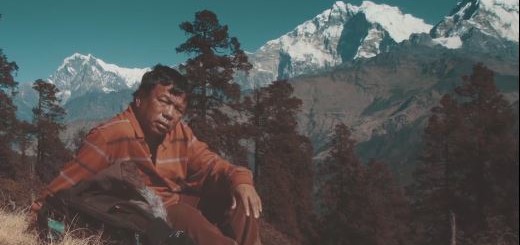 This man conveyed Internet to 60000 individuals in provincial Nepal
December 11, 2015
by Bishal · Published December 11, 2015

6 Unique Ways to Drink Coffee
October 7, 2015
by Bishal · Published October 7, 2015
Leave a Reply Cancel reply
You must be logged in to post a comment.
Next story Behind the Web
Previous story Boy Asking For BRA from Girls (Shocking Reaction)
Article/Story (80)
Documentary (1)
Entertainment (32)
Fashion (4)
Featured (41)
Lifestyle (17)
Photography (8)
Poem/Song (2)
Spiritual (28)
Sports (11)
Technology (10)
Voice of the Week (3)

Corporate Social Responsibility: Case Study of Nike, Inc.
Essay, 2013, 5 pages, grade: a, michael watford (author).
Abstract or Introduction
Nike Inc. was founded in 1964 by Bill and Phil as Blue Ribbon Sports. It is headquartered in Oregon, United States and operates on a global scale. The company is traded on NYSE and operates in apparel industry. Its segment markets include athletic footwear and apparel, sports equipment's, and recreational products. With control of over 60% of the business Nike has become a pop culture and at the same time involved in corporate social responsibilities. Increase in market resulted to be marked as the advertisement of the year in 2003 while in 2004 its annual revenues exceeded $ 13 billion. Nike's acquisitions include Starter and Umbro (NIKE, INC., 2013). Its subsidiaries include Hurley International and Converse Inc. with over 44,000 employees it made a revenue of US$ 24.128 billion and a net income of US$ 2.223 billion in the fiscal year 2012. In 2 fiscal year 2009 Nike reported a revenue of US$ 19.2 billion. Nike has offices are located over 45 countries. Nike sells products in over 180 countries. Nike Portfolio include top competitive brands which include: NIKE brand ( accessories, footwear, apparel, and equipment); Cole Haan (designs, distributes and markets handbags, luxury shoes, outwear and footwear); Converse ( athletic footwear, apparel and accessories); Hurley International LLC (action sports and youth lifestyle footwear, apparel and accessories); Umbro; Nike Golf; and Jordan brand providing similar products (Carbasho, 2010).
Similar texts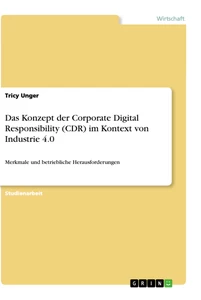 Das Konzept der Corporate Digital Res...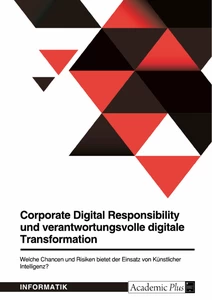 Corporate Digital Responsibility und ...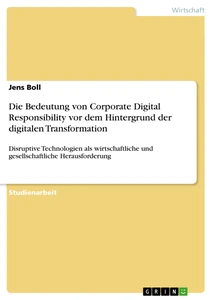 Die Bedeutung von Corporate Digital R...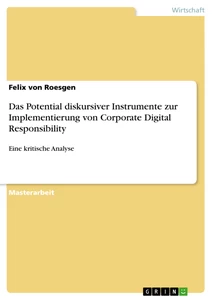 Das Potential diskursiver Instrumente...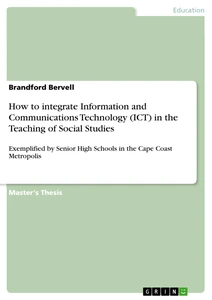 How to integrate Information and Comm...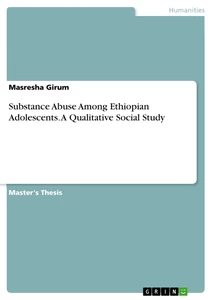 Substance Abuse Among Ethiopian Adole...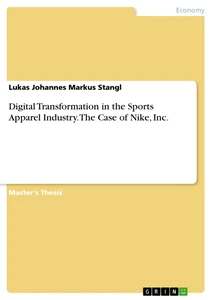 Digital Transformation in the Sports ...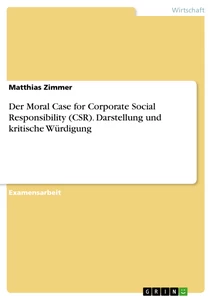 Der Moral Case for Corporate Social R...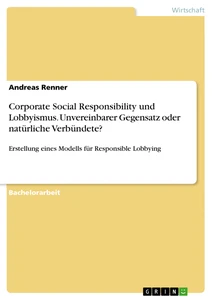 Corporate Social Responsibility und L...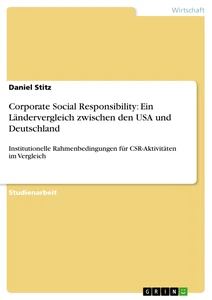 Corporate Social Responsibility: Ein ...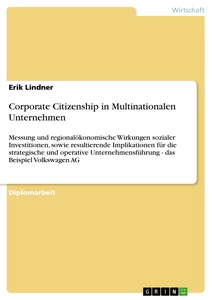 Corporate Citizenship in Multinationa...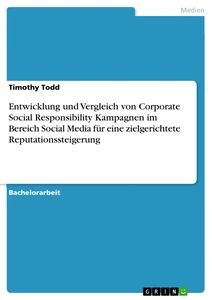 Entwicklung und Vergleich von Corpora...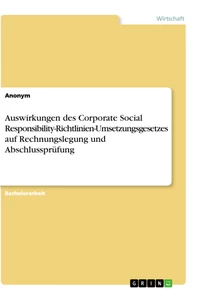 Auswirkungen des Corporate Social Res...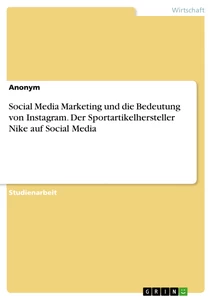 Social Media Marketing und die Bedeut...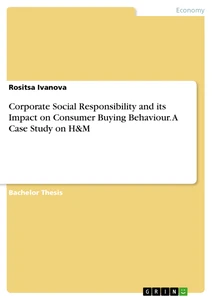 Corporate Social Responsibility and i...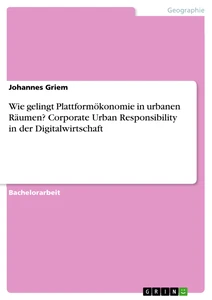 Wie gelingt Plattformökonomie in urba...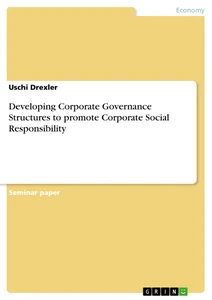 Developing Corporate Governance Struc...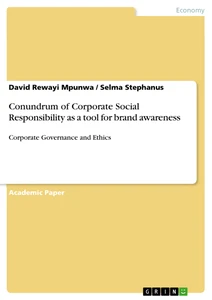 Conundrum of Corporate Social Respons...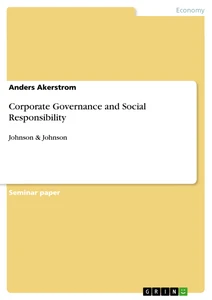 Corporate Governance and Social Respo...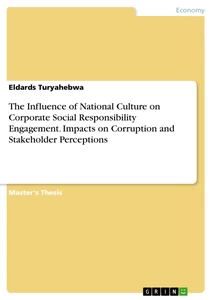 The Influence of National Culture on ...
Upload papers
Your term paper / thesis:
- Publication as eBook and book - High royalties for the sales - Completely free - with ISBN - It only takes five minutes - Every paper finds readers
Publish now - it's free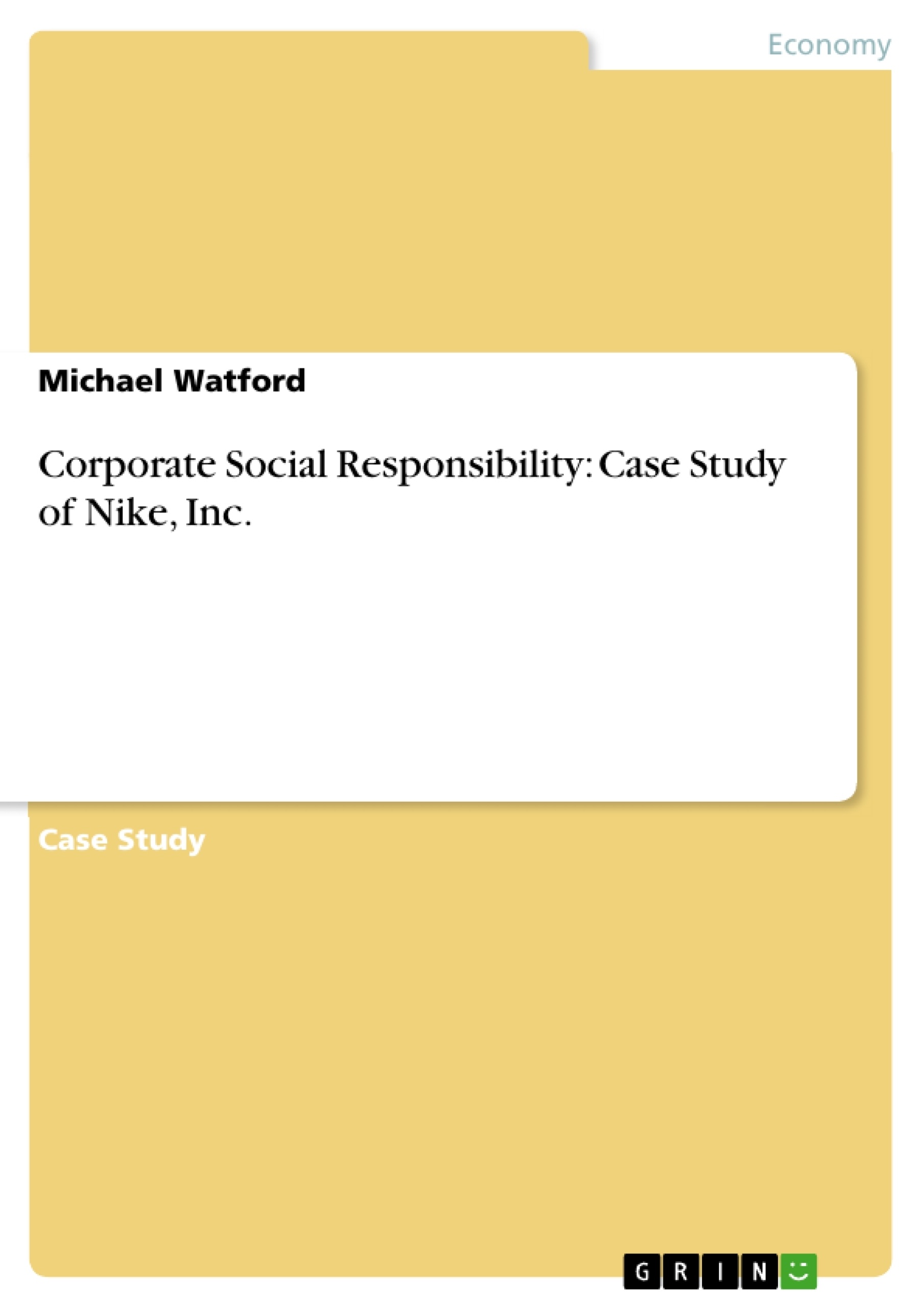 Academia.edu no longer supports Internet Explorer.
To browse Academia.edu and the wider internet faster and more securely, please take a few seconds to upgrade your browser .
Enter the email address you signed up with and we'll email you a reset link.
Case study - Social responsibility strategy for Nike, Inc. limited
by Linda N Williams
For writing help, reach me on: [email protected]
The company that I am going to develop a social responsibility strategy is the Nike Company that was formed in 1962by Bill Bowerman and Phil Knight as a result of collaboration of the two to come up with the most sufficient athletic shoes after the dominance of German and cheap Japanese athletic shoes in the American market (Almaney, 2000). The company has gained increased sales since it was formed and thus making it a global giant in the manufacturing and sale of sports equipment utilities. The company has faced a number of challenges in its daily administration in the market as a result of stiff competition, imitation, environmental pollution and lack of raw materials.
Access 47 million research papers for free
Keep up-to-date with the latest research
Share your research and grow your audience
We're Hiring!
Help Center
Find new research papers in:
Health Sciences
Earth Sciences
Cognitive Science
Mathematics
Computer Science
Academia ©2023
Free Related PDFs
Ivona Mikulandra Volic
Edupedia Publications
The real success of Indian democracy is being attributed to its social responsiveness towards all of its citizens. Nevertheless, in the endeavour of sustaining a true and vibrant democracy, the country strives very hard to extent the facilities and benefits to all strata of the society due to its constrained resources. Therefore, the Government of India needs a helping hand from corporate sector to ensure better standard of living of its people. In this regard, the corporate India is expected to play a constructive role by undertaking activities which may ultimately lead to social rejuvenation, development and empowerment of unprivileged people. If this happens, India is very proud to be one of the countries in the world to attain real inclusive growth. Hence, it is felt that Corporate Social Responsibility (CSR) activities of companies are really a key to unlock both economic and social disparities, which in turn, benefits the person in the last mile. Moreover, the Companies Act, 2013 has directed corporate India to work towards a growth based socio-economic-environment development model. The present book is an attempt to provide the emerging trends and best practices in CSR implementation, models of partnership, managerial and organizational challenges and issues in monitoring and evaluation of projects related to CSR in the public and private sector. I thank all paper contributors for their continued support, encouragement, inspiration to complete this task. Without their help it will be difficult task for me to complete this volume. Dr. M. Vasan
Ezedioramma Rtc
ABSTRACT Social responsibility is an idea that has been of concern to mankind for many years. Over the last two decades, however, it has become of increasing concern to the business world. This has resulted in growing interaction between governments, businesses and society as a whole. In the past, businesses primarily concerned themselves with the economic results of their decisions. "Today, however, businesses must also reflect on the legal, ethical, moral and social consequences of their decisions". This paper will discuss the concept of corporate social responsibility. It will give the definition of the phrase, and identify some of the global factors that necessitate corporate social responsibility. It will discuss the importance of corporations setting up corporate social responsibility projects, and the impact these have on society. Social corporate responsibility and the maintenance of high ethical standards is not an option but an obligation for all businesses.
Shazia Saif
This report is an effort to present a clear picture of Corporate Social Responsibility strategies and solutions to a myriad of problems related to CSR. The report starts with an introduction to the topic coined by a highly researched literature review and is galloping onto CSR problems in the chosen company i.e. NIKE. The company is also introduced with latest statistics and current mission and vision to get a clear perspective of the company profile. The problems are discussed at length followed by a plethora of solution steps taken by Nike to solve or at least present a solution to the problems. The next portion is of recommendations to NIKE as to what it can or should do to be a champion of corporate social responsibility.
Nurul Fadly Habidin
The automotive industry is an important industry in manufacturing sector. This study shows a model to conduct an empirical study in Malaysian automotive industry in order to improve CSR performance. The aim of this study is to review structural analysis of ISO 26000 efforts and CSR performance in Malaysian automotive industry. This study is to review ISO 26000 standards effort (recognising social responsibility and stakeholder identification and engagement). The CSR performance in this study is focused on two main performance; environmental performance and social performance. This study also proposed structural relationship model between ISO 26000 efforts and CSR performance in Malaysian automotive industry. Based on the proposed research model, research hypotheses are being developed. This paper culminates with suggested future research work.
Tassawar Zahoor
Madeeha Kanwal
Strategy is about the most crucial and key issues for the future of organizations. Strategy is also important to explore several strategic options, investigating each one carefully before making strategic choices. The study incorporates a rigorous and systematic effort to uncover the strategies and its impact on the company's performance by analysing case studies, articles and the annual report of Nike Inc. and Adidas Inc. The study attempts to find out the relevance of the strategies adopted by these companies, which are globally successful athletic apparel companies in the context of Bahrain. The findings of the study highlight Nike's strategies which focus on innovation and emphasis on its research and development department, provision of premium pricing for its customers, broad differentiation strategy, market Segmentation Strategy and Closed-Loop strategy. The Adidas strategies focus on the broad differentiation, innovation, trying to produce new products, services and processes in order to cope up with the competition. It embraces a multi-brand strategy, emphasis on expanding activities in the emerging markets, continuously improving infrastructure, processes and systems, foster a culture of challenging convention and embracing change, foster a corporate culture of performance, passion, integrity and diversity. These strategies coupled with its resources and unique capabilities form the basis of sustainable competitive advantage for both the companies. INTRODUCTION: The strategy is a path towards achieving the optimum goals of individuals, groups and organizations. In addition, it leads to a best use of companies' available resources and it also guides the company to stay in a business successfully and continuous improvements for its processes. The definition of strategy could be differ from one author to another, but the most common definition is that the strategy is long term plans and approaches towards the intended visions and objectives. It is a general framework that specified the organizations' plans, policies and approaches to meets its objectives, goals and end results. The way an organization used to shape its strategies could be differentiate from other organizations in order to make its products unique and remarkable. Globally, companies formulate their strategies based on their visions and reaching the satisfaction of customer's needs, requirements and expectations. Subsequently, they use those strategies as a baseline to compare their actual performance with planned ones, to evaluate the end results and ensuring the continuing organizational excellence. There are many kinds of strategies that are pursued by the companies; Such as cost leadership, differentiation and the focus strategies (Porter, 1985), services strategies, growth strategies. Based on the goals, the companies form those strategies and they rank them upon the priorities. It is more than important for any organization to put strategies and not any strategies; the correct strategies which are formulated after a long time of studying and after numerous number of brainstorming among the top management members. Therefore, those strategies then to be implemented by converting the organization's plans and policies into real actions through the best use of available resources such as: human resources, budgets and technological advance; in order to enhance the organization's performance, productivity and sustainability.
Dan Oncica-Sanislav , Dan Candea
This book explores a new way of looking at business sustainability. Why some companies show more interest in sustainability while others exhibit limited solicitude for social and environmental issues? What type of organization would naturally and inextricably include societal concerns in its actions? Our research starts out from the hypothesis that a learning organization holds a better promise for sustainability than other kinds of organization. The research was conducted using the case study method and the pattern matching technique. Our findings support the research hypothesis.
Yegashree Sundaralingam
Corporate social responsibility is getting unbelievably well-liked just lately as a result of mixture of public, ecological, in addition to economic deliberations of which plays a big aspect to make judgments constitutions in addition to operations connected with business. Besides of which, it really is in relation to employing modernization to find out creative in addition to value-added ways of local community in addition to ecological fights. It really is as a substantial dilemma of which effects day-to-day business capabilities in addition to economic activities. In the following paragraphs, My partner and i elucidate the actual substantial concerns in addition to what exactly stimulates an organization or even business to help have a go at corporate social responsibility intensely just lately. Keywords: corporate social responsibility, business strategy, societal integration.
Laura Maria Dindire
This paper aims to determine the trend of the relationship between corporate environmental responsibility and corporate reputation by focusing on a study of the European automotive sector. The starting point of our research is content analysis of the sustainability or social responsibility reports published in 2010, 2011, and 2012 by 13 businesses operating in the European automotive industry. Content analysis was carried out in order to identify the indicators used to assess corporate environmental responsibility. The methodology aimed to produce an evaluation model for corporate environmental responsibility based on the following variables reported by companies: carbon dioxide emissions, water consumption, energy consumption, and amount of waste. Corporate reputation of sampled organizations was assessed based on content analysis of the 2010, 2011, and 2012 reports of the Reputation Institute. We applied the correlation of panel data and emphasised the fact that high levels of corporate environmental responsibility sustain high levels of corporate reputation. The study highlights the theoretical considerations that support this relationship. As companies become increasingly accountable, the methodology described in our study can be developed in further research by using other variables to measure corporate environmental responsibility.
Raechel Johns
2014, European Business Review
Roger Conaway
2011, Journal of Business Communication
Pranjali Galgali
Organizations across the world can help solve environmental and societal problems by contributing to the United Nation's Sustainable Development Goals (SDGs). Studies show that the world's largest private employer and company by revenue, Walmart Inc., has the potential to create a big impact in the world. This paper attempts studies Walmart's sustainability strategy and speculates the potential risks and opportunities by committing to the SDGs. The paper challenges of Walmart's stakeholder engagement, its image-building strategies and recommends changes for improving public image.
omolade funke
Ninah Bakojja
ABSTRACT: There has been increasing awareness for companies to engage in corporate social responsibility (CSR) activities (Carroll, 1999). The benefits of which vary in different companies as well as the motivations for engaging in it. Corporate Social Responsibility (CSR) is a relatively new concept in formal application and lexicon in Uganda, having its roots in its application by multinational companies through philanthropic activities to develop communities in which they operate. It is now very common to see CSR activity reports on most companies' financial statements and reports. However, the reason why companies in Uganda engage in CSR despite the growing inflation and economic downtown has not yet been researched to the best of the researcher's knowledge. The purpose of this thesis is to investigate and analyse why companies in Uganda are motivated to engage in CSR to form a baseline for further research. The study sought stakeholder's perception and attitude towards CSR using open and closed ended questionnaires as well as secondary data collection. The CSR aspect is perceived differently by various stakeholders and therefore the Relativism research approach was used for the study. The primary data was attained from a sample of nine managers from three beverage companies, and 60 consumers from central, east and western Uganda. Secondary data was attained from the companies' websites and media publications as well was analysed and compared with the theories and drivers on the reason companies engage in CSR that have been advanced by various scholars. Quantitatively, data was analysed using Microsoft excel 2010 and presented as tables and graphs for easy analysis. Quantitatively, the researcher grouped similar responses from the participants' questionnaires to form a description and used direct quotes from the participants' responses for substantiation. Findings indicate that firstly, respondents are aware of what CSR entails however; it's reliant on mainly on philanthropy because of the cultural nature of activities that are carried out by institutions. Stakeholders' definition of CSR is similarly dependent on the activities that they engage in or have seen companies engage in. Consumers' decision to use a brand is not yet dependent on the social causes that companies engage in rather on brand attributes. Secondly, CSR activities are mainly centred on the development of society and HIV/Aids treatment which are a major problem gap that the Ugandan government has filled not and this indicates that companies engage in CSR for social economical, ethical and political benefits (Mêlé and Garriga, 2008). I recommend further research that covers a larger consumer and manager sample, more companies and it should cover a larger geographical area as well for more conclusive results.
M. Westerlund , Kristian Moller , Risto Rajala
FEMI P R A I S E MOYIN
lobally, there is a growing recognition of the effects productive activities of businesses have on stakeholders. Corporate social responsibility reporting is a subcategory of financial accounting which focuses on disclosing of non-financial information about a corporate organisation's performance to external parties such as capital holders, stake holders, creditors e.t.c. This paper examines the accruing huge benefits such reporting has on organizations. These benefits include risk management propensity; communication to desired and right audiences; employee recruitment and retention; continued public endorsement and licenses to operate unhindered amongst others. The paper concludes that corporate social responsibility reporting has the capacity of garnering enhanced organisational image, attract positive media attention with the host community, civil society organizations and key decision makers. However, selecting when to act, how to act and reporting such acts to the relevant stakeholders can make a difference in corporate image enhancement. It recommends the development of an appropriate innovative standard reporting technique to be backed by enforceable legislation.
Kristian Moller , Westerlund Mika
2014, California Management Review
Ojingiri solomon
ABSTRACT Modern day corporations operate their businesses in dynamic environment, with stiff competition from competitors struggling over the limited resources. Based on the idea that businesses are benefiting from the environment, it is therefore imminently necessary that they should return something back to the society in order to benefit the community at large. This in the short run constitutes cost to the company/business and advantage to the community, but it pays off in the long-run for them (businesses). The objective of this study is to investigate the impact of corporate social responsibility on the performance of manufacturing companies' performance. Three hypotheses were formulated to guide this investigation exercise. Primary data were used and were obtained through the use of a closed-ended form of questionnaire. Four hundred questionnaires were distributed personally by the researcher to top level management officers of the Butterfield Bakery, Coca-cola Plc., Dangote Flour Mill and Tuyil Pharmaceutical Industry – all being the sample industries selected from within Ilorin metropolis. Two hundred and seventy (270) of the administered questionnaires were generated with full response, this constituting 67.5% success rate. Chi-square (X2) and Spearman Rank Order correlation coefficient analysis techniques were used to analyse the generated data. The findings of the study pointed us to the fact that corporate social responsibility plays a significant role in improving the performance of manufacturing firms. The study recommended that corporations should specially earmark fund for corporate social responsibility projects in which they will like to enjoy its advantages in the long-run.
AARF Publications Journals
This paper investigated the CSR practices among selected tanneries from the part of the developing world where there is a dearth of CSR study. The status of CSR in Ethiopia in general, and the tanneries sector in particular is the least explored subject. This study brings to the fore the status of CSR from less charted territories such as from this part of the world. More specifically, the study examined the CSR trends in the tanneries sector of Ethiopia by investigating the existing CSR practices and concerns among a selection of tanneries. This is an area that hasn't been broadly explored in the setting of the underdeveloped nations such as in the context of Ethiopia in general and the CSR practices of the tannery sector in particular despite the fact that the tannery sector is regarded as one of the priority areas of the country that is expected to contribute hugely to achieve economic breakthrough. Methodologically, the study employed qualitative case studies (comparative case studies) among three tanneries, which were willing to participate in the study to address the central research question of the study which © Associated Asia Research Foundation (AARF) focuses on assessing the CSR practices, challenges, and concerns in the tanneries sector of the country. Findings indicate that the studied tanneries execute their current CSR initiatives mainly due to ethical consideration. Regarding the challenges that the tanneries face in implementing CSR, the major challenge that is identified by the managers of the tanneries is lack of government policy to support the tanneries to implement CSR programs through incentive policies and lack of internal organizational capabilities.
Jolita Vveinhardt
Corporate social responsibility (CSR) is the dimension of society's development, expressing the values, constituting the basis of the perception of sustainability of relations between organisations and society in real life. The development of the private sector in Lithuania relied on the principles of free market, rather than on the principles of social market. This sets additional tasks in pursuance of a broader practical development of corporate social responsibility, which is significantly influenced by scientific insights and research. To achieve the aim, the aspects of theoretical research on corporate social responsibility in the Lithuanian studies on the topic are discussed with the purpose to form guidelines for broader future research. Assessing empirical research in private and public sector organisations in Lithuania, focused on social responsibility, the threats posed by the lack of integral development of social responsibility are distinguished. It is stated that the scientific thought in this case should become the coordinating factor for a wider three-party social-organisation-individual discussion; therefore, theoretical and empirical studies should focus on this relationship, with the view of axiological congruence as the point of contact, which could accelerate social responsibility innovations. When carrying out empirical research in Lithuania, private and public capital should be methodologically distinguished, since the latter provides the obligation to serve the public interest, which is a conceptual opposite to profit maximisation. Based on these positions, it would be meaningful to assess in further studies how the earnings of the public sector managed enterprises are generated and used in the context of social responsibility.
Rizwan Muhammad
This study contributes to the literature on Corporate Social and Environmental Disclosure (CSED hereafter) in the developing countries by exploring various influential factors for CSED and grouping them into three categories: normative, interest, and company groups (Solomon and Lewis 2002). These categories can create normative, coercive, and mimetic pressure respectively for a company to adapt CSED practices. Numerous theories such
John K . Lewis
The sustainability reporting efforts of MNCs who are members of the Fortune Global 250 (FG250) was investigated. The focus was on sustainability reporting by MNCs of supply chain impacts. The reporting of FG250 MNCs was examined to determine if greenwashing was occurring or whether MNCs had committed to operating a green supply chain. A mixed methodology was used consisting of quantitative analysis of twenty-five MNC CSR/sustainability reports which were randomly selected from the FG250 listing. Qualitative analysis using content analysis was also conducted on the reports. Both methodologies concentrated on the sustainability reporting of the selected MNCs in regard to their supply chain. Findings were mixed as there were great variations among the MNCs in their level of sustainability reporting about their supply chains. Some MNCs did not report on the activities of their supply chain at all (20%), the majority of the MNCs reported on their supply chain impacts at the value and goal level (48%), while the rest reported at the management approach level (32%). A majority of the sampled MNCs could be accused of greenwashing due to the lack of detailed quantitative information provided by the MNCs on the environmental impacts of their supply chain.
JAMID UL ISLAM
Journal ijmr.net.in(UGC Approved)
Corporate Social Responsibility has gained novel significance and become exigent to any corporation's decision making process. In today's economic and social environment, issues related to social responsibility and sustainability are gaining more and more importance. Due to its growing importance CSR also plays a crucial role in Banking Sector Company's strategic decision making. This paper explains the Corporate Social Responsibility practices framework in India and analyse the CSR practices of private sector banks in India and found that banks are doing a great job in the field of CSR.
Ross Fitzpatrick
Corporate social responsibility is the managerial obligation to take actions that protect and improve both the welfare of society as a whole and the interests of the organisation. Thus, the paper is an examination of the business advantages of corporate social responsibility practice. The paper is anchored on two theories; stakeholder's theory, which states that organisations have constituent groups that need to be taken care of and the iron law of corporate social responsibility, which states that organisations that fail to use their power responsibly will lose it in the long run. Previous studies were reviewed and it was discovered that several benefits abound to organisations that practise corporate social responsibility; several advantages were identified; these among others include: enhanced brand and reputation, reduction in operation costs, attracting new customers, balances power with responsibility, discourages government regulation, improves a company's public image, promotes long run profit, improved relations with the investment community and better access to capital, enhanced employee relations, productivity and innovation and stronger relations within communities through stakeholder engagement. The paper therefore concludes that organisations that carry out corporate social responsibility activities have a lot to benefit. Thus, it recommends that organisations should endeavour to pay due attention to corporate social responsibility and this practice should be a continuous one.
Jane Lister
2012, Global Environmental Change
This article introduces and evaluates the implications for global environmental change of the rising power and authority of big brand companies as global environmental governors. Contributing to the private governance literature and, in particular, addressing the gap in this research with respect to the political implications of individual firm 'buyer power', the article provides evidence and analysis of how big brand sustainability is altering the power relations within global supply chains, and the governance prospects and limits of this trend. The authors argue that recent brand company efforts through their global supply chains, while still a long way off from their goals, are achieving environmental gains in product design and production. Yet, these advances are also fundamentally limited. Total environmental impacts of consumption are increasing as brand companies leverage corporate sustainability for competitive advantage, business growth, and increased sales. Big brand sustainability, while important, will not on its own resolve the problems of global environmental change. In conclusion, the article highlights the importance of a co-regulatory governance approach that includes stronger state regulations, sustained advocacy, more responsible individual consumerism, and tougher international legal constraints to go beyond the business gains from big brand sustainability to achieve more transformational, 'absolute' global environmental progress.
Vesela Veleva
Carmela Loreena Solidum
Mari Kooskora
Increasing number of studies supports the positive impact of corporate responsibility (CR) in long-term perspective and for securing sustainable performance (e.g. Freeman, 2000; McElhaney, 2008; Hollander, 2008), moreover several recent studies (see Carroll, 2010; Hansen and Reichwald, 2009; Googins et al., 2009) found that organisations which performed according to their principles and core values were significantly less influenced by the economic recession and were able to restore their business easier than those who cut corners or neglected ethics and / or responsibility in their activities. Therefore we can argue that corporate responsibility is a key to sustainable performance and helps organisations to survive and succeed through turbulent times. However it is suggested that corporate responsibilities activities are sustainable only when they are tightly linked to the core business goals (Schreck, 2009) and are lead strategically (e.g. Mele and Guillen, 2006). Jonker and de Witte (2006) maintain that although the roots of corporate responsibility are strong, the strategic approach is still relatively new. The discussion is illustrated with a brief overview of a study among Estonian organisations. The purpose of our study is to find out whether and how CR is related to strategic management, business objectives and leadership competences, and whether the responsible activities of an organisation correspond to the attributes of strategic corporate responsibility (SCR). The study is conducted among Estonian organisations who took part in Responsible Business Index (RBI) study in 2009 and 2010 (csr.ee homepage), research methods are combined, including analysis of the RBI questionnaires, the organisations' home-pages, annual reports and personal conversations with organisations' representatives.
Friedman (1970) argued that the responsibility of business managers is to only think about financial profits of the organization. The main purpose of writing this paper is to test the credibility of this statement in 21 st century. 21 st century is the century of globalization, businesses are going beyond domestic borders for getting more number of customers and channels of revenue. The product and service innovations are going on but those product and service innovations are not enough to get the attention of customers. The organizations are looking new way to outpace their competitors. In 21 st century it is hard for business managers to ignore the concept of corporate social responsibility. They can't outpace the competitors only by showing concern about financial profits. Especially the small and medium enterprises who are looking for making a place in the heart of customers, fulfilling corporate social responsibility is good option. Introduction In this paper the authors will check the emergence of corporate social responsibility in SMEs and large organizations. In the first part of the paper, the authors will test the concept of CSR and its growing emergence in globalized era. All the small, medium and large organizations are looking to increase their customer base in the market and gaining competitive advantage. Solely the product and service innovations can't be helpful in attracting the customers because pricing is also a concern while launching new innovation. CSR activities of the company are very helpful in retaining the old customers and attracting new customers towards the firm. The authors will also discuss few important theories which will be helpful in understanding the concept of corporate social responsibility. These important theories are stakeholder management theory, social capital theory and glimpse of triple bottom line approach followed by the managers. The theoretical debate will be entirely based on the need of corporate social responsibility in small and medium level organizations.
BWAMBALE CLARENCE
Featured Case Studies
Case Study Topics
Learning Activities
Useful Links
Teacher Hints & Strategies
Share your Learning Resources
Press releases
Give us your feedback
Teacher's Survey
Boosting your reputation
Building your employer brand
Building your brand
Share your commitment to Corporate Social Responsibility
Apply for a case study
Nike: Nike responsibility
Case Study Pages:
Introduction, factories and workers, athletes as role models (armtour), reuse-a-shoe, company profile, nike responsibility.
This Case Study will profile the approach that Nike - the world's market leader in the design, marketing and distribution of authentic athletic footwear, apparel, equipment and accessories - has taken to address and promote the issue of corporate responsibility, through a range of targeted programs and priorities. As a result of reading this Case Study, the student should be able to:
Understand that it makes good business practice for a business to be at the forefront of developing corporate responsibility programs
Analyse the benefits for a range of stakeholders in a business that promotes high standards of corporate responsibility
Explain different strategies that can be used by a business to promote corporate responsibility.
Corporate ethical and social responsibility is an issue that has attracted much attention over recent years.
Independent contract manufacturers produce almost all of Nike's products, meaning that the factories manufacturing Nike branded products are owned and operated by outside suppliers.
The ARMTour program, sponsored by Nike, is a unique and successful program that encourages indigenous children to live healthier lives.
Community standards have changed over the last decade with consumers and other societal groups expecting companies to have a more positive environmental impact on the communities in which they operate.
There is much concern about growing levels of physical inactivity amongst children, which is contributing to more and more children being overweight around the world.
Nike had humble beginnings in 1962 under the name of Blue Ribbon Sports.
Nike is a high-profile world leader in the design, marketing and distribution of sporting footwear, apparel, equipment and accessories.
Leave a comment
Make sure you enter the (*) required information where indicated. Basic HTML code is allowed.
Subscribe today!
Order the print version!
Free e-Newsletter
Click here to subscribe.
Commission a case study for your business
If your company or organisation would like to be part of Australia & New Zealand's best case study resource, apply for a case study online or phone us on 02 4991 2874 in Australia and 0800 990 999 in New Zealand.
What's New?
New Edition 7 case studies available now!
Teaching Resources
Useful Resources Need to contact a teaching association? Or get ideas for class? Check out our useful links. Teaching Hints & Strategies Share your lesson plans with other professionals or search for ideas here.
Tell us your favourite case study?
What is your favourite edition 7 case study, case studies.
Case Studies by Company
Learning Resources
Teacher Hints and Strategies
Featured Companies
All Companies
Log in / log out
Remember Me
Forgot your password?
Forgot your username?
Create an account
På svenska
Ammattikorkeakoulut
Metropolia Ammattikorkeakoulu
Opinnäytetyöt
Näytä viite
CSR and Company Reputation - Case study of Nike
Valjakka, mira (2013).
Avaa tiedosto
Tiivistelmä, selaa kokoelmaa, henkilökunnalle. Case Study Of Nike's Corporate Social Responsibility
Nike slave labor.
As such, it applied cultural relativism to justify the use of child labor, unsafe labor practices, and near slave labor in its factories. Since then, Nike has been a driving force to ensure fair labor practices across the apparel industry. In 1999, Nike was a key contributor to the establishment of the Fair Labor Association, an organization that is "…dedicated to protecting workers' rights around the world" (Fair Labor Association, 2016). Today, Nike continues efforts to ensure that contract factories comply with its Code of Conduct to improve labor standards in overseas factories (Nike, 2016). Because of Nike's efforts to expand and enforce social responsibility at its factories and given the lessons learned from its sordid past, it is unlikely that Nike would resort to any of the straw men fallacies. However, given the pressure by investors to expect solid returns, one hopes the company continues its altruistic social responsibility efforts while veering away from the Friedman Doctrine and its assertion that "… the only social responsibility of business is to increase profits" (Hill, 2011).
The Sustainability Strategy of Nike Company Essay
Nike has a very sophisticated sustainability strategy. The strategy is based on company's prospects for future, to ensure that the company remains profitable and reputable, taking into consideration the social responsibility of the company (NIKE 2013). For instance, the strategy is supposed to ensure that the company gains a stable supply for the raw materials for the product manufacturing that will ensure stable supply of the products in the market at favorable prices. The strategy also targets make the company responsive to environmental concerns, aiming at reducing environmental pollution through emissions to the atmosphere (Charter, 2001). The strategy outlines the company
Corporate Social Responsibility Essay
The purpose of this essay is to research the notion of CSR and uncover its true framework and outline what social responsibility truly means to corporate organisations, and whether it should be seriously considered to be a legitimate addition to the corporate framework of an organisation.
The Effect Of Ethics On Nike
The ethics of businesses are under more scrutiny than ever before (Bones, 2014). Ethics can be considered as following a code of behaviour agreeable with the context of society and can also be defined as the application of moral and ethical considerations in a business environment (Hurn, 2008). Sport businesses have been targeted a lot more in recent years due to the conditions they place their workers in has become more apparent to the outside world. Nike are one of the world's leading sports brands but have been faced with many allegations in recent years (Daily Mail, 2011) in regards to the conditions they put their workers in and their ethics and morals have been questioned. This report will critically evaluate the impact ethics has on the business operations of Nike and then analyse the reasons for why ethics impact the sport organisation. Finally, recommendations will be made to improve Nike's business ethics.
mark kasky vs nike
Although this is advertised, what really matters is to be met, so hopefully within the program when finished, have minimally met these standards have been proposed. And if so, NIKE would be an example of a brand with a good Corporative Social Responsibility
Nike : Case Report : Strategic Marketing
Today Nike Inc is the largest manufacturer of sports footwear, apparel and equipment with worldwide revenue in excess of $25 billion in 2012 under various labels including Nike, Nike Golf, Converse and Hurley. Seventy percent of the company's value is derived from footwear and apparel sold under the main brand Nike with Nike footwear commanding a market share
The Ethical Dilemmas Of Nike
This paper will discuss the company Nike. Nike has had many ethical issues, which will be addressed. The ethical dilemmas that Nike faced will be evaluated under two ethical frameworks. The whistleblower part that was played in exposing Nike will be analyzed. This paper will evaluate whether Nike used marketing or public relations successfully when trying to repair the damage caused by the reported lapse in ethics.
Corporate Social Responsibility in Sports
Over the past several years the sports industry has grown phenomenally, and it now ranks among the largest industries in the world. Concomitant with its growth is an increase in the importance of a element of value which is the corporate social responsibility which has become a necessity in terms of the bottom line. Illegal and immoral activities in all settings have emerged to the point that some factions of the society have made efforts to call those in charge to take responsibility and improve situations. As managers learning to adopt a social consciousness leading to a commitment of being socially responsible is paramount to the execution of one's job. Developing a social
Nike and Social Corporate Responsibility
They have created more sustainable products such as t-shirts made of recycled polyester and recycled plastic bottles. Recycling old shoes into new ones. Nike started numerous charities and has donated millions of dollars to organizations to help repair Nike's image. Nike must continuously work towards the enforcement of their corporate social responsibilities that they have presented to their suppliers at the same time they must remain competitive in the market place.
Nike: the Sweatshop Debate Essay
The purpose and intent of this paper is to describe the legal, cultural, and ethical challenges that face the Nike Corporation in their global business ventures. This paper will also touch on the roles of the host government and countries where Nike manufactures their products and the author will summarize the strategic and operational challenges that Nike managers face in globalization of the Nike product.
Marketing audit of Nike
Nike must cater to a large portion of the new generation that demands the latest trends and styles. Nike should take into account the changing US demographics due to the rising proportion of Hispanics, Asians, and African Americans. These groups have different preferences that Nike should be able to satisfy. Nike should identify the next generation of loyal customers and provide for their needs.
Ethical Companies with Unethical Practices Essay
American business should not be permitted to claim it is an ethical firm if it ignores unethical practices by its international suppliers. For the purpose of this assignment I will use the Nike Company to highlight its unethical practices. Despite the popularity of Nike in the American market, it has been accused of exploiting employees abroad. The corporate social responsibility stipulates that a company should maximize its profit and minimizes its cost in operations and manufacturing, also at the same time benefit the community it operates in. This paper will further elaborate on the global strategy employed by Nike Company as it outsources its goods and the unethical issues its
Nike Case Study
Nike's negative nickname "Sweat Shop" comes from the bad press it received around 1991 when Jeff Ballinger wrote a report on their Indonesia factories' poor working conditions and equally poor wages. Furthermore, because of human rights not being as largely fought for as they are currently, Nike was able to take advantage of this ethics loop-hole particularly in their Asian factories. Nike's code of conduct and code of ethics was fairly broad during the 1980's and 1990's whereby upper management ignored and washed their hands of the criticism about their Indonesia
Virtue Ethics In Nike
Another perspective is to analyse based on the amount of good done as compared to the amount of bad. By subcontracting its operations in underdeveloped countries, Nike helps to create job and improve the lives of the employed. Then, we have to consider the poor working conditions, poor wages, and the constant violation of child labour laws. Now, the bad inevitably outweighs the good despite the lack of unit of measurement in the
Report on the Case Study Nike Essay
The report is about Nike, regarding the case study. The report elaborates on the aspects including buyer behaviour, brand image, consumer decision making, and marketing research techniques applicable to Nike. 3.0 Introduction Nike is the worlds number one sports shoe company. In the US Nike dominates 35% (source: see appendices) of the sports shoe market and its products are sold in more than 140
Related Topics
Corporate social responsibility