Mandalas for adults
Mandalas for kids
Adult Coloring Pages
Coloring Pages for Girls
Coloring Pages for Boys
Car Coloring Pages
Princess Coloring Pages
Printable Unicorn Coloring Pages
Printable Farm Coloring Pages
Horse Coloring Pages
Christmas Coloring Pages
Farm Animal Coloring Pages – Free and Printable
Paper Airplanes
Dollar Bill Origami
Napkin folding
Paper Plate Crafts
Sign in / Join
About DIY-Magazine

Best Paper Airplanes
Cool Paper Airplanes
Easy Paper Airplanes
Paper Airplane Gliders
Paper Airplanes for Kids
How to Make the Best Paper Airplane Glider – Step by Step
Introduction:
In this post, We'll show you a very simple way to fold a long-range glider. This paper plane has extremely large wings and a fairly small center body. Thanks to its structure, this paper airplane glides slowly and far through the air. The extra-large winglets give this plane even more stability for a smooth and straight flight.
Make a Triangle at the Left Edge
Place the paper in a landscape format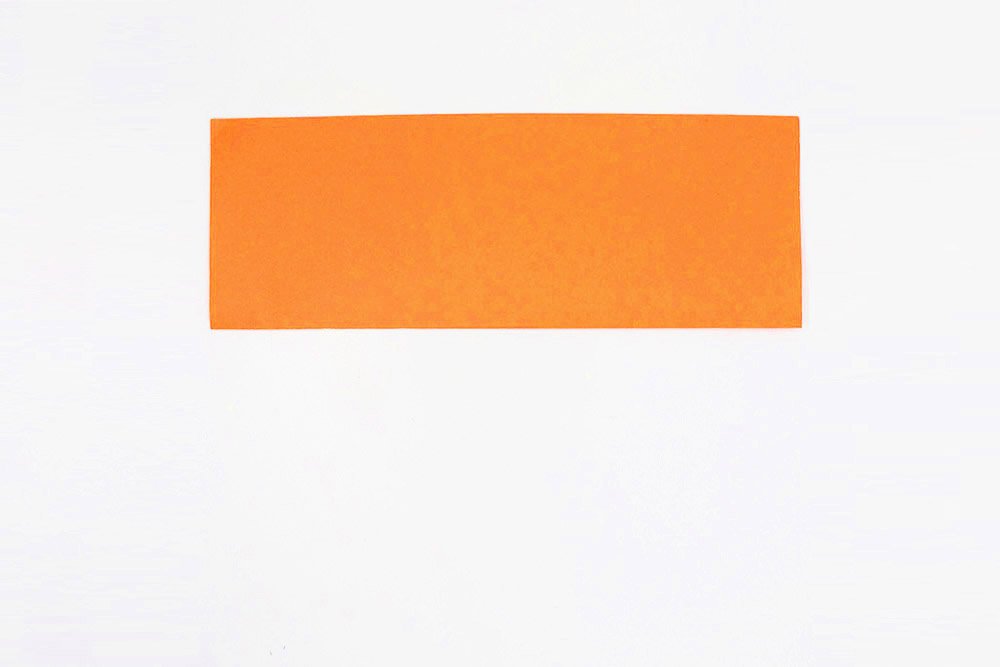 Fold in crosswise in half.
Unfold the paper. You would then have a nice crease mark in the middle.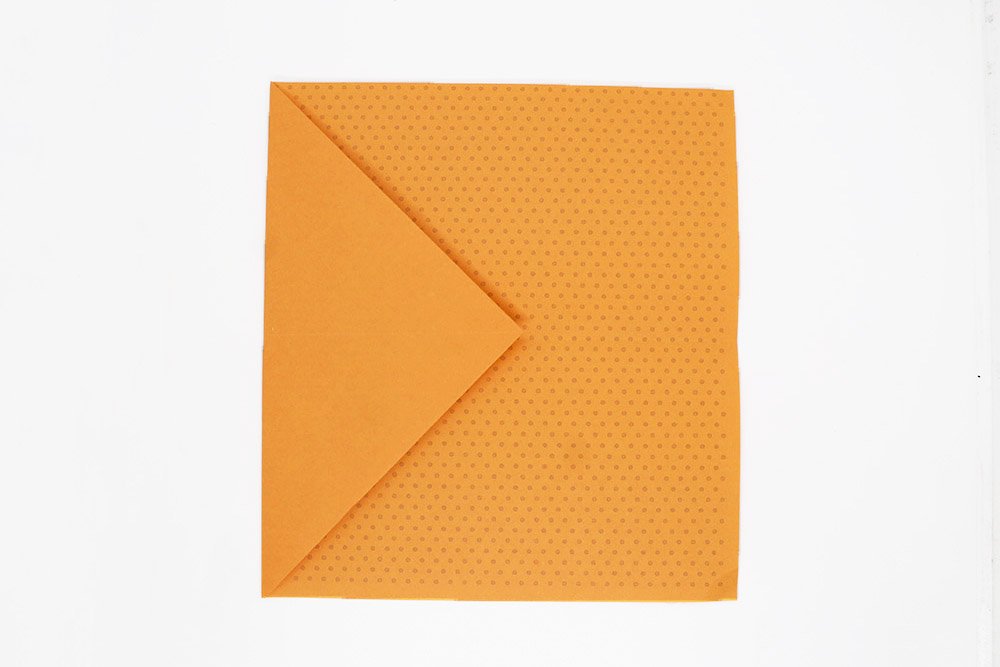 Bring the left corner to the right.
Create the Body of the Best Glider
Diagonally fold the top and bottom corner of the left side to the middle.
Bring the left corner to the right,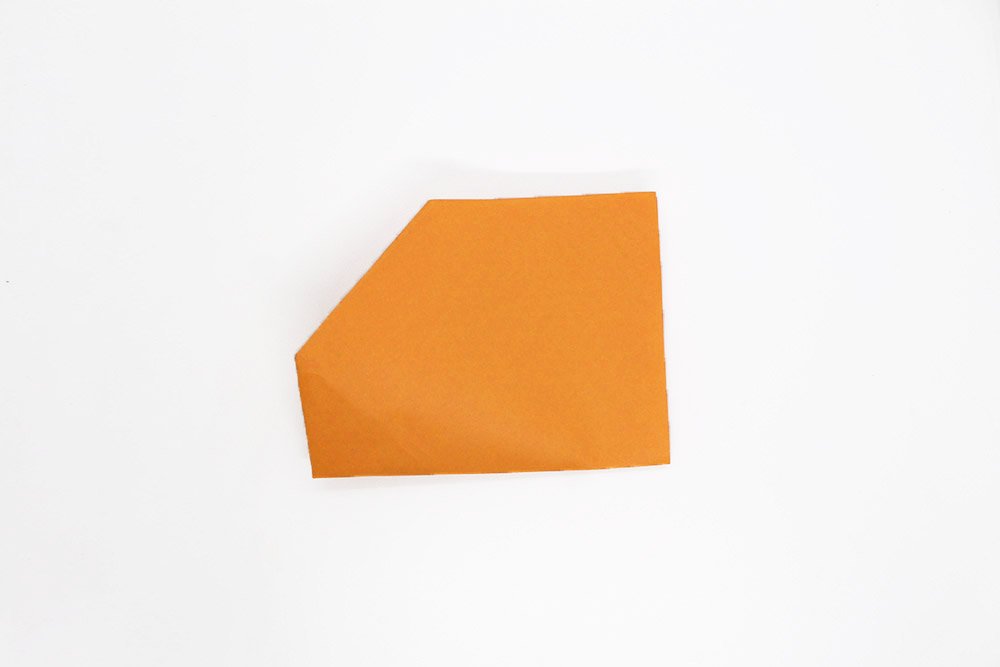 Fold the paper crosswise in half by folding the bottom edge to the top edge.
Make the Wings and Winglets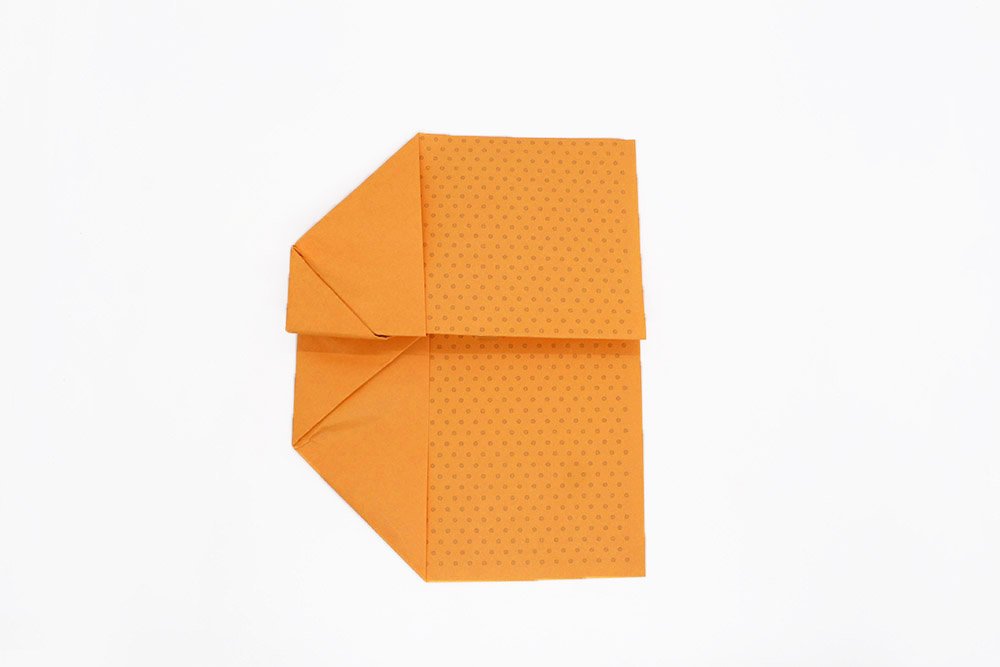 Valley fold a big portion of the top layer upwards. This will be one of the wings of this paper glider.
Make another wing by folding a big portion of the bottom layer of the paper to the back.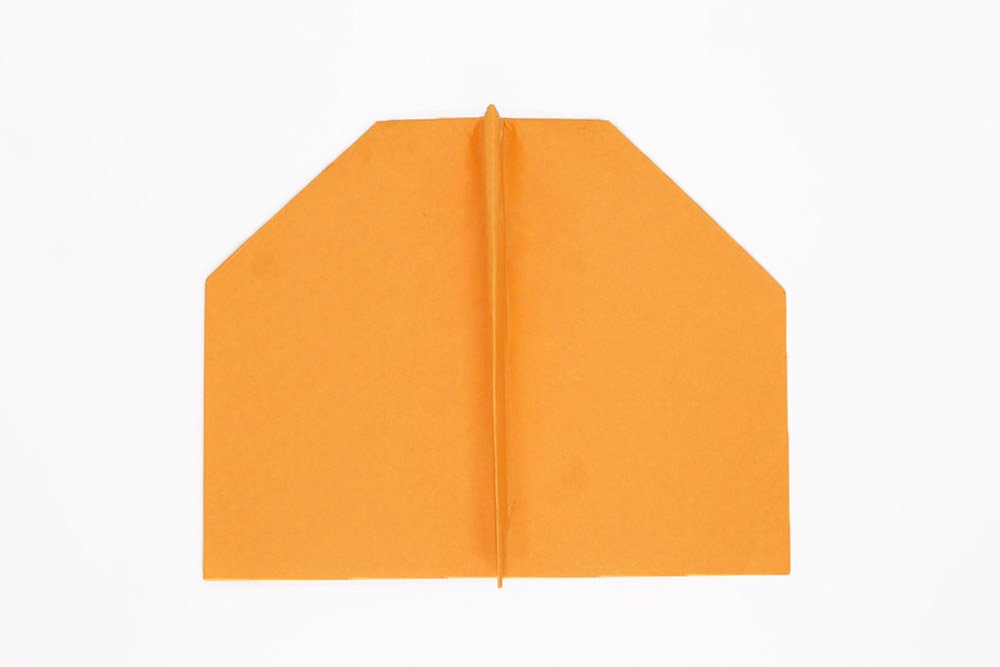 Unfold the paper airplane, and lay in front of you in portrait position.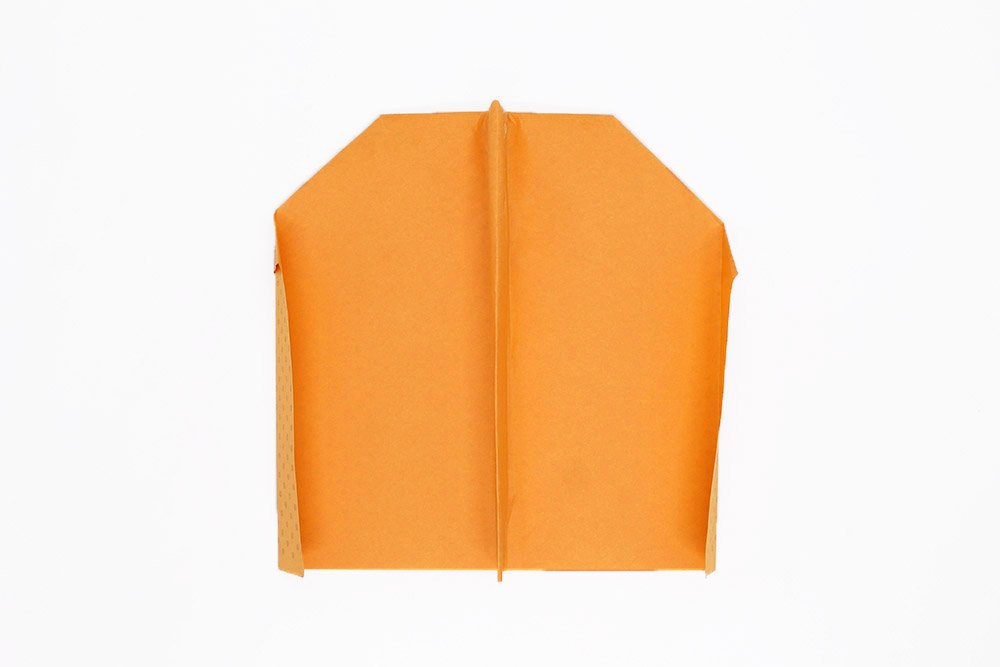 The paper plane is almost done. The winglets of the long-distance glider are still missing. Fold outwards each of the wings at around an inch.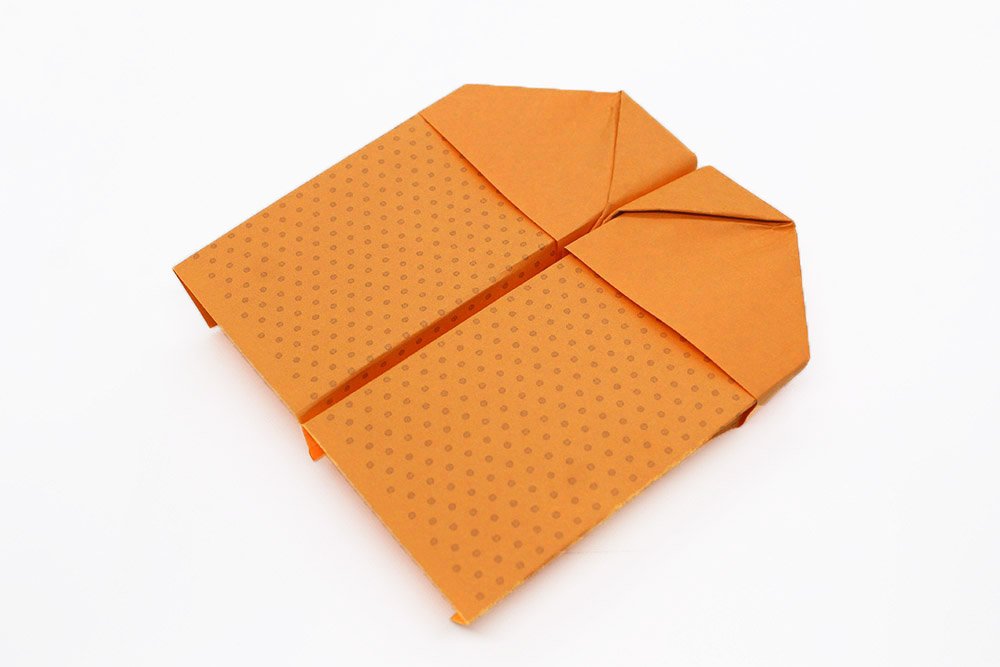 If both sides are now bent over, your plane is ready to take off. It is important that the winglets stick out at a 90-degree angle to the wing.
Your paper plane is done!
Take a pair of scissors and cut two small cuts in the center of each wing, two inches apart. You have now given your glider a pair of oars. If you fold the flaps up, your paper plane will now also fly upwards. If you fold the flaps down, the plane will sink.
It gets even cooler if you fold one flap up and the other flap down. Your plane then starts spinning in the air and rolls.
Have fun trying out the tips and tricks and have fun flying. Under the category "paper planes" you will find various kinds of paper planes that you may like.
No posts to display
Flew 10 feet. Thats decent 🙂
mine didnt flew that far, why ??
I had to learn how to make a paper airplane for my highschool science class. This is why I question living lol
That was quick and so simple
How did you know like this? cool
Hard to fold, Good at flying about 20 feet i think, Simple me likey
its flying utulta why
LEAVE A REPLY Cancel reply
Save my name, email, and website in this browser for the next time I comment.
How To: Make a Paper Airplane (The Glider)
Introduction: How To: Make a Paper Airplane (The Glider)
This is instructions on how to make a paper airplane (The Glider); Please note that this paper airplane is fairly easy, allowing beginners to have literally no problems building this. With these instructions will be pictures along with fairly clear directions on what folds to do and how to do it. Let's get to it shall we? What you will need: - A Piece of Paper; notebook paper, printer paper, etc.
Lay your piece of paper in front of you; 
Take the left corner of the paper and fold it over towards the center; this should form a triangle. 
Next, take the right corner and do the same; folding it toward's the center - forming a triangle.  This process can be cleaned up if you're a perfectionist; IE, making sure the folds/creases are crisp and the two corners, now folded triangles, perfectly align. 
This part can be slightly tricky; take the entire top portion consisting of the two folded corners and fold downwards.  Which when folded correctly should look somewhat like an over sized envelope as seen in the illustration. 
Again, you will pull the left corner toward's the center as pictured in the illustration.  Please note that the fold may NOT be the prettiest but will nonetheless work. 
Do the same thing to the right side; taking the corner and meeting it in the middle.  Once more keep in mind, the fold's won't necessarily look crisp. Just get it as close and precise as possible. 
Tricky part; between your two folds should be a bit of a triangle sticking downwards.  Fold that triangle piece upwards and over the two corners; down the center.  The picture below should show this action mid-fold; IE not a complete fold yet just for the sake of demonstrating. Your's will be all the way folded and not popping up as high as the illustration. 
Turn your paper over; making sure the fold from Step 7 stays folded.  I positioned the paper sideways to show the next folds a little better. 
Down the middle of the paper, take one side, as seen in the illustration, and fold it over.  If this isn't clear; look at the illustration.  Your product should look like this right now;
Now that the overall base of the plane is set;  Start on one side, and fold part of the flap downwards against the bottom of the base. Repeat the same step to the other side.  The illustrations may help with what I'm trying to explain; but you'll know you've done it right if both sides are folded downwards and your product looks like the fourth illustration. 
Open up the flaps, and your product is done and should look very reminiscent of a glider of sorts. Below is the finished result!  I thank you for your time and I hope you enjoy your glider! 
3 People Made This Project!
Did you make this project? Share it with us!
Recommendations
Jewelry Contest
CNC Student Design Challenge
Project-Based Learning Contest
20 days ago
i love bulgaria so much i cant live a second without bulgaria the great
6 months ago
10 months ago
Amazing! glides really far!
3 years ago
wow,cool you are the best at making airplane.
5 years ago
This paper plane design is simple and easily explained. It helped me and can glide long distances.
Stealth Glider
Lightly throw this paper airplane into the air and watch it glide..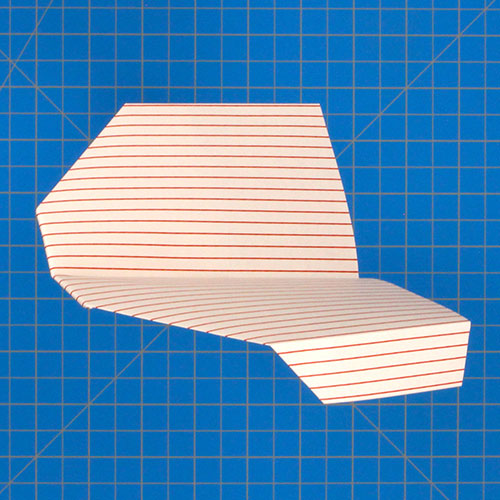 Try throwing it from a balcony or other high location to watch it soar for a long time.
Paper Airplane Airplane Folding Instructions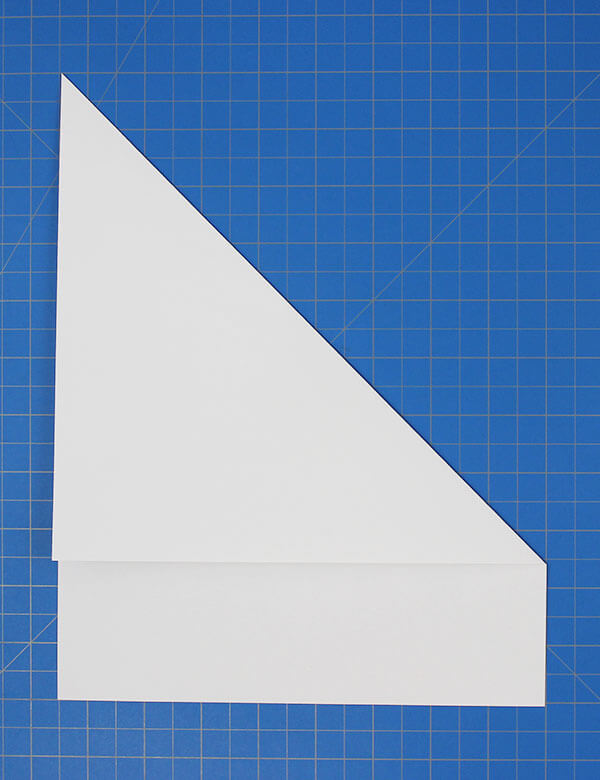 1. Fold the top right corner to the left side.
Fold the top right corner to the left side.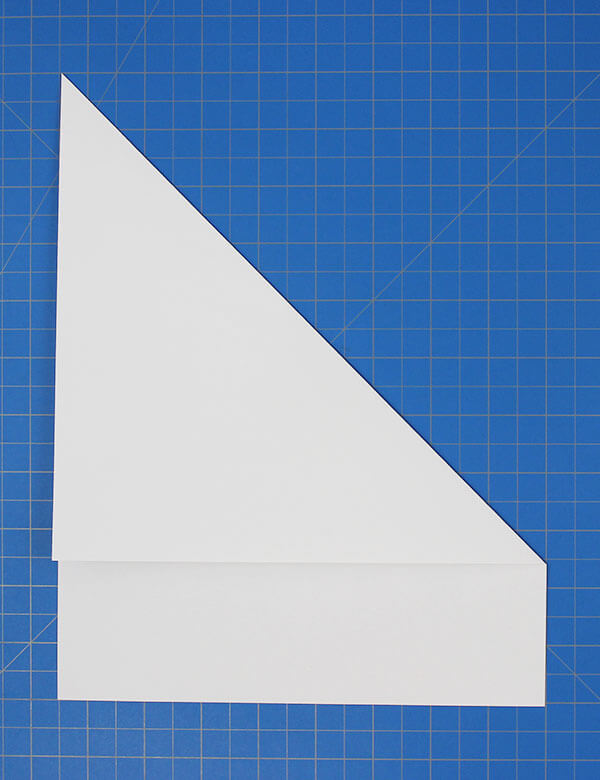 2. Open the sheet back up and repeat the same step with the left corner.
Open the sheet back up and repeat the same step with the left corner.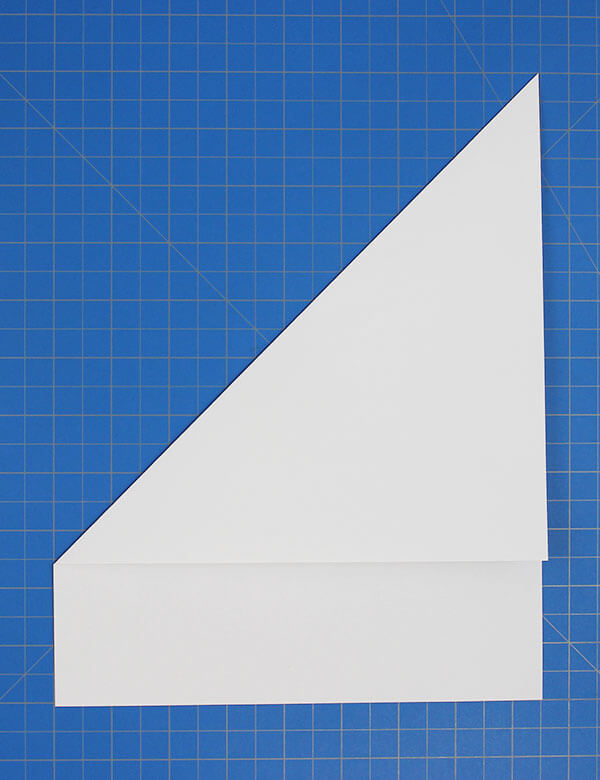 3. Open the sheet back up and accordion fold both sides in so it looks like the photo.
Open the sheet back up and accordion fold both sides in so it looks like the photo.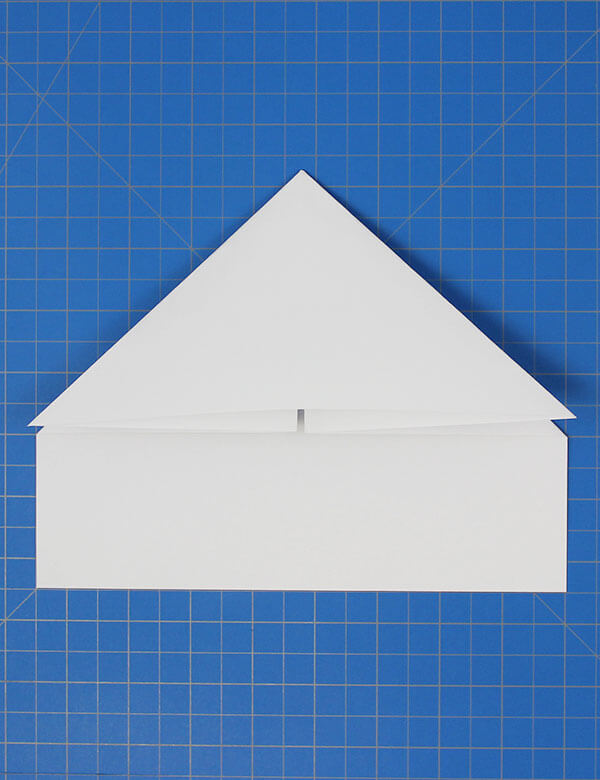 4. Next, fold the right side of the triangle shape to the top point.
Next, fold the right side of the triangle shape to the top point.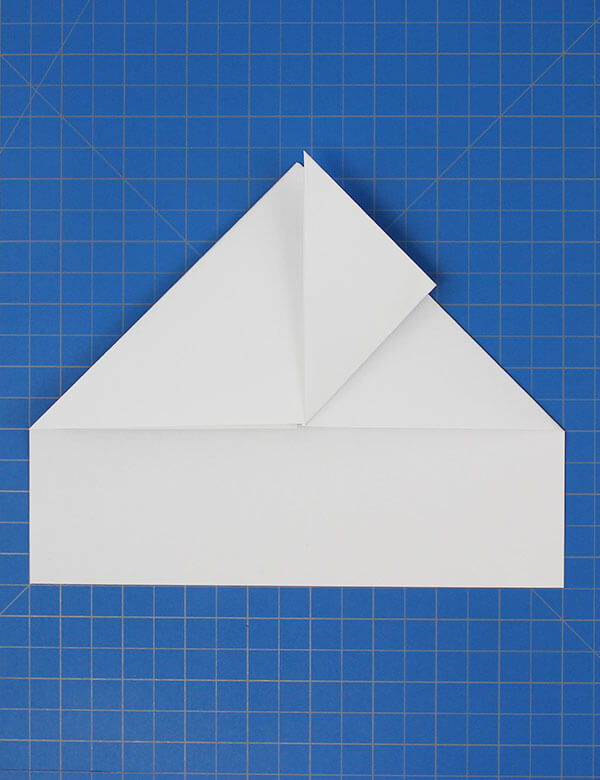 5. Repeat with the left side.
Repeat with the left side.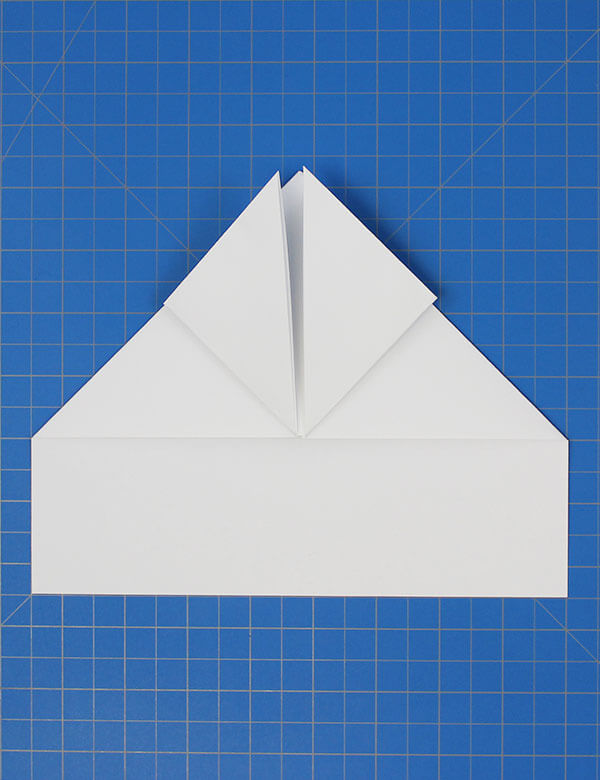 6. Now, fold in the bottom right edge of the diamond shape.
Now, fold in the bottom right edge of the diamond shape.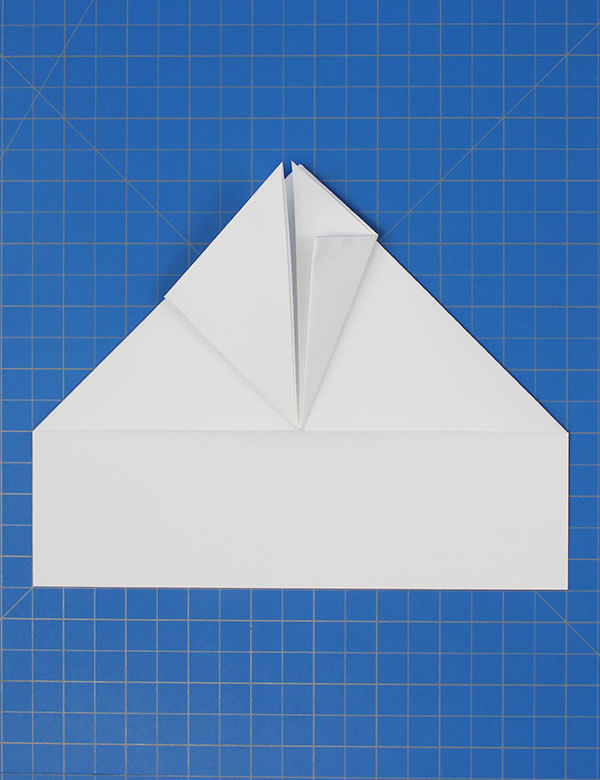 7. Repeat with the left side.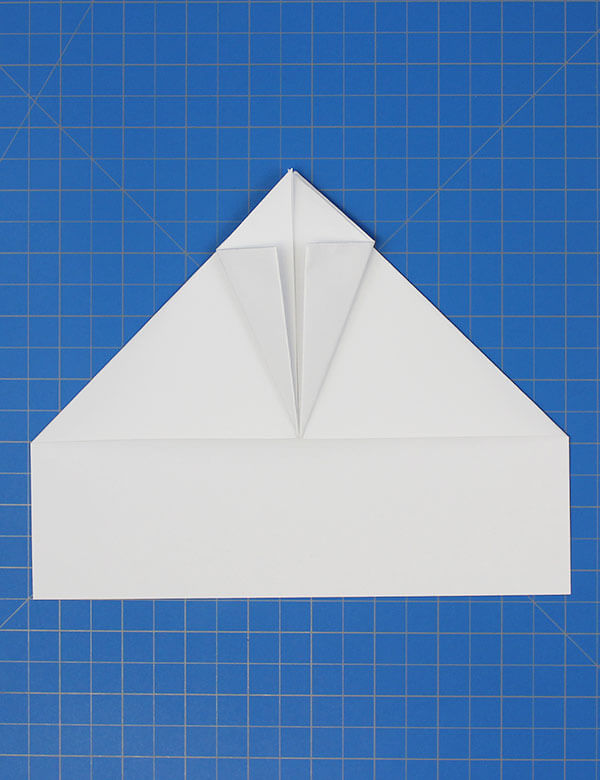 8. Fold down the top point and tuck in the flaps as shown.
Fold down the top point and tuck in the flaps as shown.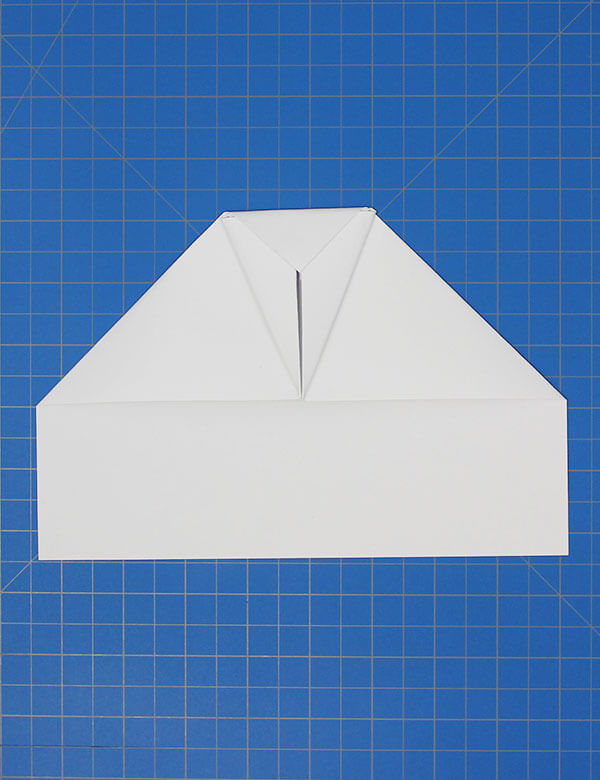 9. Gently fold the plane in half away from you, but don't crease it too hard. We want it to be partly open.
Gently fold the plane in half away from you, but don't crease it too hard. We want it to be partly open.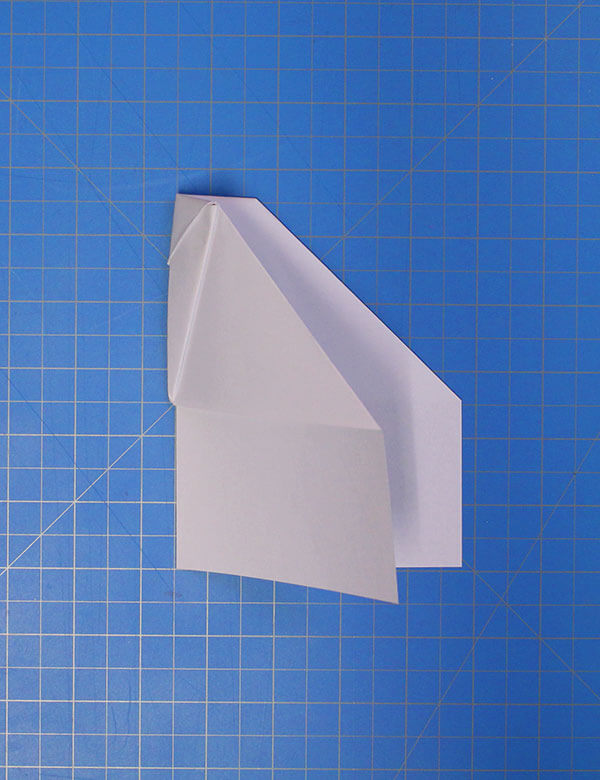 10. Finally, fold out the ends of each wing as shown.
Finally, fold out the ends of each wing as shown.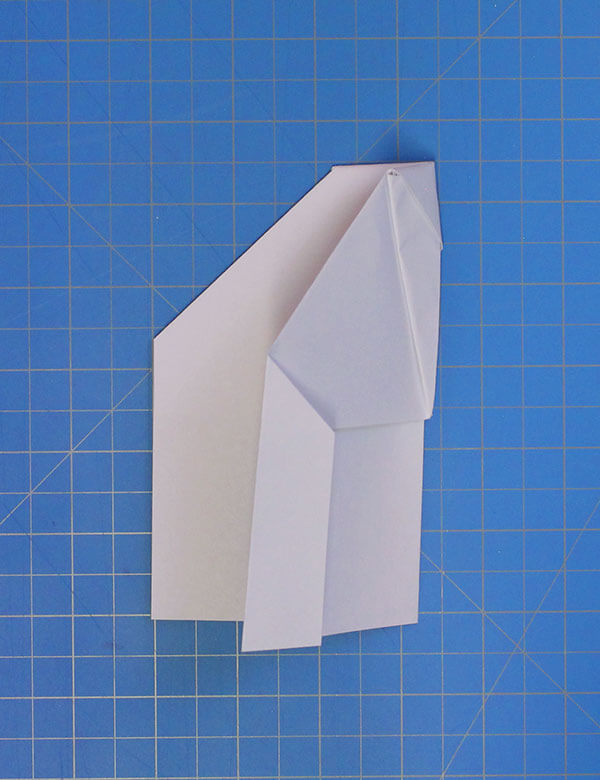 The ideal angle between the two wings is around 120 degrees, a wide V shape. This dihedral angle will be more stable.
Video Instructions
Printable Folding Instructions
These beautiful, easy to follow, paper airplane folding instructions can be downloaded and printed as many times as you want. Simply follow the printed instructions and fold along the indicated lines to make a perfect paper airplane, every time.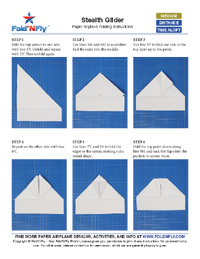 More Fun Paper Airplanes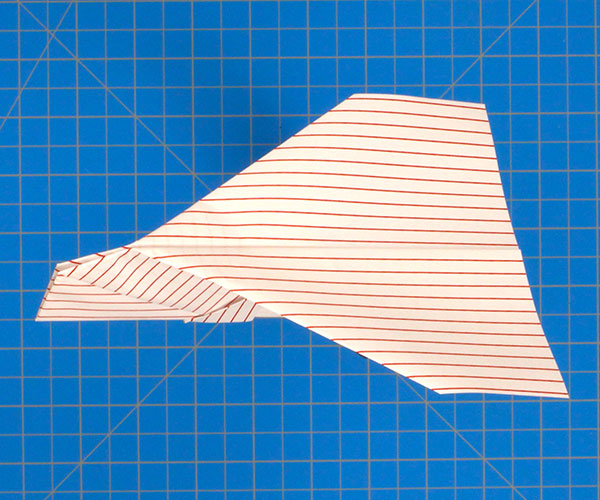 Articles and Activities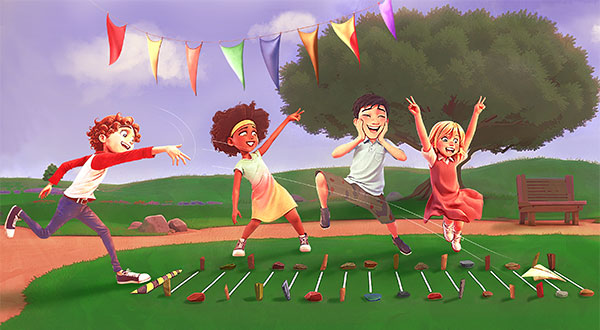 Please select your preferred language:
How To : Fold the Record-Setting Glider-Style Paper Airplane (Guinness World Records)
We've all attempted to fold a paper airplane before, right? One we hoped would sail majestically through the air for a good while but just ended up nose-diving into the grass. Paper planes, an invention likely as old as paper, are models of engineering; and they must account for the same dynamics as real planes, from drag force to stability to weight. So what is the perfect design?
On October 8, 1998, aeronautical engineer Ken Blackburn launched a paper airplane that stayed aloft for an incredible 27.6 seconds . At the time, it set a new world record. His aptly named "World Record Airplane," based on a model he designed at age 13, was a glider-style aircraft that he heaved into the air at the Georgia Dome in Atlanta and watched for nearly 30 seconds as it made its way back to earth. Blackburn's record stood for more than a decade.
Eventually, Blackburn saw his record broken. In 2009, Tokuo Toda's Sky King flew for 27.9 seconds. The following year, Toda broke his own record in Fukuyama City, Hiroshima, Japan, on December 19, 2010: 29.2 seconds . This is the current Guinness World Record.
When he finally broke Blackburn's record, Toda told The Daily Telegraph that he "had thought that the world record was impossible to break, but the key to breaking the record is how high you fly it."
The construction, of course, is also big, and if you think Blackburn's glider still has what it takes to someday set a new world record, then try folding the World Record Airplane yourself. All you'll need is a piece of 8.5" x 11" paper. Check out Tavin 's video below for instructions.
Video not enough for you? Follow along with these written steps with pictures for a better idea of what to do. To start, simply fold your 8.5" x 11" piece of paper (e.g., computer/copy paper) in half vertically, and then make a crease.
As with all origami or paper folding, you'll want to make sure your creases are crisp. In Brain Trust , Blackburn said that only three things are needed for your own "paper plane glory" — "good folds, good throw, and good design." Got it!
Next, you'll open the paper back up and from the 8.5" side, and fold halfway toward the crease you just made. Don't make a new crease; instead, simply pinch the paper here to provide a guide for the next step.
Next, from the top corner, fold diagonally down toward the center using the pinched fold you made from the previous step as a guide. Crease well. Repeat this on the other side. After this, your aircraft should look like a trapezoid.
Now, from the short side of the trapezoid, you're going to fold down to the point where the two flaps meet at the center (about 1/2 an inch). You will then fold this seven more times to make eight.
You're nearly done. The next step is to fold the paper aircraft in half (using the crease you made in the first step). Crease well. Note that because of the folds, the head of the plane will be quite thick, so "crease firmly." After you fold the glider in half, you'll then fold the aircraft's wings. To do so, fold each half in the opposite direction, again about 1/2 inch down.
A tip from Blackburn on the wings (and folds/creases overall):
First, it's real important to keep the wing as flat as possible, so I would press the side of a pen against every fold as the plane is made in order to keep the folds as flat as possible.
Finally, create the wing flaps for your World Record Airplane. Simply fold in the edge of the wings, lining them up with the diagonal guide created by the folds that make up the nose/head of the glider.
And you're done! Here is our version before it makes a launch off the balcony.
As you can see, this is a pretty simple design to fold; it's rated as a 2/10 on Tavin's scale of difficulty . But clearly, given its record history, it's one of the best designs for paper aircraft ever conceived.
One final note, in Tavin's video tutorial, it says to use A4-sized paper. However, this is an international size. For the World Record Airplane, we'll want to use what Blackburn used, which is US letter size or 8.5" x 11." (A4 has slightly different dimensions: 8.26" x 11.69".) You can also, of course, play with the design to carry out your own test flights. What works best? Happy flying!
Follow WonderHowTo on Facebook , Twitter , Pinterest , and Google+
Want to master Microsoft Excel and take your work-from-home job prospects to the next level? Jump-start your career with our Premium A-to-Z Microsoft Excel Training Bundle from the new Gadget Hacks Shop and get lifetime access to more than 40 hours of Basic to Advanced instruction on functions, formula, tools, and more.
Buy Now (97% off) >
Other worthwhile deals to check out:
97% off The Ultimate 2021 White Hat Hacker Certification Bundle
98% off The 2021 Accounting Mastery Bootcamp Bundle
99% off The 2021 All-in-One Data Scientist Mega Bundle
59% off XSplit VCam: Lifetime Subscription (Windows)
98% off The 2021 Premium Learn To Code Certification Bundle
62% off MindMaster Mind Mapping Software: Perpetual License
41% off NetSpot Home Wi-Fi Analyzer: Lifetime Upgrades
Be the First to Comment
Share your thoughts, how to : fold an origami f-18 fighter jet out of a dollar bill, how to : fold an origami rabbit, how to : fold a magic rose cube—a flower in a box origami puzzle, how to : make an origami lily flower, how to : make a folded-paper cat with origami, how to : make a paper plane that flies far | super arrow, how to : fold a fun origami treasure chest, how to : origami basic orikane heads with dollar bills, how to : make an origami dragon a4 easy, how to : make an origami christmas star, how to : fold a very simple origami cube from a dollar bill, how to : make a modular origami star (8 points), how to : fold an origami star of david or six pointed star, how to : 10 easy, last-minute origami projects for valentine's day, how to : make a three dollar origami flower, how to : fold a heart-shaped box for valentine's day, news : make abe lincoln look like a b-boy ($5-dollar bill origami), money origami, flower edition : 10 different ways to fold a dollar bill into a blossoming bloom, how to : origami a dollar bill box.
All Features
All Hot Posts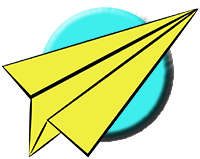 Paper Airplanes HQ
Glider paper airplanes, easy to make paper airplanes, pelican paper airplane, kingfisher paper airplane, seagull paper airplane, the albatross paper airplane, the chestnut paper airplane, the hurricane paper airplane.
How to fold a cool glider paper plane easily!
Paper models have taken a huge part in everybody's youth and despite of the fact that you might be not even knowing when you learnt it during your childhood. Glider paper plane have always rooted into our deep memory from my fifth grade. You can learn the science behind paper airplane foldings, flaps and elevators. If you learn almost ten paper airplanes from our LND – Next time when you see someone struggling with paper airplanes you can help them. You can teach them how this aerodynamics in paper plane works. Also check out our paper airplane that flies far and straight for school kids. For now, let's make our glider paper plane with step by step illustrated instructions for everyone!
Two minutes for Noodles! isn't it? Three minutes for Paper planes! It's that simple with liftndrift*
Supplies Required:
A4 Sheet of Paper or a Foolscap Paper with 70-90 GSM
Ruler or Flat thick object to flatten the folded edges to make a strong crease.
Keep your A4 sheet of paper over a flat surface or over a reading table
Bring the Top left-hand end to the right side plane and fold it as shown in Fig.1 .
UNFOLD it once done!
Bring the top right corner to the left side plane and fold it to make a triangle and then UNFOLD it
Refer Fig.2 for doubts.
Keep the paper flat on the table
Follow the dotted line and fold down the top section along the dotted line
UNFOLD it once done.
Push and fold the top right and top left-hand corner edges inside.
Compare Fig 4 and Fig 5 for your reference
After pushing the sides inside, You have to flatten front face of the plane
Pull-up the frontal triangle's bottom right and bottom left edges along the center line.
Fold the section again to half – with the center line as the reference.
Pull down the nose and glue it up as shown in fig.8
Make the winglets by folding the wing edges about a centimeter (1cm) on both sides downside perpendicularly
That's all about it, You are good to fly Glider paper plane!
All the best for reaching the sky more and more with Liftndrift!
Glider paper plane flying technique:
Hold the Plane behind the center of the plane's gravity center.
Keep your left foot slightly forward and launch it in 30 – 40 degrees angle, throw it steadily with a medium force. If it fails, tweak the tail wing slightly up and try again.
Try different angles and forces now! Wow, That's how one learns properly with more trying and flying. Kudos!
For More Techniques – Go to Flight Science – Science behind paper airplanes  > Flying Techniques. You will find far more than any other tricks available on the internet for How to fly Paper airplanes!
Please leave your Feedbacks / Replies / Queries in the comment section. Good day!
© LND 2020. All contents on this page are illustrated and instructed by liftndrift.com. Except for the permitted contents by the copyright law applicable to you, you may not use or communicate any of the content on this website, including files downloadable from this site, without the permission of [email protected]