Creative writing
A degree in creative writing allows you to develop your writing, research and creative thinking skills. You'll also gain skills that are useful in a range of other careers such as publishing, marketing, PR and teaching
Job options
Jobs directly related to your degree include:
Advertising copywriter
Arts administrator
Creative director
Digital copywriter
Editorial assistant
Higher education lecturer
Lexicographer
Magazine journalist
Newspaper journalist
Publishing copy-editor/proofreader
Talent agent
Jobs where your degree would be useful include:
Academic librarian
Digital marketer
Film director
Marketing executive
Primary school teacher
Public librarian
Public relations officer
Social media manager
Web content manager
Remember that many employers accept applications from graduates with any degree subject, so don't restrict your thinking to the jobs listed here.
Work experience
Building a portfolio of written work, especially any that you've had published, will help to evidence your writing skills and establish your reputation as a writer.
You can gain valuable experience by writing for your student newspaper or magazine, volunteering in schools, or getting involved with writers' groups. Also, try submitting work to journals or anthologies, entering competitions, performing at spoken word events or approaching local drama groups to see if they will use your scripts. This will boost your profile and help build your confidence.
To make yourself more employable, look for opportunities to gain some solid work experience. This could be in the form of paid administrative work for a company or volunteering, perhaps with a local charity helping them to promote the work they do.
You could also write speculatively to a number of businesses, including publishing houses and marketing firms, to ask if you could complete some short-term work experience or shadowing. This can have the advantage of getting you a foot in the door in a highly-competitive industry and could lead to a permanent position.
As well as creative talent and writing experience, you will also need perseverance and determination to succeed as a writer.
Search for placements and find out more about work experience and internships .
Typical employers
As a creative writing graduate you may work to establish yourself as a writer on a self-employed basis, either writing your own works, or writing for others in a freelance capacity.
Alternatively, you could find opportunities with a variety of employers, including:
publishing houses or editorial/technical writing service companies
advertising, marketing and public relations agencies, particularly in a copywriting capacity
primary, secondary, further and higher education institutions
media organisations and social media companies
general businesses - in an administrative or general management position
Civil Service, library or charitable organisations.
Find information on employers in marketing, advertising and PR , media and internet , teacher training and education , and other job sectors .
Further study
As a creative writing graduate you can develop your creative writing skills further by undertaking further study at Masters or PhD level. You can also specialise in an area such as screenwriting, the graphic novel, writing for young people, writing poetry, or writing and producing comedy.
Alternatively, you may want to undertake further vocational training in areas such as teaching, journalism, librarianship or publishing. Vocational courses allow you to study in an area in which you would like to have a career.
You may also want to consider further study in areas such as PR, marketing or advertising.
For more information on further study and to find a course that interests you, see Masters degrees and search postgraduate courses in creative writing .
What do creative writing graduates do?
One in ten (10%) creative writing graduates who are in employment in the UK are working in artistic, literary and media occupations, while 11% are working as sales, marketing and related associate professionals, 6% are teaching professionals and 5% are media professionals.
Find out what other creative writing graduates are doing 15 months after finishing their degrees in What do graduates do?
Graduate destinations data from the Higher Education Statistics Agency.
How would you rate this page?
On a scale where 1 is dislike and 5 is like
Dislike 1 unhappy-very
Like 5 happy-very
Thank you for rating the page

Broken Arrow
Graduate College
Gather Here. Go Far
NSU is where success begins. Here professors know their subjects and how to get you ready for a career after you graduate. We empower individuals to become socially responsible global citizens by creating and sustaining a culture of learning and discovery.
What Can I Do With A Major In Creative Writing?
Creative writing, career opportunities.
Greeting Card Writer
Reviewer (books, products, etc.)
Writing Coach/Consultant
Advertising/Marketing (creative)
Ghostwriter
Travel Writer
Article Writer
Video Game Writer
Personal Poet
Technical Writer
Website Content Writer
Proofreader
Speech Writer
Public Relations
Screenwriter
Grant Writer
Degree Information
Connect with NSU Career Services
Creative Writing
Have you always wanted to pursue a career as a writer? Do you love literature and feel that this is the direction you wish to take after university? Majoring in Creative Writing at York allows you to explore unending possibilities as you develop knowledge of different genres and approaches to writing by contemporary and past authors. You will have access to accomplished professors and exposure to a variety of opportunities to improve your writing abilities and gain a good understanding of the profession and opportunities in your field of interest before graduation.
Career Options in Creative Writing
Skills developed through a creative writing degree, professional associations and organizations.
Below is a sample list of some future choices to explore following studies in Creative Writing. This list is not exhaustive but it provides a solid idea of what fellow graduates have gone on to do and what potential careers a Creative Writing degree can offer. Some options are more directly associated with specific areas of Creative Writing than others.
Children's Writer
Communications Consultant
Cultural Consultant
Entrepreneur
Event Planner
Fundraising Coordinator
Human Resources Specialist
International Aid Director
International Development Worker
Interpreter
Legal Aid Representative
Literary Editor
Magazine Contributor
Marketing Director
Media Correspondent
Non-Profit Organization Director
Public Relations Representative
Social Program Director
Speech Coach
Speech Writer
Travel Magazine Editor
UN Representative
Some of these career choices may require additional education or preparation in the form of graduate studies, experiential education or professional formative courses and exams. For a more in-depth description of some of the careers mentioned above visit Career Cruising (login information can be found on the home page of the Career Centre's online system ) or the National Occupational Classification website.
A background in Creative Writing ensures that you develop the skills and mindset to tackle many different professional challenges. Here are just a few of the skills a Creative Writing degree can help you develop:
Core Creative Writing Skills
Familiarity with contemporary and classic literary works and analysis of different styles of writing.
An ability to understand and mould language with great ease to fit your needs as a writer.
A capability to experiment with different forms of writing to get your message across.
Through exposure to various works and methods you will develop your own style, discover what sort of writing most compels you and gain confidence in your writing.
Communication, Data Gathering and Organizational Skills
The ability to present your thoughts clearly and intelligently in written statements and written opinion pieces
The ability to learn new information and apply this to professional demands
The capacity to critically analyze problems, think creatively and make sound decisions while considering different sides of an argument
The ability to explain complex ideas clearly to others and to apply complex theoretical concepts to everyday practice and professional dilemmas
The skills to collect various types of information, assess them, analyze and incorporate potential linkages from different fields, put them into writing and efficiently convey your message and the goal of your work
Management and Teamwork
The ability to interpret and analyze information presented by peers and efficiently and constructively support or challenge their proposals, theories, ideas and reports in order to achieve a project's intended and successful end result
The capacity to lead and interact with a variety of people with different approaches and personal and professional backgrounds
The ability to debate, persuade, mediate and present your thoughts and opinions to others, as well as the capacity to recognize and incorporate other potential solutions or applications to given problems
The capability to identify priorities and proper courses of action, to plan the execution of tasks and to determine and delegate responsibilities to group members to most effectively carry out projects
Knowing the industry and how to excel in it after receiving a degree are key elements of future success. University study sets up the building blocks you will need to develop and enhance your understanding and knowledge in your career. Being part of a professional organization or network and gaining further insight through training are excellent ways of increasing your knowledge of the field. The following is a selection of organizations related to the field of Creative Writing that you may want to visit as you research career options for Creative Writing graduates.
Professional Writers' Association of Canada
Canadian Author's Association
The Writer's Union of Canada
Canadian Creative Writers and Writing Programs (CCWWP)
York University Creative Writing Website

Keele, Glendon and Markham Campus Contact (416) 736-2100 Campus Maps
Community Safety
Privacy & Legal
Accessibility
Admission and Aid
Student Life
Jobs with a Bachelor's in Creative Writing
Creative writing is at its heart about storytelling. Whether you are writing a fiction novel, creating a marketing campaign or educating the next generation, a bachelor's in creative writing can help you find success in a variety of career fields. As you consider how you want to use your writing skills to further your career goals, know that you can find the right fit for you, just as countless others have, through earning a degree in creative writing.
What Is Creative Writing?
Creative writing takes on many forms. However, the focus of most creative writing bachelor's programs – including the program at UM – will fall into three categories: fiction, nonfiction and poetry.
A bachelor's in creative writing can encompass just one or a mix of these categories. The purpose of creative writing as a bachelor's is to increase your understanding of the fundamentals of good storytelling, to learn about the existing literature, both classic and modern, and to apply the techniques used in that literature to create compelling and interesting stories of your own.
A career in creative writing will require strong writing skills; editing, attention to detail, and the ability to recognize and create provocative language and ideas. With a BFA in creative writing, you will be equipped to make readers want to take action, not just give your topic a look and then forget about it. At the University of Montana, you will be in good company as you pursue your creative writing bachelor's, with professors and alumni who have won numerous awards in the field of creative writing.
Creative Writing vs. English Literature
While studying for your bachelor's in creative writing you will study a lot of English literature, but the two fields are distinct. A bachelor's in creative writing has a stronger focus on the practical side of literature, teaching those who pursue the degree how to create original works as well as how to recognize quality in the written word.
Where English literature has a broad-strokes approach to understanding the written word and the impact it has had on society, the bachelor's in creative writing provides deeper context on how those works came to be so impactful, and provides a link to the heartbeat of society through that context.
Where a degree in English literature may be helpful for pursuing a career in education, a bachelor's in creative writing can be helpful in a broader scope. The gaming industry seeks out creative writers for story development on AAA video game titles. The film industry looks for creative writing graduates, as well. Publishing houses and marketing firms also look for those with a degree in creative writing.
Why Choose a Career in Creative Writing?
When you have been part of the development of a new brand in marketing, a new intellectual property in film or television or have done your part to educate the next generation of creative writers, you will know the fulfillment that comes with a bachelor's in creative writing.
Just as the name implies, there is a great deal of creative freedom that comes with a creative writing BFA. You will be prepared to work in the arts, in marketing, education and more.
Careers in Creative Writing offer flexibility
There is so much that you can do with a bachelor's in creative writing. The world is ready for more creative, groundbreaking leaders in education, media and the art of storytelling. In addition to offering a broad array of career paths to pursue, creative writing jobs also offer the flexibility to work remotely.
Jobs with a Creative Writing Bachelor's offer diverse options
A bachelor's degree in creative writing is listed as a requirement for many careers in film, television, digital media, video games, education, marketing, and even politics as a speech and campaign writer. The possibilities are open to you, no matter your interests.
What Can You Do with a Creative Writing Bachelor's?
The most common careers for those with a bachelor's in creative writing are in the fields of marketing and advertising, publishing, higher education, and visual and written media. High profile companies like Sony, Disney and Random House all frequently have positions available in their employ which list a bachelor's in creative writing as a prerequisite
As you pursue a career with your BFA in creative writing, the technical and artistic skills you have learned as a student at UM will become invaluable, setting you a cut above those with just experience in the field.
The choice to achieve your own bachelor's in creative writing ultimately comes down to how you want to use it. If the arts are your desire, visual, written and digital media are there for you. If you are more interested in the printed word, marketing and publishing houses are there, too.
A List of Careers for a Creative Writing Bachelor's Degree
There are many career paths available for you if you get a creative writing bachelor's, as you've already seen. They span academic careers as well as the arts industry.
Literary Agent
Screenwriter
Video Game Story Writer
Social Media Manager
Marketing Copywriter
Website Developer
A list of careers for a Creative Writing Master's degree
If you desire to take your education further, you can be assured that your prospects for a career increase as well. A creative writing master's degree opens up additional doors, with a greater expansion into the field of academia.
Literary Historian
Marketing Management
Grant Writing
Public Relations
A list of careers for a Creative Writing Doctoral degree
Pursuing a Ph.D. in creative writing provides an incredible amount of prestige. It is a great undertaking, and will set you apart from every other person with a creative writing degree as less than 2% of the US population have a Ph.D. The career fields which are specifically open to those with a doctorate in creative writing are almost exclusively academic.
Literary Researcher
Creative Director
Governmental Writer
Where Do those with a Bachelor's in Creative Writing Work?
A BFA in creative writing opens doors for employment in numerous fields. Frequently, those with a bachelor's degree in creative writing work in universities as professors or adjunct staff, or as researchers. Much of the research work done by those with a bachelor's in creative writing offers unique opportunities to read English texts from as far back as the 15 th century. Aside from these academic opportunities, earning you creative writing bachelor's degreeopen doors to working in media marketing, digital arts and gaming. With some additional education, even teaching in high school and elementary school become options.
Among the possibilities of employment for those with a bachelor's degree in creative writing are:
Universities
Marketing Agencies
Social Media Marketing
Film Industry
AAA Gaming Industry
High Schools
Literary History Preservation
Start Your Creative Writing Career: Earn Your Bachelor's in Creative Writing at the University of Montana
The creative writing bachelor's at the University of Montana is a program with a rich history in publication, and with many prestigious alumni. Nearly all the professors for the program are published, with dozens of awards in literature across their diverse backgrounds.
The creative writing major at UM offers an array of classes in fiction, nonfiction and poetry, courses in reading and revision and a class in which students solicit, write and publish submssion to The Oval, UM's undergraduate literary magazine .  
As you consider the University of Montana as the place where you'll get your own bachelor's in creative writing, you can learn more about the individual professors and staff that make this program so incredible.
Learn more about the University of Montana's Creative Writing Bachelor's Program
Apply Now to Become an Undergraduate Student
UM's Creative Writing B.A. degree
Explore UMontana
Request Information
Apply as an Undergraduate
Launch UM virtual tour.
A Seriously Long List of Jobs That Involve Creative Writing
Who says you can't make any money from creative writing?
Okay, so a lot of people. But they're wrong. If you're a creative writing major, have a degree in writing, or simply identify this skill as the best thing you've got to offer the world, there are a ton of ways to build a career with your talents.
In fact, writing skills are way more valuable than your Uncle Richie realizes (or whichever relative scoffed at your dreams last Thanksgiving). Anyone with a gift for words has the ability to communicate vital information, motivate others into action, and help others feel seen and understood.
The survival of many industries depends on their ability to connect with human beings. They need brilliant wordsmiths. And here's the really exciting part: not everyone can do what you do as well as you can do it.
So no, being a writer does not mean you're sentenced to a life as a "starving artist." 
That said, some creative writing jobs are easier to snag than others. There's also a difference in pay across different writing gigs. Some jobs will be easier to fill with AI in the future, and—the important detail—some will be more in line with your vision for your writing career. 
So here's a comprehensive list of opportunities and considerations to help you narrow down your focus. You're about to find out:
What writing jobs are out there
The skills you need to land work in the creative writing field
Which industries are looking for folks like you
What type of education or experience you need to get started
Let's start by taking a look at your many, many options.
Career Opportunities in Creative Writing
Before we launch into this very long list of creative writing jobs, I'd like to clarify the term "freelance writer."
A freelance writer is a contractor. Rather than hiring them on as employees, an individual or business hires a freelance writer to complete specific tasks within their area of expertise. 
If you choose to work as a freelancer rather than an employee, you'd be your own boss. You'd set your own rates, determine your own schedule, and decide which projects to take on and which to skip. You'd also be free to work with as many different clients as you'd like.
The downside is that you don't get benefits like paid time off, health insurance, and employer contributions to your retirement fund. You're responsible for paying quarterly taxes directly to the government, as no one withdraws them from your paycheck. 
Depending on the specific creative writing career you're building, you might also need to look into professional liability insurance or setting up an LLC. These topics get complicated and vary according to where you live, so I'm not even going to try to give you advice on any of that. It's better to consult your accountant, mentor, and/or fellow freelance writers in your area.
The main thing I want to convey is that if you choose to freelance, you have to think of yourself as an actual business. That's what you are after all. It comes with a lot of freedom and extra responsibilities. So weigh your options carefully.
One more quick note:
Salary Ranges Are Tough to Nail Down
I've included an average salary range for each of the job descriptions below. These ranges are huge and the numbers are almost meaningless. I put them there because if I were you, I'd want to see them so I could at least get a sense of the income one might make from these different writing jobs.
But the standard salary for each job can vary widely depending on the size of the company hiring you and the cost of living in your (or their) area.
The income range gets massive when you add freelancers to the mix. A rookie freelance copywriter who's just building their portfolio and client list might make $20,000 in a year. Meanwhile, an in-demand freelance writer could make well into six figures and out-earn an in-house copywriter.
So use the salary information I provide to get a general idea of what's possible. For more concrete numbers, check out job listings in your area and talk to people who already do the kind of work you want to do.  
And what kind of work is that? Let's decide! Here are a ton of ways you can make money as a writer.
Content Writing Jobs
Content is all the media that encourages consumers to engage with a brand—blogs, videos, social media, podcasts, you name it. Creative writers like you and I might prefer to think of those things as art, but in business-speak, it's content.
And as a professional content writer, you'll have to ride that line between creativity and capitalism. After some looking around, you should be able to find an employer or client who wants you to bring some creative vision to your work. But you'll also have to care about which creative strategies get buyers to bite. 
More on that in a bit, though. For now, here are the most common content writing jobs.
Content Writer
A content writer focuses more on long-form writing that builds a relationship with the target audience. In other words, content writing is less about making a sales pitch and more about being helpful and conveying the brand's personality.
Common content writing tasks include:
Email newsletters
Articles and blogs
Case studies
Average Salary: $40,000-$70,000 per year
A copywriter is more involved with the kind of creative writing that says, "Hey, you should spend money on this." They compose things like:
Website copy
Landing pages
Print and online ads
Sales emails
Sales pages and mailers
In many businesses, the content writer and the copywriter are the same person. But if you freelance as a copywriter specializing in one specific area—sales emails, for example—get familiar with the other materials your client is putting out to make sure your sales copy builds on the relationship they're already building through content.
Average Salary: $60,000-$120,000 per year
Technical Writer
Technical writing is basically "how-to" writing. It includes:
Instruction manuals
Explainer video scripts
White papers
Spec sheets
Technical writing might be your jam if you're great at grasping complex concepts and clarifying them for the rest of us. It's truly a magical writing skill that involves simplifying and being thorough at the same time. 
If you can pull that off, it's only a matter of time before you're considered an irreplaceable rockstar in someone's business.
Annual Salary: $60,000-$90,000 per year
Social Media Writer
You'll sometimes see social media fall under the umbrella of content writing, but it's also its own position in many businesses.
As you can probably guess, a great social media writer comes up with brilliant captions that engage audiences on social platforms. But there's more to it than that.
To do this job well, you have to be on top of social media trends so you can jump on challenges and hashtags while they're still fresh. You also need to understand which customer segments are more likely to be on which platforms and how to engage with them.
Depending on the size of the company you're working with, there's a good chance you'll also have to come up with the visuals and create the videos that accompany your brilliant captions.
If you love social media, you'll be in heaven. If you don't, you probably won't be able to fake it. 
Average Salary: $50,000-$80,000 per year
Journalism and Media Jobs
In this category of creative writing jobs, we're looking at everything that has to do with news and mass communication.
I know. That includes a lot. So let's get to it.
A journalist investigates, researches, and writes the news for print and/or online publications. That's a tidy little sentence to describe a writing job that involves a lot of specialized skills and a strict code of ethics.
While journalism absolutely belongs under the heading of "creative writing careers," it's an area where you can't get fast and loose with your creativity. Journalists are responsible for revealing the truth to the public. Ideally , they do this without guiding the reader's opinion or embellishing actual events. 
The ability to compose engaging articles that inspire thoughtful questions without pushing an agenda is a remarkable skill in and of itself. Successful journalists also tend to be curious, driven, resourceful, and fast writers.
This is one of the few writing jobs where having a degree (usually in journalism) is relatively important, especially if you hope to work for a notable publication. 
Average Salary: $60,000-100,000 per year
Broadcast Writer
A broadcast writer prepares the news for television, radio, and online media. In other words, they take all the deets about what's going on in the world and turn them into scripts to be read by news anchors.
Like a journalist, a broadcast writer faces the challenging task of conveying information in an unbiased way. They also need to be adept at writing pieces intended to be read aloud—scripts that flow naturally for the speaker and can be quickly understood by the audience. 
Much like journalists, broadcast writers must be able to work quickly, often under pressure. If you like the idea of being in front of the camera yourself, this creative writing career path can include conducting interviews, attending press conferences, and reporting the news.
Average Salary: $40,000-$100,000 per year
Scriptwriter
A scriptwriter is anyone who writes a script for a play, movie, radio show, podcast, video game, or television show. Scriptwriters who write plays are called playwrights, movie writers are more commonly called screenwriters, and television writers are best known as—get this—television writers.
Playwrights and screenwriters almost always work on a freelance basis. Much like traditionally published book authors, they work with a literary agent and are constantly trying to sell their next project.
Television authors also need representation, though they're usually hired onto the writing staff of a TV show as an employee. There is such a thing as freelance television writing where a writer steps in to pen a single episode of a show, but this practice isn't as common as it used to be.
All of these jobs have the potential to be deeply fulfilling for a creative writer. They come with fun challenges like learning how to tell a great story purely through visuals and dialogue. 
Keep in mind that—much like becoming a successful author—it takes a long time to build a solid career in this field. There are a lot of gatekeepers and frequent rejection .
Film, theater, and television are also much more collaborative art forms than book publishing. Whatever you write, you have to be prepared for producers, directors, set designers, sound designers, actors, and editors to put their fingerprints on it, too. It's entirely possible that the end product will be quite different from what you imagined.
In other words, if you're precious about your work, this might not be your field.
Average Salary: $40,000-$80,000 per year
Publishing and Editing Jobs
Feel like your true home is in the book world? Then you're looking for something in publishing.
When we think about creative writing jobs in publishing, we usually think of authors first. After all, that's the dream for a lot of creative writers. But it's no secret that authorship comes with rejection, requires a ton of patience, and doesn't always cover the bills.
The good news is, you can still build your career around books even if you'd prefer to pass on all the uncertainty that comes with being an author. This field has plenty of other opportunities to flex those creative writing skills.
But we'll get to those in a moment. First, let's look at the best-known writing job in publishing.
As I mentioned before, authors are almost always freelance writers. This means that whether you plan to publish traditionally or self-publish, you have to think of yourself as a business.
Publishing traditionally means working with a publishing house to release your book into the world. This process usually involves finding an agent who then pitches your book to publishers and negotiates a book deal for you. We have a guide to the entire process right here .
Self-publishing means you produce and market your book yourself. This publishing model has boomed in both popularity and earning potential in the past decade and change. You must have an entrepreneurial spirit to succeed on this publishing path, though. You can learn more about it here . 
Whichever path they choose, successful authors build platforms and a following through channels like social media , email newsletters, and speaking engagements. Those platforms help them develop relationships with readers, give them more visibility, and make them more appealing to publishers.
You also need to some degree of sales smarts, whether you self-publish and take on the full responsibility of marketing your book or you decide to publish traditionally, which requires creating a compelling book pitch that gets agents and publishers onboard.
Average Salary: I can't even give you a range in good conscience. So many factors influence author earnings, and only a small percentage of authors make a living on books alone. I recommend checking out this article for a clearer understanding of what you can make as an author. 
As Doug can tell you , there are several kinds of editing you could do, including:
Developmental editing
Line editing
Sensitivity reading
Fact-checking
Each type of editing evaluates a different aspect of a written work. These options also allow you to zero in on your greatest strength as a creative writer. Are you the sultan of story structure ? You might be interested in developmental editing . Are you a research rockstar and a stickler for accuracy? Maybe fact-checking is for you. 
This is a job you can do as an employee of a publishing house or as a freelancer. If you go the freelance route, you'll likely be working with a lot of indie authors.
Average Salary: $60,000-$80,000 per year
Copy Editor or Proofreader
Copy editors are magical beings who have the kind of superhuman focus that allows them to catch tiny issues like grammar errors, misspelled words, inconsistencies in story details, and the like.
It's true that AI is getting better and better at catching these mistakes. That's why Dabble uses ProWritingAid to power grammar, spelling, and style checks. It helps creative writers prepare a draft that isn't utterly riddled with errors.
But at this moment in time, we still can't count on AI to catch nuanced errors, recognize clever word play, or appreciate an author's deliberate decision to shirk old grammar rules. We still need human eyes to do this job.
Often confused with a copy editor, a proofreader is the very last person to review a book, and they look for any and all errors. If there's a missed typo, a messed up margin, or a wonky image, they'll flag it. Think of them as quality control.
As you likely guessed, both jobs require you to be extremely detail oriented.
Average Salary: $50,000-$90,000 per year
Literary agent
You probably associate this career path with sales more than creative writing. But the literary agents who succeed are the ones who understand what makes a book great . 
This job is best suited for someone who's ready to do a ton of reading and enjoys rubbing elbows. You can expect to spend plenty of time on the phone, in lunch meetings, at publishing events, and in pitch meetings. You have to be good at building relationships and love talking books. 
What many creative writers don't realize about agents is that their job also involves giving feedback on current projects and helping their clients talk through new ideas. The advice of a good agent can mean the difference between a book deal and a manuscript that never graduates beyond PDF status. 
Keep in mind that it takes time to succeed in this career. As a literary agent, you'll make 15% of what your authors earn from their books. Expect some lean years as you build your client list.
Average Salary: $50,000-$70,000 per year
Book Reviewer
As a creative writer, you're probably great at explaining why books work. You have smart things to say about character development , plot structure, and pacing. And if you're a fast reader—and would love to make reading part of your creative writing career—you'd probably enjoy being a book reviewer.
Book reviewers do exactly what you think they do: they review books. Many choose to specialize in a specific genre or two. Specializing can be an effective strategy when it comes to building a name for yourself and giving readers a reason to value your opinion. It's a way of establishing yourself as a genre expert.
Just note that this isn't an easy career to just plop into. While you can find job listings for book reviewers, there aren't many of them. Most people who do this for a living start by writing reviews on a freelance basis or even for their own blog/social media platform.
As you build your portfolio and reputation, you can submit your reviews to other publications, monetize your own review website/podcast/vlog, or possibly land a job as an in-house reviewer for a magazine, newspaper, or online platform.
Average Salary: $20,000-$80,000 per year
We already covered what a copywriter is, so I won't go too deep on the subject here. I just want to make sure you know that it's possible to do copywriting work within the world of publishing.
Publishing houses have copywriters on staff to handle things like press releases, media kits, author bios, social media content, and marketing materials.
In this role, you'd be able to enjoy the stability of a marketing-focused creative writing job while still getting to think about books all day. Not too shabby.
Average Salary: $50,000-$120,000 per year
Advertising and Marketing Jobs
If you're on the lookout for creative writing jobs that make your value as an employee easy to quantify, advertising is the place to be. 
The goal of all advertising is to persuade your audience to make a purchase or take some other action that benefits the business you work for. 
Modern technology makes it easier than ever to track the success of your ad copy and marketing campaigns, which means you often have access to numbers that demonstrate what the return on investment is when someone hires you.
Now, all this might sound very cold and business-y, but this is an area where creative writers thrive because your goal is the same as it would be if you were writing a novel or screenplay. You're trying to find the best words to connect emotionally with your audience.
Not everyone can do that. You can.
Let's take a closer look at the different ways you can do that.
Advertising Copywriter
Oh, look! We're talking about copywriters again. Since we've already covered this, I'll give the abbreviated explanation for the article skimmers.
An advertising copywriter writes copy (go figure) advertising a product or service to potential buyers. This includes anything that could potentially lead to a purchase, including:
Marketing emails
Print or online ads
Brand Strategist
If you already know what a brand strategist is, you might be surprised to see this position appear on a list of creative writing jobs. Brand strategists don't write as much as they, well, strategize brands.
This person is responsible for conducting market research, analyzing trends, creating buyer avatars, planning campaigns, and overseeing the production of marketing materials. 
Depending on the size of the marketing team, a brand strategist might also write copy and content. But what makes this career a decent option for a creative writer is the storytelling aspect.
Brand strategists are responsible for translating the business's message into a story that resonates with buyers. They also need to understand their consumer on a deeper level—a skill that comes more naturally to someone who's spent time studying character development.
Creative Director
Much like a brand strategist, a creative director looks at the big picture of a company's marketing efforts. What story is being told? How can they best use the creative resources available to tell that story in an emotionally compelling way?
The creative director leads all the creative professionals on a marketing team, including copywriters, designers, and social media content creators. They make sure everyone is on the same page, telling the same story and communicating the same message.
Average Salary: $120,000-$200,000 per year
Content Marketing Specialist
Remember when we talked about content writing? This is that, plus some added responsibility.
While a content writer is usually told what to write, a content marketing specialist is the person who decides what type of content will be most effective for the business. 
They strategize content like emails, blog posts, videos, and social media depending on which formats and messaging are most likely to help buyers connect with the brand. 
This person also selects the SEO and analytics tools to help them make sure their strategy is effective. They watch the results closely and regularly optimize their content marketing efforts to get better performance.
And yes, a content marketing specialist might also write some or all of the content themselves.
Skills Required for Creative Writing Jobs
I tried to give you some sense of the skills required to stand out in each of the creative writing jobs we just went over. 
Nevertheless, if you've found something that interests you, I strongly suggest researching it further and connecting with someone who's already killing it in that field. Get a sense of what it means to excel and you'll be in a good spot to pursue your creative writing career seriously.
If you're still not sure where you want this journey to lead, no problem! Follow your curiosity and let yourself gravitate towards the work that excites you. In the meantime nurture the following skills essential for every creative writing career.
Writing Skills
Okay, so I'm not exactly dropping a bone-rattling truth bomb here. Of course you need strong writing skills to build a career as a creative writer. You know that. That said, some writers underestimate the importance of building on the skills they already have. 
This is an issue I think tends to plague young writers the most. We catch wind of the fact that we're "good writers" from teachers and peers and get attached to the idea that a good writer is something we already are. Like inherently.
I know I wasted a lot of energy in my early adult years worrying about whether or not people thought I was a talented writer instead of working to continuously become a better writer.  Ongoing improvement is how you'll stand out from the crowd, especially as you zero in on the type of creative writing you want to do. 
If you want to be a copywriter, find a mentor and start a course on copywriting. If you dream of being a bestselling author who makes a living from books alone, join a writing group, attend writing conferences, and download this free e-book on writing a novel that rocks.
Keep sharpening those writing skills, no matter how exceptional you already are.
Research and Analysis Skills
Research and analysis sounds like a skill set that only applies in marketing and technical writing. But in all creative writing jobs, research and analysis have the same goal: understanding what it takes to connect with an audience.
Now, if you become a screenwriter or a novelist, you might not pore over metrics the way you would if you were a brand strategist. What you will do (hopefully) is consume a ton of art in your genre to understand what works.
Constantly refresh your understanding of what speaks to readers, which trends are hot, and why current bestsellers are selling so well. It's also important to stay on top of new developments in the publishing industry and strategize your career accordingly.
And if you plan to be a self-published author, your research and analysis skills will help you make important marketing decisions.                                                                                                                              
Creativity and Imagination
If there's one area where you have a leg-up on AI, it's this one. Everything AI creates comes from ideas and structures that already exist. As an adaptable, creative human being, you can find unique ways to express ideas that haven't been explored before.
This skill is essential for all the creative writing jobs we've discussed. The best ad writers figure out how to write copy that stands out from the competition. Great editors help writers tap into their own original voices. Even in technical writing, imagination is crucial for finding new ways to simplify complicated topics.
Communication and Collaboration Skills
There are no writing jobs that allow you to compose brilliance alone in your cave and release it into the world with no input from anyone else. 
You have to be open to feedback, and in ultra-collaborative fields like screenwriting, you must be ready for the possibility that your vision won't often be everyone's top priority. (It hurts, I know.)
If you're still working on building your collaboration skills, I can offer a few suggestions.
One is to make a habit of identifying what's important to you about every project you work on. What's motivating you? What are your goals? When you can answer those questions, you'll be more confident gently pushing back on things you care about and more open to offering compromising when it comes to less important issues.
Another tip is to cultivate a genuine appreciation for what others can contribute. As a writer who regularly wrestles with a stubborn, foot-stomping ego, I often return to this interview with Dolly Parton for a reminder of the kind of artist I want to be—someone humble enough to celebrate when another person makes my good thing better.
And of course, working with people you respect helps boost that collaborative spirit, too.
Finally, clear communication is absolutely essential. Make sure you know what clients, employers, or team members expect from you. Also manage their expectations by being frank about your availability, timeline, and expertise.
Adaptability and Time Management
Most writing jobs involve deadlines and your reputation as a reliable writer hinges on your ability to meet those deadlines. That means you've got to get good at managing your time.
This can be especially difficult if you're a freelance writer, because there's no one dictating your schedule. There's just today, a deadline in the future, and all this space in between that can be whatever you want it to be.
Time management takes practice, and a quick Google search will take you to loads of suggestions for making the process easier. You can try time blocking , the Pomodoro Technique , deep work strategies … test whatever you think will do the trick.
For me, the most effective method is to remember two things. First, I need to maintain my reputation as a reliable writer if I want to pay my rent and gradually increase my income. Second, I don't want to be stuck at my desk when my husband comes home from work or friends are inviting me out on the weekend.
Those two limits help me draw time boundaries on that wide-open calendar and keep me motivated to stick to it.
Even as you create structure for yourself, however, you have to keep in mind that things might change. A client might shift direction. A project could fall through. You might find yourself partnering with a collaborator on something you thought would be a solo situation.
It's important to know your own work boundaries so you don't get walked on. But being adaptable (within reason) is also crucial for building positive, long-term professional relationships.
Industries That Hire Creative Writers
We've examined your professional opportunities by looking at the most common creative writing jobs. Now let's take a look at them by industry.
If you're already in the workforce, you might discover that there are writing jobs within your current industry—jobs you never even knew were there. If you're in school pursuing something other than a creative writing major, you might discover that you can totally flex your wordsmith skills in your field of study.
And if you still have no idea how you want to put your talents to work, this list might help you uncover some less obvious job opportunities.
Entertainment Industry
You already know that the entertainment industry needs scriptwriters. You can probably guess that there's a need for copywriters in those massive marketing departments, too. 
But there's also song writing, video game writing, script reading/analysis, and script consulting. Every single thing you see on TV has a writer behind it—usually an entire writing staff —including award shows and reality television.
You can even get hired to rewrite or "punch-up" someone else's script. 
Publishing and Journalism
We covered the big writing jobs in this industry earlier, so for now, I'll just add this:
As technology advances, these creative writing careers are more accessible than ever. You develop specialized skills online, build your own platform, and publish your own work. It's entirely possible to forge your own path in these industries that used to be heavily guarded by gatekeepers.
That's not to say it'll be easy to make a name for yourself, nor is it to say that I think everyone with a Wordpress account should feel free to market themselves as a journalist. 
What I mean to say is that if you want a career in these traditionally intimidating fields, there's space for you. There are more ways than ever to learn what you need to learn and create what you want to create.
Advertising and Marketing
Again, we've talked about these writing jobs, so I'll just tell you a quick story.
When I first moved to Los Angeles, I took an improv class (it's mandatory here) with a woman who was a freelance namer. That was her whole job. She named products for major companies and made a whole entire L.A. living doing it.
While I can't help but wonder if AI has taken over her job yet, it's an important reminder that writing skills are worth a lot in marketing. The right words are straight-up gold . 
Education and E-learning
Creative writing is a teachable skill. If you enjoy guiding others, teaching might be a solid career option for you. You could teach creative writing in a formal education environment (you'll need a degree), at a local community center, or even online.
The education world also needs creative writers to put together written materials like textbooks, discussion guides, glossaries, and study guides. You could even write scripts for educational videos.
This is an area of creative writing that doesn't get a lot of attention, but there's an increasing demand for it. Not only do modern students turn to the Internet for information and homework help, the digital world has made self-directed learning easier than ever. You can find an online course for almost anything from auto repair to world literature. 
What's great about this industry is that it allows you to combine your passion for creative writing with your interest in another subject. Plus, there's the business about inspiring curious minds and all that.
Nonprofit Organizations
If you're intrigued by the challenges of a job in marketing but want to feel like your work serves a greater purpose, consider writing for a nonprofit.
You'd be doing many of the same things you'd do for a for-profit business: email marketing, advertising, blogging, video creation, and the like. The goal is similar—you want to get the word out about the organization and create a positive association in people's minds.
But there's also a strong fundraising element, since that's how a nonprofit stays afloat (and covers your paycheck). This means you can also expect to write grant proposals and oversee donor communications. 
You can do all of this as part of the team or on a contract basis. Grant writing in particular is a good option if you're looking to set up shop as a freelance writer.
Corporate Communications
Corporate communications is an oversized novelty umbrella that covers a lot of stuff. Simply put, this term refers to the many ways a corporation communicates its mission, goals, successes, and functions to everyone. 
Seriously, everyone . The public, employees, shareholders, partners… every person who exists.
Now, if you work with a small startup, "corporate communications" could be your entire job. For larger companies, however, you're more likely to work in a specific department. You might be on the marketing team or you could be responsible for internal communications like employee manuals and reports.
Bottom line: if you're dreaming of a creative writing career in the corporate world, the job opportunities are definitely there.
Career Development and Education Options
You know what creative writing jobs are out there. You know what skills these different industries are looking for. What about education? What kind of training do you need in order to land the job and crush it?
It depends on the specific job as well as what kind of time and money you have to invest in your creative writing education. 
The good news is that you don't have to rack up insane student loans in order to make a good living as a writer. There are certain positions where a degree is mandatory, but there are plenty of hiring managers who don't care where you got your creative writing skills as long as you have them.
And it's never been easier to find training as a writer. Let's look at your options.
Degree Programs in Creative Writing
If you plan to get a four-year degree to boost your knowledge as a writer, you might be eyeballing a creative writing major. This area of study is most useful if you plan to become a fiction writer, screenwriter, poet, or the like.
If you're mapping out a career that's a little more predictable and a little less "artsy," consider majors like journalism, communications, technical writing, or marketing.
Industries that are most likely to have a mandatory college degree requirement include journalism, academia, and large corporations or nonprofits.
If you plan to go into entertainment or work as a freelance writer, a formal education can help you develop essential skills. Although—real talk—many of those skills can be learned through the less expensive educational avenues we're about to go over. 
Many folks who earned creative writing degrees will tell you that the biggest benefit of their program was the network it provided when they left college. That's no small thing, but it's also not what we think we're going to college for. 
Writing Workshops and Online Courses
You can easily find live workshops, online courses, and writing groups to help you sharpen your skills or develop new ones. 
This option is a good compromise between a formal education and fully self-directed learning. There's often a fee, but it's tens of thousands of dollars less than you'd spend on a creative writing degree. There's a structure to keep you on track but you don't have to show up at a physical location multiple times a week for months at a time.
Whatever type of creative writing skill you want to work on, a quick Google search will help you find courses you can take. You can also search the course selection at sites like Coursera , Udemy , and Masterclass .
Finally, a lot of folks who sell online writing courses offer free webinars as a way to get you on their mailing list and pitch their full program. If you don't feel like you have a clear enough goal to invest in an entire course, these webinars provide a great opportunity to pick up some basic insights and start practicing new skills.
Networking and Professional Associations
Look for networking events and professional associations specific to the field you wish to enter. You absorb so much information just by being around experts and peers, plus you'll have access to seminars, boot camps, training programs, and more.
Many organizations also hold or participate in conferences. These conferences provide learning opportunities that not only sharpen your creative writing skills but also educate you about your chosen industry. If you don't have the travel budget, you can attend many conferences online at a discount.
And don't forget to build your own little network of creative writers! Even fiction-focused communities like Dabble's Story Craft Café are full of writers who rely on more predictable writing work like copywriting and communications to pay their rent. These are great places to share information about building creative writing careers of all kinds.
Building a Portfolio and Gaining Experience
Finally, we learn best by doing. As you pick up new advice and information through your chosen educational channels, put that insight to work immediately.
Offer to write the press release for your cousin's startup. Ask a strapped-for-cash nonprofit if they'd be interested in letting you write your first grant proposal on their behalf. Create a blog that allows you to showcase the kind of content you hope to one day get paid to write.
These things help you build a portfolio to show prospective clients or employers. They also give you an opportunity to learn from your mistakes, get feedback early, and discover the challenges that are unique to different writing jobs. 
The faster you experience those things, the faster you learn and the sooner you're ready to make a living as a creative writer.
Writing is an in-demand skill. Don't let anyone tell you otherwise. If you dream of paying your bills with your words—either as a full-time job or a side hustle—you absolutely can. It may take patience, diligence, and a lot of learning, but the work is out there.
The last bit of advice I'll offer you is to find a community of writers who have your back. No one understands the journey like another writer. You can count on your network of fellow wordsmiths for moral support, job leads, feedback, and more.
If you're still in the process of finding those friends, join us at the Story Craft Café—especially if fiction is part of your writerly aspirations. The community is free to join and a great place to talk craft, share your work, and stay productive with daily word sprints. Follow this link to get started.
Abi Wurdeman is the author of Cross-Section of a Human Heart: A Memoir of Early Adulthood, as well as the novella, Holiday Gifts for Insufferable People. She also writes for film and television with her brother and writing partner, Phil Wurdeman. On occasion, Abi pretends to be a poet. One of her poems is (legally) stamped into a sidewalk in Santa Clarita, California. When she's not writing, Abi is most likely hiking, reading, or texting her mother pictures of her houseplants to ask why they look like that.
SHARE THIS:
TAKE A BREAK FROM WRITING...
Read. learn. create..
Book marketing. Those two innocuous words instill fear and loathing into the hearts of so many writers. You just want to write your books and have them sell themselves. Why do you have to tell people about it? Well, Susan, because you do. I know you want to write, but if your goal is to write, publish, and make money from your books, then you're going to have to find a way to make them visible. Thousands of new titles are uploaded to Amazon every single day. Millions of books are being published every year, and no matter how good your story is, without marketing, there's not much chance very many people will find it. 
What kind of writer are you? Are you the sort who writes a meticulous outline that tips into the five digits or the type who sits down in front of a blank sheet of paper and lets the words pour out of you like a runaway train? Did you know there are specific terms for this kind of writing? Writers will come up with words for anything, I swear. Plotters are the first type of writer. They like to have detailed outlines that tell them exactly where their story is going. Pantsers are the other type of writer, which is kind of a weird name, but the term was coined by Stephen King (a famous pantser) to describe writing by the seat of your pants. Cute, eh? There is no right or wrong way to write your book, and I'm going to repeat this so many times. The right way is the way that works for you. 
Dystopian fiction is one of the darker subgenres of science fiction and fantasy. It takes us into dark, foreboding worlds, where oppression and bleak landscapes are the norm. Books like 1984 by George Orwell, The Hunger Games by Suzanne Collins, and Brave New World by Aldous Huxley have become classics that shine a light on political corruption, environmental disaster, and societal collapse.Why do we love these stories? Maybe it's because dystopian fiction allows us to explore worst-case scenarios, to grapple with the idea that the world we know and love could be lost forever. It's a way for us to confront our fears and anxieties about the future, to see what could happen if we continue down a certain path.

APPLY NOW    REQUEST INFO
Apply Today
Ready to apply to Penn LPS Online? Apply Now
Learn more about Penn LPS Online
Request More Information
Five rewarding careers related to creative writing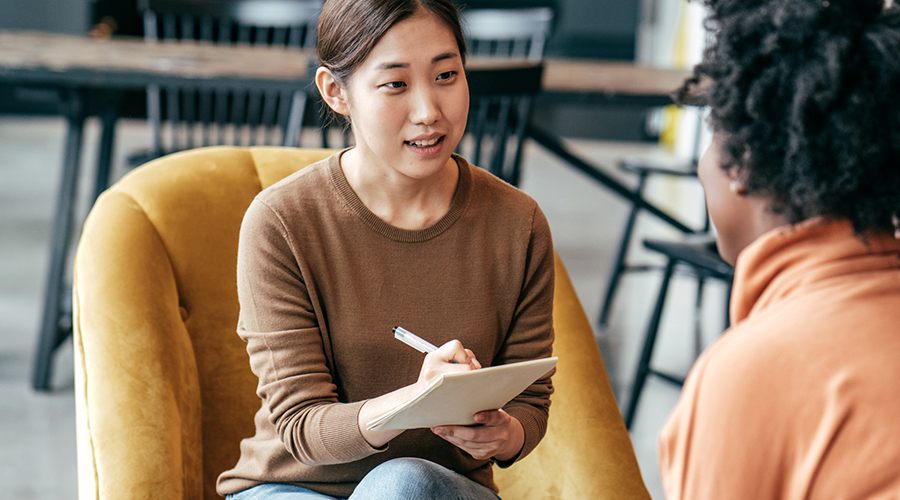 If you have a passion for creative writing, you may be happy to learn that there is a myriad of exciting career options in this field. According to the Bureau of Labor Statistics (BLS), employment in media and communications is expected to grow 14% by 2030, which will likely result in over 150,000 new jobs. 1 This above-average demand is anticipated due to the need for writers who can create, edit, translate, and communicate information across a variety of media platforms.
If you've already obtained a bachelor's degree in a related field, earning a Certificate in Creative Writing at Penn LPS Online is an excellent way to upgrade your credentials to pursue—or advance—a career in writing or communications. With an innovative workshop format wherein you explore novel writing tools, discover new means of expression, and hone your craft, this program provides the perfect forum to tap into your creativity. Aided by collaborations with peers and instructors, you create and revise original works in multiple literary genres for maximum impact.
"Students can focus entirely on one genre, say fiction. Or you can come in and decide you want to try your hand at not only fiction but also poetry, screenwriting, nonfiction, and journalism. You can tailor the program to your interests as a writer." – Julia Bloch , Faculty Director, Penn LPS Online Certificate in Creative Writing Director, University of Pennsylvania Creative Writing Program
Whether your goal is to gain an introduction to creative writing or to enhance your existing writing skills, the creative writing courses are designed as a practical study of the power of language. Students learn how to utilize creative writing as a form of critical thinking and delve into the major literary genres. Upon completion of the basic 4-course certificate, an additional two courses can be completed to earn an advanced credential and further highlight your expertise. You also have the option to enroll in individual courses without committing to the entire online certificate.
Now that you've been introduced to the Certificate in Creative Writing at Penn LPS Online, read on to explore five rewarding careers you may pursue in this field.
Content writer
In today's media landscape, digital content is king. Whether for company websites or digital platforms such as YouTube, there is a high demand for talented writers who can create content that really bring stories to life. As a content writer you might be assigned to work on scripts, blog posts, news articles, white papers, and editorials. Depending on your background, you may choose to specialize in writing for a particular field such as fashion, lifestyle, fitness, or travel—or focus on specific industries including nonprofit, entertainment, business, education, technology, or publishing.
The writing and storytelling skills that you obtain in the Certificate in Creative Writing at Penn LPS Online can be invaluable if you want to pursue a career as a content writer. The BLS projects approximately 15,400 new job openings for writers on average each year until 2030. 2 If you're looking to escape the 9-to-5 grind and become a freelancer, this type of role may be particularly appealing as it allows you to work with clients across multiple industries and provides more scheduling freedom.
If you're interested in becoming a content writer, you should consider enrolling in CRWR 3600: Advanced Nonfiction . In this course, you study a variety of genres in creative nonfiction including personal essay, memoir, and journalistic prose. Through writing assignments and peer workshops, you explore important elements of prose writing with a focus on description, voice, and narrative structure. Not only will you gain experience you can use on the job, you also have the chance to discover which types of writing you excel at and enjoy.
If you have a background in marketing or advertising, but you're interested in pursuing a role in the creative side of these industries, you may want to consider copywriting. This type of writing is generally created with the goal of increasing brand awareness and loyalty as well as encouraging a response in the reader that results in the sale of a product or service. When working as a copywriter, you may create a wide range of copy including advertising slogans, email campaigns, website content, sales copy, banner ads, and more.
While companies and organizations do hire in-house copywriters, you may also choose to work with an advertising agency or become a consultant. Some copywriters focus on writing for specific industries like finance, healthcare, or technology. Another option is to specialize in a type of copywriting such as direct response, product, search engine optimization (SEO), technical, business-to-business (B2B), or business-to-consumer (B2C).
Whether you're new to creative writing or you want to refresh your skills, in CRWR 1010: The Craft of Creative Writing  you can explore a variety of writing styles and literary genres including fiction, creative nonfiction, memoir, poetry, and journalistic prose. As you collaborate with your peers, you improve your writing prowess and build skills that can help you thrive in copywriting and related career paths.
If you're an ardent news buff who enjoys digging to the bottom to find the truth, you may want to consider pursuing a career as a journalist. This field is highly competitive—so you will need to embrace your creativity—but that can also make it even more rewarding. As a journalist, it's your responsibility to alert the public to facts surrounding current events in a way that is engaging, easy to digest, and factual. This may involve pitching news stories, conducting extensive interviews, interviewing sources, and crafting compelling narratives.
As a journalist, you may work for a newspaper, website, magazine, or in television or radio broadcasting. Examples of different journalistic specialties include investigative, political, trade, global, sports, and science. According to the BLS, media outlets are increasingly seeking multimedia journalists who can create their own content across multiple platforms including audio, video, and social media platforms. 4 Due to the nature of the industry, it's important that you are comfortable with being on-call to report when something newsworthy breaks.
As part of the Certificate in Creative Writing at Penn LPS Online, CRWR 3700: Journalism is a how-to course led by an instructor with 25 years of experience as a freelance journalist and culture writer. The coursework explores different journalistic fields—from news reporting to feature writing and profiles—as you learn how to engage the reader and develop skills to gather, scrutinize, and report information. Each week you'll also conduct your own focused investigations and report on media sources from video and audio reporting, print and digital publications, and social media journalism.
Social media specialist
Social media specialists are tasked with writing and publishing persuasive content on social media platforms—such as Facebook, Twitter, Instagram, TikTok, or LinkedIn—to grow a target audience, build brand awareness, and generate sales for a product, brand, or organization. If you pursue this high-demand career path you may also be responsible for analyzing site metrics and user data, creating social network strategy, interacting with users, and designing the content you publish.
According to ONET, the projected growth for this role is 15%, which is much faster than average. 5 The proficiencies required by employers in this role may include excellent written and visual communication skills, data analytics skills, sales and marketing knowledge, SEO knowledge, and social media expertise. This type of role is fast-paced, and you will likely need to have a flexible schedule to accommodate the needs of your clients.
As a social media specialist, you may choose to work with clients in multiple industries or focus on a specialty such food, entertainment, health and wellness, or travel. If you're interested in pursuing this career path with a focus on travel, then CRWR 3000: Writing About Place is a course at Penn LPS Online that could be beneficial to your goals. This collaborative workshop is focused on writing of and about places. You can expect to write literally about a city or landscape—and write figuratively while considering themes of location, belonging, and displacement.
If you enjoy enforcing the rules of spelling, grammar, and punctuation—and improving writing to more clearly express meaning—you may want to consider a career in editing. Taking someone else's words and using your knowledge and experience to better them can be extremely fulfilling, but that's not quite a complete job description. Depending on the publication you work for, you may also review and approve story ideas, evaluate submissions, and work with writers to help make their content successful and in keeping with the style and editorial policy of your organization.
According to the BLS, the largest employers of editors were newspaper, periodical, and directory publishers. 6 Editing jobs tend to be concentrated in larger media and entertainment markets like Chicago, Los Angeles, Boston, New York, and Washington, DC. However, in recent years there have been increasingly more opportunities to work remotely. Because it is very deadline-driven and often involves overseeing multiple projects at once, editing can be a high-pressure—but exciting—career path.
Whether you aspire to become an editor or you're looking to upgrade your existing skills, in CRWR 2400: The Art of Editing you are immersed in all of the technical aspects of the revision process. Covering topics including the merits of MLA and Chicago style, the difference between line and developmental editing, and digital and hard copy proofreading, you gain practical editing experience, learn about a wide range of editorial processes, and explore the nuances and standards of punctuation and grammar.
Ready to exercise your creative muscles?
Browse the creative writing certificate courses and watch a video of a recent virtual information session for the Certificate in Creative Writing at Penn LPS Online, or view our course calendar  to see the full range of what's available in the upcoming term.
https://www.bls.gov/ooh/media-and-communication/home.htm
https://www.bls.gov/ooh/media-and-communication/writers-and-authors.htm#tab-6
https://www.bls.gov/ooh/media-and-communication/writers-and-authors.htm#tab-1
https://www.bls.gov/ooh/media-and-communication/reporters-correspondents-and-broadcast-news-analysts.htm#tab-2
https://www.onetonline.org/link/summary/13-1161.01
https://www.bls.gov/ooh/media-and-communication/editors.htm#tab-3